Perhaps all those interpreting the outrage emanating from the bastions of the tribal sardars of Balochistan and members of those fundamentalist parties currently in opposition, over the alleged rape of Dr. Shazia Khalid in Sui as an indicator of changing traditional misogynistic attitudes, should pause to examine what has engendered such a reaction.
While calls for accountability (no matter where they are coming from) are welcome, statistics relating to the status of women in the heart of patriarchy from where such cries for justice are emanating, reinforce cynicism about how political opportunism rather than any change of heart has prompted the outcry.
There can be no arguing with Balochistan's sense of deprivation. It remains Pakistan's proverbial stepchild — but that makes for another story. This one deals with a horrific rape, which — dare I say it — fortuitously for those on the wrong side of the current dispensation, was purportedly committed by a serving military officer. Consider the political mileage, even if measured purely in terms of embarrassment for the establishment.
The response of the latter to the rape, meanwhile, has been painfully predictable. Since the primary accused is one of their own, first there was the cover-up, then a closing of ranks. And while, thankfully, a national outcry has forced an 'enquiry,' chances are that like others of its ilk in the past, this too will be consigned to the dustbin of history. (Remember Bangladesh?).
General Musharraf, for his part, has already given his verdict: while he maintains the perpetrator of the crime "should be hanged," he simultaneously maintains he does not believe it was committed by the officer charged.
While Dr Khalid has been unable to identify her attacker and according to reports, DNA tests conducted to date unofficially exonerate those accused, the matter is still under investigation. Hardly fitting then for the head of state to be influencing public opinion by airing his personal one.
As for the civilian organisation Dr. Khalid was employed by — Pakistan Petroleum Ltd — it did not acquit itself with much grace either, given its attempts at concealment of the incident.
Talk of honour among thieves.
The cold, hard facts pertaining to the status of women in Pakistan today are enshrined in the 'State of Human Rights in 2004′ report prepared by the Human Rights Commission (HRCP) Pakistan.
According to the report, "the increased discussion at both official and non-official forums on violence against women did not translate into a decline in the crimes against [them]".
Statistics cited in the HRCP report are telling. Until October 2004, 562 women were murdered, but FIRs were registered in only 187 cases. The HRCP links at least 464 of these murders to 'honour killing.'
A report compiled by the Lawyers for Human Rights and Legal Aid (LHRLA) sets the figure of karo kari murders even higher. According to this document, 520 women became victims of honour killing in the first seven months of 2004.
Tradition, in fact, continues to largely dictate the status and fate of women, with even parliamentarians defending medieval, often deadly practices as "traditions" that need to be preserved.
Despite a decision of the Sukkur Bench of the Sindh High Court banning the holding of jirgas throughout Sindh and calling for the registration of cases against those holding them, jirgas continued to issue verdicts to the detriment of women. For example, there was no sizeable let-up in cases of 'vani' or 'swara' (compromises which entail the handing over of women to aggrieved parties as a means to settle disputes) — verdicts issued by jirgas.
Similarly, although in 2003 the Supreme Court had upheld the right of Muslim women to marry without the consent of their guardians, according to HRCP findings there was an increase in death threats and the "acute harassment of" adult couples who chose to marry of their own will.
The HRCP reports also states that "the incidence of physical, sexual or verbal violence within homes [in Pakistan] was thought to be amongst the highest in the world."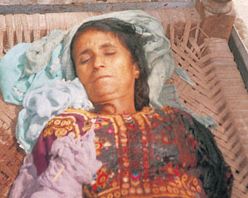 Stove burning features as one of the most commonplace crimes among the cases of domestic violence. While, according to statistics, 91 women became victims of this crime till October 2004, FIRs were registered in only 22 cases, and only nine of the accused were arrested.
Acid attacks against women registered a marked increase. At least 41 cases were reported until October, of which 31 were against women, and of 10 FIRs registered, the accused in only four cases were arrested.
Official and unofficial estimates confirm an increase in the incidence of rape and gang rape in Pakistan. Statistics compiled by the HRCP indicate that until October, 204, 320 women were raped and 350 gang-raped — 154 victims of the latter crime being minors. Only 39 arrests were made in the 177 cases of gang rape that were registered, and only 45 accused were arrested for rape, although 207 FIRs were filed.
As alarming as the crimes themselves, was the alleged involvement of the police in several cases.
While the figures for kidnapping are debatable, the HRCP estimates that until "the end of October 2004, at least 891 women had been kidnapped for various reasons."
There was no good news in respect of other crimes against women either, for example, mutilation, molestation and forced stripping, which according to the HRCP report also increased. Furthermore it states, violence against women in custody continued unabated, and conditions in jails remained grim.
Although, at the 12th Saarc Summit in January 2004 Pakistan adopted the Islamabad Declaration, which declared that member states would move towards an early ratification of the two conventions on child welfare and trafficking in women and children for prostitution, and this was followed by the launch of a thematic group on human trafficking in Pakistan in March by the Geneva-based International Organisation for Migration (10M), which aimed at combating human trafficking, and by an Inter-Ministerial Committee on Human Trafficking in April, these practices continue unabated.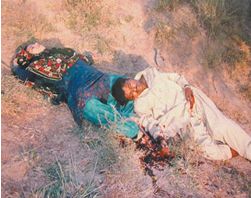 The US office to Monitor and Combat Trafficking in Persons declared in June 2004 that Pakistan was a source, transit and destination country for trafficked persons. The report states that "Pakistan was placed on a watch list for trafficking because of a failure to provide evidence of increasing efforts to combat severe forms of human trafficking."
Recourse to shelter for victimised women, meanwhile, remained in abysmal shortfall. Little wonder then that the suicide rate for women registered a marked increase, as did mental illness among women.
The HRCP reported also notes that "although 21.6 percent of seats in the lower house of the parliament and 18 per cent of seats in the upper house were held by women, this did not translate into legislation that favoured women." Two bills, submitted by PPP MNA Sherry Rehman on laws discriminatory to women, meanwhile, were not included in the National Assembly agenda, and while a bill against honour killings was passed in October '04, which increased the sentence for such crimes (from a minimum 10 year sentence to capital punishment), it did not do away with the provision for compoundability of honour killings through compromise and waiver of qisas (blood money).
While there was some small (however infinitesimally so) cause for optimism generated by the recommendations of the Majida Rizvi-led National Commission on the Status of Women (NCSW) pertaining to laws discriminatory to women, and various courts in the country rendered more women-friendly judgements, the NCSW recommendations remain unimplemented to date, and court decrees continue to be flouted.
The HRCP report also states that more than 10 per cent of the reserved seats for women in different tiers of the local government were lying vacant before the local body by-elections in March 2004. Citing the Aurat Foundation, the report also notes that "women, especially in the rural areas of Punjab and NWFP, were facing resistance in contesting by-elections. No official action was, however, taken to ensure women were able to exercise their right to vote." Cases of women being prevented from contesting local body by-elections, and local government councils, and from voting, were reported from different parts of the country.
The dismal picture painted by the HRCP's findings is supported by the 2005 report of the Urban Resource Centre (URC) compiled by Madadgar, a joint venture of Lawyers for Human Rights and Legal Aid, and UNICEF. Citing reports from the print media, the URC states, "The violence against women in Pakistan is on the increase." The violence includes murder, rape, torture and sexual harassment, among others.
Not surprisingly then, Pakistan stood at 0.471 in the UNDP's gender-related development index (GDI) in its Human Development Report for 2004. That places the country at a rank of 120 on a scale of 177, below India, and even Bangladesh.
While Pakistan fared better in the gender empowerment measure (GEM) — 64th among 177 countries — on account of the percentage of its women legislators, this did not translate into any substantial empowerment, since there was little or no corresponding woman-friendly legislation.
The HRCP report states, "Female economic activity remained at 36.3 per cent, well below that of India and Bangladesh and amongst the lowest in the world."
The Mahbubul Haq Development Centre reported in early 2004 that Pakistan had the lowest participation of women in the labour force and employment in South Asia, and the NCSW's report on the 'Status of Women's Employment in Public Sector Organisations' stated that according to establishment division statistics, only 5.36 percent of federal government employees were women and they numbered a meagre 2.7 per cent in the district management group. To add insult to numerical inferiority, few of these women were in senior positions, and according to NCSW findings, were subject to widespread sexual harassment.
So was there any good news for women?
Just by virtue of increased numbers, women in the assemblies managed to make their voices heard. And even if that has not yielded any tangible benefits for the women of this country, at least a debate on a variety of issues, most specifically pernicious anti-female legislation, has begun, and at least one bill — against honour killing — truncated and unsatisfactory as it may be, has been passed.
Following the Supreme Court ruling giving adult Muslim women the right to marry of their own volition, without a wali's consent, both the Lahore and Sindh High Courts validated a number of love marriages and quashed cases registered against the couples under Hudood laws.
A few fledgling ventures were launched to foster the economic empowerment of women. These included the country's first Women's Chamber of Commerce and Industry, and the Small and Medium Enterprise Development Authority (SMEDA) initiatives of an information hub for women entrepreneurs on the web and a Women Entrepreneurs Development Cell aimed at serving over 300,000 businesswomen nationwide.
The Punjab University's recruitment trend also indicated some positive signs with an incline in the number of female teachers. And in Sindh almost 200 women primary teachers, whose services had been terminated in 1998, were reinstated.
There was also a sizeable increase in female student enrolment at the Punjab University, and women continued to claim some of the top positions in assorted academic exams. And while the overall literacy rate for women remained abysmal, the response to private educational initiatives for girls, even in remote regions of the country, indicated a growing enthusiasm among parents for educating their daughters.
Several decisions by the courts against primitive tribal customs such as vani or swara provided relief to young girls who were the victims of these practices.
On account of a remission by President Musharraf in March 2004, a sizeable number of women were released from prison, alleviating to some degree the problem of overcrowding in jails.
And the Sindh Health Department established a burn and reconstructive surgery centre at Jinnah Hospital — the first of its kind in the country — for victims of acid burns. This was followed by similar initiatives in Lahore's Jinnah and Mayo Hospitals, and PIMS in Islamabad.
There were also some efforts — albeit confused and limited in ambit — by the establishment to put on the anvil various other laws to provide relief to women, and to repeal laws discriminatory to them. However, most of these efforts remain unimplemented to date.
Most visible of the upsides for women, however, was their significant presence — a huge jump in number terms — in the electronic and print media. And it is not just the stations beaming out of Dubai and London that have an enhanced presence of women. Every television network — government-controlled channels included — radio stations and publications, feature women, and not just as decorative items, but often in senior positions. And interestingly, this revolution has cut across the classes: it is not just the "westernised, liberal," woman out there, it's middle class, Urdu, Punjabi, Sindhi and Pashto-speaking women in news programmes, talk shows, panel discussions on just about everything under the sun, serials, and in segments on fashion and lifestyles.
And this despite the odds, because contrary to the current catchphrase of "enlightened moderation," any personal freedoms women have won, have not been handed to them on a platter — they have fought hard to earn each precious one.
Next