The 'Annual Emerging Talent Show' at VM Gallery has rapidly become a tradition that offers viewers an opportunity to see a selection of work from recent art graduates from all over the country.
This year the curator, Riffat Alvi, selected the thesis works from major institutions in Karachi, Quetta, Lahore, Islamabad and Peshawar, which unveil young talent at various stages of artistic maturity. The diverse sensibilities and the context in which the artists work suggest the vast cultural landscape of Pakistan.
Among the works with a strong engaging quality that successfully transformed the familiar forms into provocative art was the installation by the Karachi School of Art's (KSA) Mohd Junaid.
The artist had created a curtain of concave glass discs. Each dinner plate-sized sphere bore a painted narrative from his daily experiences. The content anchored them to reality while the distortion that follows all rules of convex reflection transformed it into a visually complex and compelling piece, particularly where the concave windows within the discs popped up to surprise the viewer. The vertical strands of nylon wire not only worked as mechanics, but when left to dangle to add texture they invited a closer look at all that was partially concealed by them. Even though this piece was given a prominent space at the gallery, it needed a display that allowed free movement around it and easy access to both sides.
Neatly carved out channels left sharp edges in a thick vertical slab of wood crafted by Umer Rana of Lahore's National College of Arts (NCA) . Far from literal representation, it reminded one of space around the object and evoked a strange visual tension as presence was given to an invisible space. His other work — a large piece in wood — could easily be taken as something that rolled off the waves, but as a sculptor's vision it stood out as an introspective piece, sensitive to the natural properties of the material. The sculpture in marble of a large tasbeeh with each bead almost as big as a football by Nabeel Majid of the KSA was a testament to immaculate skill. However, the burnished smoothness of the surface fell short of exploring the range of potential textures offered by the medium, which would have created a visual interest beyond the change of scale.
KSA's Afshan Asif Ali's screens constructed out of wire with nuts and bolts as decorative elements opened new possibilities in the use of unconventional materials.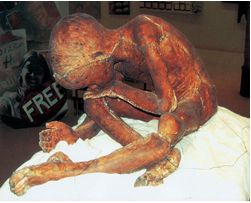 It is never easy to trust your instincts and go against the popular tide, which made NCA's Ameena Zahid's canvas of a haunting apparition fashioned from gestural strokes a courageous work.
The body remained a point of reference in many work, but few were as provocative as Kamran Babraq's (NCA) life-size figures. Crafted from latex patched together in saddle- stitch evoked surgically 'mended' bodies, its dark and dehydrated 'skin' inspired by a mummified corpse. NCA's Hareem Tanvir's montage of six cameos of skin folds, taut muscles and curling hair were both, suggestive and mysterious. In Gul Noori's painting the heads of stereotypical personalities in our milieu became bodyless t-shirts that were hung out to dry by a man with menacing muscle-power and a stern demeanour. This work acted like a piece of a puzzle from her thesis titled 'Search.'
Existing in a subservient relationship with technology, NCA's Gul-i-Hina's people appeared overwhelmed by their electronic gadgets. The exhausted man sleeping on the computer keyboard and the larger-than-life mobile phone rendered in an illustrative realism were evocative of a contemporary ethos.
Zanobia Salim of the NCA borrowed from the same ethos with idiomatic references to advertising. The eternally smiling female typecast by the media made an appearance in free -standing paintings shaped like popular containers of a preserve bottle and aerosol tin. The shapely bare legs in one work pointed to the subtext of sexuality ever present in the portrayal of female models.
The range of disciplines at the show was varied and included graphic prints and video art besides ceramics. The inclusion of four ceramists from three different institutions was an indicator of the growing interest and facilities to study this discipline. The break from the vessel form to challenge the material with conceptual inquiry resulted in several engaging works. Assemblages of boxes by Wafa of the Indus Valley School of Art and Architecture (IVSAA), with a precarious balance, brought to mind the randomness and fragility of unplanned and low-cost vertical construction in an urban space.
The canvas remained a popular surface in the show and many artists brought evocative skills to their compositions. The vision of a truck stand by Wajid Ali of the Karachi University (KU), with its open foreground and melancholy sky, hinted at the social alienation of the men whose lives are spent in the drivers' seats of these gaily painted vehicles.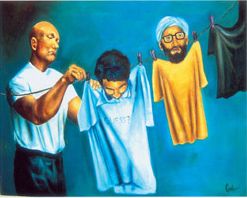 Levitating objects brought a haunting quality to familiar interior spaces in Faisal Asghar's (NCA) work. Two paintings that seem to be in dialogue with the celluloid image were Imran Channa's racing colour that could easily be interpreted as an ode to speed, and Ayesha's (IVSAA) stern portraits clothed in petals strangely reminiscent of funerary rituals.
Most exhibits inspired some degree of optimism and a desire to follow their future journey in this field. There were, however, some purely representational works from which the artist was strangely absent as nowhere could a signature style or time-identity be found. There were also works that engendered a feeling of deja vu indicating that the artists who created them have yet to break out of the gravitational pull of their mentors. In fact, the persistence of such works was reflective of an art education that has yet to be fully vitalised to meet the demands of our time.
It is true that the creative impulse of the artist has never been fully understood and that art institutions are increasingly taking the role of facilitators. Here the students spend some four years to hone their talent with skills of visual articulation, technical expertise and a dialogue with a history of ideas.
But the primary objective of these institutions should be to give them confidence to pursue a life-long quest to find a personal interpretation of their inner and other worlds. Both Shakir Ali and Zahoor ul Akhlaq, men of great pedagogic influence, are best remembered for their success in helping students to discover intellectual and creative spaces they never knew existed in their mind by teaching them 'to see' and unfettering their imaginations led to a quantum leap in their careers.
The way to achieve this does not mean the teacher teaching a student to walk in his/her footsteps, however big; it means to give them the intellectual resources to discover new horizons.