Meet the millionaire. No, this isn't a reference to some corrupt politician or government officer. If you've driven through Shahrae Faisal in Karachi or gone through the daily newspapers recently, you must have already seen her, a call centre agent, complete with beaming smile and stylish headset.
Welcome to the world of outsourcing, the buzz word that's inspiring many educated middle-class white-collar workers, especially from the South Asian region such as Pakistan, to dream of making a million rupees, if not dollars, in a short time.
Call centres are only just the tip of the huge business process outsourcing (BPO) iceberg, which is expected to grow from 405 billion dollars last year to 682.5 billion dollars in 2008, according to the research group IDC. The BPO services offered by an offshore firm may include many areas other than the call centre operation; such as developing software programes, building computer graphics and animation modules, accounting, legal research, medical transcription, financial analysis etc. In fact in his soon to be published book A Whole New Mind: Moving from the Information Age to the Conceptual Age, the celebrated technology journalist and author, Daniel H. Pink, proposes that 'any left-brain' type of job that can be reduced to a set of rules, routines and instructions is a candidate for outsourcing. Moreover, since 'computers can emulate left-hemisphere skills,' he predicts that all such outsourcing operations will eventually become automated.
Foreign companies, like those in the US, save upto 40 per cent in revenues through outsourcing back office operations such as call centres to cheaper offshore firms. But while jobs get created in these offshore locations, many are also lost in the country from which the work is outsourced. Forrester Research predicts that 1 in 9 jobs in the US information technology industry will move overseas by 2010.
Currently, India leads the pack in cashing in from this sector, earning 3.5 billion dollars in revenues last year; A. T. Kearney's Offshore Location Attractiveness Index rates it as the star performer in 2004. Already 300,000 of its knowledge workers are servicing this industry with a million more expected to get hired by 2008 according to NASSCOM — India's equivalent of our own Pakistan Software Houses Association (PASHA).
Comparatively, Pakistan appears as a weak blip on the outsourcing radar screen even though it seems to be gaining strength, at least in the call centre business spot. Our share from the global BPO business pie stands at a dismal 10 million dollars with an optimistic projection to touch 20 million figure by June 2005. Just a couple of years ago, there were only six call centres functioning in the country but in the last six months there has been 100 per cent growth. There are now about 80 international call centres and more than 30 domestic call centres registered with the Pakistan Software Export Board (PSEB), utilizing more than 2300 agents.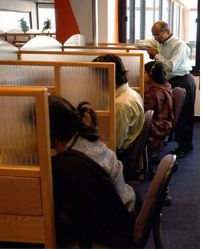 The Resource Group (TRG) International, a venture of the famed IT entrepreneur Zia Chishti, was the first success story to emerge from home. It made the world sit up and take serious note of Pakistan as a top notch offshore call-centre destination. TRG operates by acquiring BPO type companies in the US and migrates a portion of their business to its facilities in Pakistan. Only 26 months young, TRG is today the largest offshore-controlled call centre company in the world, boasting an impressive clientele of 2000 companies, including leading Fortune 500 companies. It has 18 facilities worldwide, counting 15 in North American, one in Europe and two in Pakistan; it has 3000 employees with current revenue figures peaking at 130 million dollars.
Upon entering TRG's office located at the FTC building in Karachi, one is greeted with the bustle of striking twenty something men and women, all conversing in their acquired American accents. The scene is so picture-perfect that it reminds one of a professional college campus and one has to take a look around to check whether there's a film crew shooting a commercial for one in the background or not. The main deck is a farm of immaculate wood cubicles fitted with flat screened black HP state-of-the-art systems that currently house 200 agents. Asim Saber, Vice President Operations at TRG, is looking to further expand that number by 350 to 500 agents. Although successful in hiring 200 agents in Lahore, he doesn't plan to inflate the call centre operations there simply because a whole crop of better candidates are available in the 'city of lights.' "If there was ever a great field of crop to pick from, then by God, Karachi is it.," says Asim.
Recruitment in all leading call centres such as TRG is a very competitive process, where all aspiring millionaires are put through a series of rigorous selection tests and interviews. In one of his recruiting seminars that this author attended, Asim informs the potential candidates that he has 11,000 resumes for the available 350 positions, implying that he has plenty to choose from. This is in part due to the vast pool of unemployed educated labour available within the country; the current unemployment rate stands at 7.7 per cent. Several such examples also emerged within the seminar, where a group of 50 people had assembled as part of their initial interview phase. Cases in point ranged from an unemployed, middle-aged married man with over 10 years of experience in the airline industry to a mother of three kids with a Master's degree, from a jobless MBBS doctor to a school dropout. The positive aspect of the mushrooming of call centres in the country is that it offers the prospect of providing employment to those among the educated who cannot find employment elsewhere. None of them look for the proverbial 'rocket scientist' that require specific degree backgrounds or some extraordinary technical skills or years of work experience. Anyone meeting the basic requirements of excellent English communication skills with a neutral or Native American or British accent, basic computer skills and the flexibility to work nighttime hours is eligible. No age restrictions apply.
The other important potential that the call centre industry has for the country is that it will make better communicators out of its citizens. "You can have a Ph.D in Astrophysics but if you cannot communicate with someone, then what good is your degree?" asks Asim. "This is the best thing that the call centre industry will do for Pakistan. It will enable our citizens to pick up the most important skill set, which is communication."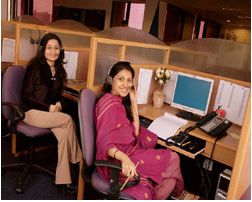 Call centres are already challenging the working norms in the country, where one is required to work at odd hours, especially nights, keeping in mind the working hours of the west. This aspect of the job usually discourages women, since our society traditionally raises its eyebrows when a woman steps out of the house to work at night. Even then a number of progressive families, familiar with modern world trends, are sending their daughters, mothers, sisters and wives to work. Take the young and energetic ZB for example. She's a recent graduate in computer science from SZABIST who's been doing night shifts for TRG for the past few months. Citing a professional environment and a hefty salary as a major motivation, she encourages others to join the business. Calling it "the perfect industry for women," Asim currently has a 22 per cent female ratio at his Karachi call centre which he hopes would rise to 50 per cent. All top call centres provide pick and drop facilities, security and even tours of their office space to nervous families as incentives to women to join them. I witnessed one such reassuring tour being given to worried moms at TRG.
In one of its recent articles, the Los Angeles Times reports: "Although Pakistan's economy took a big hit after the 2001 terrorist attacks, there was an unexpected silver lining. As part of a global effort to undermine terrorist financing, the Pakistani government clamped down on the unregulated money-transfer businesses that were the primary funnel for money sent from abroad by émigrés. That prompted a large flow of funds into the nation's banks — four billion dollars last year and billions more expected this year. Although much of that money flowed into the stock market and real estate, some also went into start-up companies, particularly in the technology sector." This assessment is supplemented by a recent remark made by Tariq Ikram, chairman Export Promotion Bureau (EPB), in the press "Last year, investors sank 1.5 billion dollars into the information technology sector, boosting software exports to 50 million dollars."
So what measures has the Ministry of IT&T taken yet to boost investor confidence in the call centre business? In a recent guideline issued by PSEB at its official website, a number of initiatives have been listed, some of which include 100 per cent ownership of equity for foreign investors, tax exemptions for IT companies till 2016, seven years tax holiday for Venture Capital funds and elimination of duties on technology imports. Inviting local entrepreneurs to set up call centres it stresses the point that "the Ambanis, Tatas and Birlas did it for the Indian BPO market. The same is true for Pakistan. The shift from traditional businesses towards a knowledge-based economy will only happen when established business persons and industrialists start entering the IT business segment." True, but the report misses a crucial point: India is reaping the benefits today because of its education system, especially its high calibre technology learning institutes like IIT, which was developed way back under a long-term plan. Serious neglect of academics in the past is gravely limiting Pakistan in its capacity to provide skilled manpower to the global BPO markets.
At the moment it seems the only advantage we have over India is our relatively better English accents, a tag line that has been drummed to death by all parties concerned. But if we are to generate 100,000 agents in the next three to five years, we can't use it as our only trump card. India is set to become the world's largest English-speaking force by the year 2010, and with its accent reduction training centres we'll soon lose that advantage too. The trick is to concentrate on developing long-term strategies.
Another important thing to realise is that we aren't in a technology war with India; we can't be, since they have already won it. So, since you can't beat them, it would be savvy to join them instead.
Collaborations will be of benefit to both parties, more so for Pakistan. It's good to see PASHA starting to facilitate this. Three Pakistani IT companies signed up with Indian firms last February when they attended a NASCOMM conference in India. Forging a relationship between the universities of the two countries, with student exchange programes, can achieve even more, and calls for immediate consideration.
Also the claim that the operating costs of a call centre are significantly low in Pakistan is not convincing and needs to be backed up by significant cuts in the bandwidth rate. As of now, a 64Kbps connection costs 3325 USD whereas a 2Mbps connection costs around 47,400 USD per annum, rates that are quite high if you compare them with the rates in the US. In fact, in a recent change in tariff rates, the Indians have brought down the rates of their 64Kbps down to just 550 USD and 19,400 USD per annum for their 2Mbps connection. In addition, the opening up of broadband licenses will not contribute much to the call centres, if the current restriction that says bandwidth for call centres can only be obtained through PTCL stays in place.
Political instability, a poor public image of the country and frequent power outages are other factors that hamper the growth of the industry. No doubt branding Pakistan is a challenge but if we are to compete with emerging strong contenders in Dubai, Mauritius and Singapore, besides the established players in India and Philippines, the sooner we pursue it aggressively the better. As for the power problem, it's time big cities such as Karachi got a new power generator guaranteeing 24/7 uninterrupted supply. With emerging broadband players providing a taste of always-on-high speed Internet access to people, there's a potential of banking on at least a further hundred thousand if not a million more 'knowledge' workers who can provide BPO type services while sitting at home. The problems and their solutions are simple, they need to be tackled head-on — and NOW. The government has to get the basics right, work out long-term strategies, and a robust infrastructure, and everything else will fall into place.
Next