Interview: Kashmala Tariq
"They make you feel they have done you a favour by giving you a reserved seat and bringing you into parliament"
– Kashmala Tariq, PML(Q)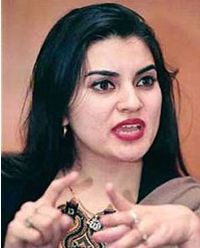 Q: Has the presence of so many women in parliament made a difference?
A: The fact that so many women have entered parliament for the first time is a major breakthrough.
Men are not, however, pro-women. They talk about us behind our backs. They will try to pull you down at every opportunity they get. What matters is the grey matter that you come equipped with and how you use it.
They don't like people like me who come from the middle class and who have been empowered to raise our voices. How can they accept you and me sitting in the assembly and talking about our rights? The faces have changed but the mentality is the same as it was some two decades ago.
Q: So, the men in parliament don't take you seriously?
A: We live in a male-dominated culture, and the parliament is no exception — the surroundings, the circumstances are not at all in favour of women. First of all, they are still unable to digest the fact that so many women have entered parliament. Secondly, they don't like women who are vocal, who raise their voice for their rights. They only want to use them for their own benefit. Women who say yes to them are acceptable, but those who tend to disagree or raise some critical issues, are not.
Q: Are your opinions given any weightage in your own party?
A: We don't have democracies even within our parties, whether it's the PPP or the PML, because men do not listen to you, they don't give you any weightage. They make you feel they have done you a favour by giving you a reserved seat and bringing you into parliament. This is the mentality of every male member in parliament.
Q: What can be done to give women a voice in the decision-making?
A: As a rule, there should be women's representation in every committee. Women are becoming parliamentary secretaries, chairpersons of standing committees and ministers, which is very good. But the men think women are qualified only to talk about soft issues. The moment they think someone is competent, a hard taskmaster and can deliver, they feel threatened and start victimising her. We need to have laws on gender discrimination, sexual harassment and strengthen women's caucuses. Whenever I get up to speak in the assembly, everyone remarks: Is she the only one? What about the rest of the women, why don't they get up? Aren't they representing women? Doesn't any responsibility fall on their shoulders?
Q: Have you achieved anything as a member of the Parliamentarians for Human Rights?
A: I have worked on a report on the Hudood Ordinances. Honour killing was another initiative, and then we have just submitted a Senior Citizens Bill. We work with respect to human rights, not just women. We raise adjournment motions and questions regarding any burning issue that comes up in the press.
Q: When it comes to taking a decision, do you think like a woman or a party member?
A: Right now, I am here as a woman and representing females and not any party. But when it comes to a collective decision, we have to toe the party line. It is very unfortunate. Our own party opposed us on the issue of karo kari. They said you want to spoil women so that tomorrow they stand up against their families and get married according to their own choice. Aap gharon ki izzatoon sey khailna chahtey hain. At that point, the feudal mindset crept in.
Q: What is the status on Hudood Ordinances/ karo kari?
A: I don't think we'll get very far in the near future. I am the only lady who sits on the law committee and was present when the reform bill was being approved. Male dominance will not let us get anywhere. They say it's unIslamic. They are not concerned about human rights, or the misuse of this law. We are not asking for anything unIslamic. We want to go by the Quran. Whatever is laid down there is for the betterment of humanity, not to dole out undue punishment.
I was the first one to start a debate on karo kari. The President had asked me to give a briefing, but our party members didn't like it. As for Hudood, it has not even been touched. I have delivered a report and done a comparative study. But they said that this issue of karo kari has raised so many eyebrows that we cannot work on it at the moment.
Q: If the President is so concerned about karo-kari, he has all the powers at his disposal to address the issue.
A: Everyone thinks that President Musharraf is capable of getting things done, but that's a misconception. Yes, he believes that women should be given their rights and the position they deserve, and that laws which are discriminatory should be repealed or at least amended. He is the only man who is very enlightened and pro-women. He is keen to get something done on the Hudood Ordinances and the issue of karo kari, but the politicians are not pushed.
Q: That must be frustrating?
A: I am not a pessimist, but I have seen so much in these two years that even I am disappointed with the behavior and attitudes of colleagues. However, the mere presence of women [in parliament] is a positive step. Acceptability and recognition will take time. There is no magic wand that can bring an immediate change. On the other hand, women have to understand that they have to be vocal. All of us have to work together in unity, only then will we be able to get somewhere.
Q: Identify three priority areas for women?
A: Empowerment is the crux. Women should be empowered in all spheres of life, especially economically. There should be an end to gender discrimination and laws on sexual harassment. That is the easiest tool for men in our society to use. We need to strengthen women so that they can stand on their own feet, fight for their rights and know how to move on in their lives.
Next