Sabiha Sumar's Good Morning Karachi, earlier titled Rafina, based on a novella by Shandana Minhas, has been in the making for many years now, and was finally screened in Sweden, at the Göteborg Film Festival in January. Last week, Good Morning Karachi also broadcast on German television, where I was lucky enough to catch the film. At first, I thought it was a European documentary about the port city only to quickly realise that it is in fact a Pakistani feature with a neorealist aesthetic.
Where the film works in its beautiful cinematography (M. Claire Pijman), it clearly lacks in story. Ten years ago, Sumar resuscitated Pakistani cinema from the throes of non-existence with her feature film Khamosh Pani in 2003 and Dinner with The President in 2007. The classy film has aged well and its intense story, matched by masterful performances, resonates to this day. However, the follow-up to it is sadly a sub-par effort, starting with much promise, but eventually veering into roads of confusion and cliché.
Rafina (Amna Ilyas), who lives with her mother (Saba Hamid) and younger brother in a lower-income area of Karachi, spends her days gazing at giant hoardings and learning English. Her neighbour (and prospective mother-in-law), played superbly by Beo Raana Zafar, works in a "salon, not saloon," tending to the demands of posh, upper-class women. Rafina seems to adore this khala's world and wants to be part of it, convincing her aunt to take her along to a client for a late home visit. Unfazed by the shallow atmosphere of such an interaction, Rafina decides that she wants to work as a waxing lady too, money playing a motivator here.
What follows is a somewhat predictable trajectory. Our heroine starts earning, despite her future husband (Yasir Aqeel) and mother's objections. In a scene that can't be better described than a get-together of the Pakistani Mad Men, the Don Draper in the room 'discovers' Rafina while she's serving them chai. The irony is lost on no-one when her first modeling campaign is for 'i-chai' — a brand of tea which one hopes has more strength than the screenplay.
Up until Rafina's entrance into the 'fashion' world, the film works as a quasi-Cinderella story, but loses steam once the political sub-plot of Benazir Bhutto's 2007 return to Pakistan is interspersed with the protagonist's personal journey. Once these two storylines get muddled, one loses sense of Rafina's motivations. The film also stars Scottish actor Atta Yakub from Ae Fond Kiss as Jamal, who helps Rafina's industry debut.Tonally, the narrative in the second half is all over the place, with a fashion show being cross-cut to a funeral and the former being followed by a song-and-dance routine.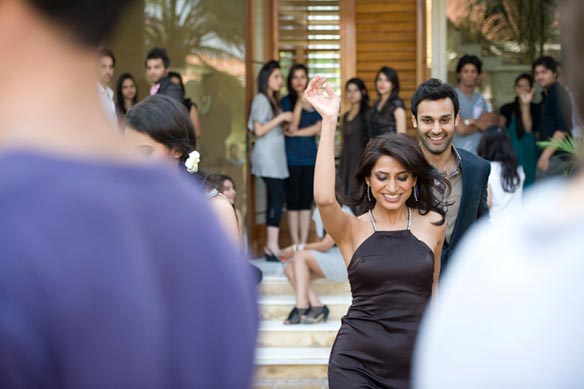 Granted, personal and political spaces are often linked in Pakistan and Sumar, an accomplished documentary filmmaker, is skilled at portraying both fictional worlds, as well as non-fiction. However, in Good Morning Karachi the political storyline seems forced, to provide the film with a political clout which it doesn't require. One wonders why the characters' themes weren't considered self-sufficient. Often, filmmakers do a disservice to the character by adding unnecessary strands in a film or changing the title to provide a more 'current affairs' feel.
Model-turned-actress Amna Ilyas, who can currently be seen in Zinda Bhaag, Pakistan's entry for the Best Foreign Language Category Oscar, is naturally at ease in Good Morning Karachi. It's not a career-defining role for Ilyas per se, but it's a good indicator of what's to come, should she choose to continue acting in films.
Major histrionics aren't required in this film, but Ilyas is perhaps drawing from some of her own life experiences, doing well with whatever material she has at her disposal. It's an intuitive and clever performance, especially in one scene where Rafina is asked to wear a trial outfit, only for her five minutes of glory to be shattered subsequently.
Shame about this one though; near the end, Rafina says that she now knows what she wants. I'm not sure whether Good Morning Karachi does too.
Schayan Riaz is a film critic based in Germany
Next