Balochistan: The Writing on the Wall
I sit listening to Farzana Majeed. Her story is heart-rending but not unfamiliar. It follows the pattern of many we have heard and will hear in the coming hours. Her 27-year-old brother, Zakir Majeed Baloch, a senior office holder of the Baloch Student Organisation (BSO— Azad), was picked up from Mastung on June 8, 2009, along with two other young men. She quotes eye-witnesses as claiming that personnel of intelligence agencies in plainclothes carried out the abduction. Farzana has come from Khuzdar to Quetta to meet a fact-finding team of the Human Rights Commission of Pakistan (HRCP). This is not the first time she is narrating her family's travail. She has sat in a protest camp outside the Press Club in Islamabad and has appeared before the Balochistan High Court and the Supreme Court in Quetta.
Events in Balochistan have catapulted many young women like Farzana Majeed into the public domain, meeting anyone who would listen and give them hope — journalists, human rights activists, lawyers and members of the judiciary. Sameer is not as articulate as Farzana but she manages to share her pain. Her father, Dr Din Mohammad, was picked up from his clinic at midnight on June 28, 2009. He is a member of the Balochistan National Movement (BNM). A witness working at the clinic says the men were in civilian clothes though the long arm of intelligence agencies is suspected. Sameer's hope lies in the chief justice who has ordered his recovery in 15 days.
And then I find myself in a room, wall to wall with people whose family members have been picked up. The sadness is overwhelming, but we are there to listen and record. I marvel at the self-composure and dignity the grief-stricken people carry with them. There are occasional tears that are quietly wiped away. An old man talks of his son, Khalid Bilal, who was picked up by the police after being acquitted by the anti-terrorist court. He came home after 25 days only to be taken away again when the Frontier Constabulary raided his house in Noshki on the night of May 16 and 17. Sitting among the families of the missing is Nasrullah Baloch, heading the Voice of Missing Baloch, who seems to have all the facts and figures at his fingertips and who has been assisting the families.
The families of the missing are not the only ones putting a brave face to their grief. We meet members of the Shia Hazara community and their calmness in the face of deadly attacks is remarkable. They cannot even entertain any hope as their loved ones are not among the missing; they have been brutally gunned down in incidents ofbrazen sectarian killings for which the Lashkar-e-Jhangvi (LeJ) proudly accepts responsibility, vowing to kill more. Over 800 of their community have been killed since 1999, 100 in 2011 alone and close to 36 in the first four months of this year. Over a 1000 have been injured and disabled. Three hundred Hazara students in Balochistan University do not go to classes out of fear. The men sitting across from me reel off alarming statistics, yet appear bewildered by them. They cannot understand why the provincial and federal governments are so impotent before the militants of the Lashkar-e-Jhangvi (LeJ). They suspect the militant organization has sympathisers among the police and the Frontier Constabulary, the very people tasked with maintaining law and order.
The previous evening, at a small dinner, we had met a few Hazara men. Each had been personally affected by the community's tragedy — losing a father, a son, a cousin to the unchecked and systematic killing of members of their community. They did not let their personal tragedies interfere in their duties as hosts. Their equanimity is all the more admirable as the killing is all one-sided. The Hazaras have not retaliated, keeping their angry youth in check.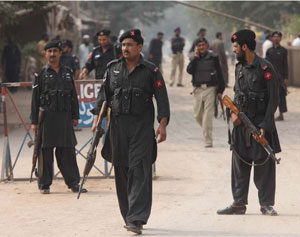 We drive out of Quetta to Pishin, a Pakhtun-dominated district. The road is wide and smooth and almost devoid of public transport. The brown and grey hills all around us loom large as dramatic pieces of sculpture. They have a tactile quality to them and I long to get out of the car, walk across and touch them. Their forms have been dictated both by winds and by people looking for free construction material. The quaint rest house in Pishin, built by the British in the 19th century, appears anachronistic. It's too sedate for present-day Balochistan. The sunlight is soft as we sit outdoors in a large circle underneath trees on which birds chirp noisily. We try and listen to all those who have come to meet us. Even in this serene setting, the talk is of injustices perpetrated on the Baloch. We hear from lawyers, social workers and politicians from all parties present in the province. There is one positive takeaway — all intend to participate in the next elections provided they are assured of fairness and transparency.
HRCP activists who have come from all over the province to brief the fact-finding team paint a tragic picture of Balochistan — district after district, the strain of the narrative is repetitive. Young men picked up, killed and dumped. Or when badly tortured and released remain too terrified to talk. They and their families continue to get threats from those who abducted them, making recording of evidence an impossible task. That is why many have opted to stay away from the Commission on Enforced Disappearances. Some activists report growing Talibanisation, allegedly with support from 'agencies' in their areas, a fear shared by many among the marginalised communities.
This is HRCP's sixth mission to Balochistan. I note that for the first time, activists and officials both openly name the Frontier Constabulary and intelligence agencies for disappearances and targeted killings. Perhaps in this collective courage, there is some hope. Perhaps like a drowning person, we, too, clutch at straws.
This article was originally published in the June issue of Newsline.
Next