Muhammad Zeeshan began his career as a signboard painter in Mirpurkhas, where one of his regular assignments was painting Lollywood billboards. The images of blood and gore typically found on such billboards made a lasting impression on Zeeshan and, according to his artist statement, the Lollywood hero's courage is symbolised "by the profusion of blood that covers his body." Zeeshan went on to study miniature painting at NCA, Lahore but his work continues to borrow imagery and themes from graphic Lollywood billboards, which is evident in his most recent solo show at Canvas Gallery.
In his Special Siri series, Zeeshan incorporates the gore from the billboards while addressing the cultural significance of beheadings. The theme is certainly morbid, but in Zeeshan's hands it becomes much more than that. From a cow head floating against an empty background to a Mughal figure holding a decapitated head in his hand, Zeeshan examines the historical, political and religious implications of beheadings.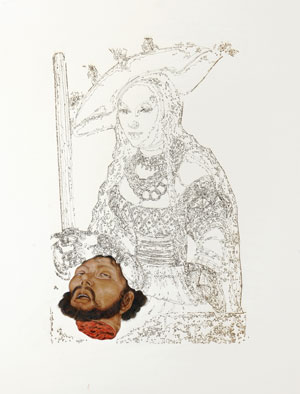 The side-profile paintings of animal heads boast almost a tranquil quality and are mostly done in gouache on wasli. The paintings with human figures are more graphic as the bloody insides of the decapitated heads are exposed to the viewer.
Zeeshan employs a highly unusual technique in this series as he uses lasers to 'draw' his figures. "A lot of paper is wasted," revealed Zeeshan as he explained the laser-scoring process to visitors at the gallery. The laser machine also has to be reset to its lowest setting to prevent the paper from getting burnt completely. The images on his canvases are made up of hundreds of tiny, irregular lines and this technique of using what are essentially burn marks to make paintings reveals Zeeshan's innovative vision.
Curator Sameera Raja has been following Zeeshan's work since his college thesis project and although she usually doesn't hold shows in the summer, she made an exception for Zeeshan after seeing his work. She explained, "The decapitated heads are symbols or trophies of pride for the people who order these executions. Therefore, Zeeshan's work isn't about morbidity and, instead, it looks at the power associated with slaughter and beheadings."
This review was originally published in the June 2012 issue. Look out for the latest issue of Newsline at newsstands across Pakistan.
Zehra Nabi is a graduate student in The Writing Seminars at the Johns Hopkins University. She previously worked at Newsline and The Express Tribune.
Next