Reel On Hai: A Project of Karachi Biennale 2017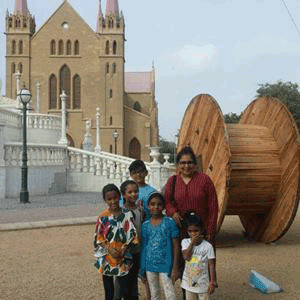 Encompassing the cityscape from Lyari to the Clifton Beach, the Karachi Airport to Safari Park, and the Karachi Zoo to Hill Park, Reel on Hai will be the most widespread art installation Karachi has ever seen. A project of the Karachi Biennale Trust, it will animate the city with engaging artworks created with cable reels gifted by Pakistan Cables.
Around 100 used cable reels will be transformed into works of art by artists, designers and architects selected through an open call to ensure inclusivity. Details of the open call are available on www.karachibiennale.org.pk.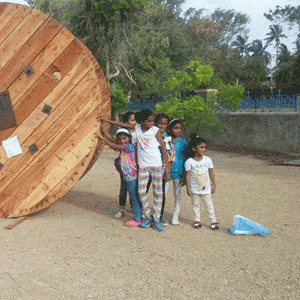 These cable reels, which are commonly seen lying on the roadside, will now be recycled into artworks to give the public space a creative vibrancy. Karachi is a city made ugly by the excessive garbage it produces, so turning discarded objects into art is a powerful gesture that recycles waste and elevates it with imagination and innovation. The genesis of using everyday used objects in art can be traced back to the 1960s Italian movement of Art Provera. Today it has re-emerged in ecologically-conscious art practices.
Reel on Hai will offer dozens of innovators the rare opportunity to exhibit their creative interpretations where they can be viewed by thousands of people. Each unique work will engage the youth of the community with activities designed around the work to sensitise them to art and the role it can play to project the dynamism of a people. The first prototype reel will be installed at the office of the Orangi Pilot Project, where artist Sanki has been working to transform it. This is in keeping with the wishes of its late director, Parween Rahman, who was always keen to bring art to Orangi. The second reel will find its home in the grounds of St Patrick's Cathedral in Saddar.
Reel on Hai is part of an extensive programme linked to the Karachi Biennale 2017, which is committed to taking art out of gallery spaces to celebrate the wonderful talent of artists with the public of Karachi. — Niilofur Farukh
Next