Art Review: Brush with Memory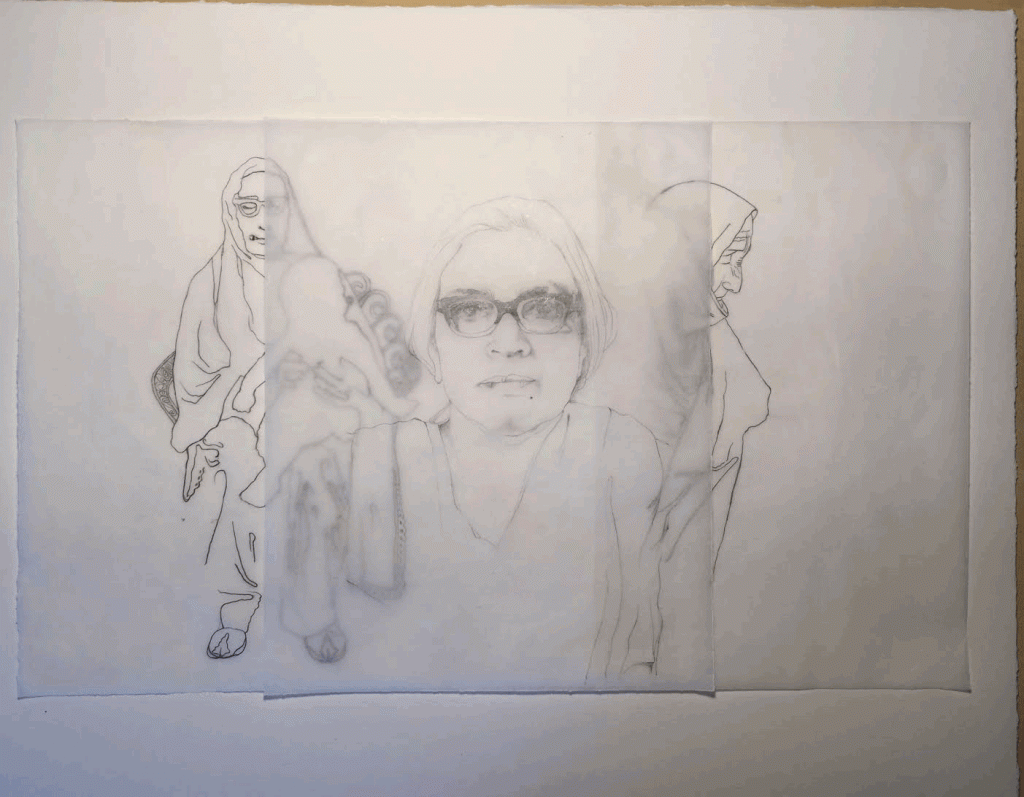 Koel Gallery held an exhibition of works by Aqsa Shakil called Delineate last month. Aqsa received her art education at the National College of Arts in Lahore and a BA and an MFA in the United States. She has been part of many group and solo shows, mainly in Dallas, where she studied and taught. She currently lives in San Francisco. Delineate is her first solo show in Pakistan.
Aqsa's work includes watercolour, pencil, and pen and ink. Autobiographical elements play an important part, particularly with regard to memory which is recalled in traces and by physically tracing images that connect Aqsa with her past.
Two very different atmospheric phenomena are combined by Aqsa in her watercolour canvases. There is the subjective atmosphere of personal memory, evoked by the use of photographic images of people which have been traced and transferred on paper in outline form. Then there is the objective use of atmospheric materials such as snow, hail and rain, which are incorporated as random accessories to interfere with the paint and texture of the canvas and leave unpredictable traces of their own.
The finished watercolor paintings on wasli paper bear the images of people from Aqsa's past, as well as the imprint of natural precipitation that has dropped on the paper. The effect is part abstract and part figurative. The rain leaves a wet-on-wet translucence. The tiny snow crystals imprint the paper with geometrical shapes. Her artist's statement explains: "The random splatters of precipitation have a strange orderly patter, and I intervene with my orderly splatters that have a strange randomness. The dichotomy of the two makes an exact visual description of what I think memory looks like."
Sepia and earth hues predominate in Aqsa's work and the restrained palette is a hallmark of her style. Some paintings have ornamental touches — spiral motifs, an ornamental border — that hint at the influence of miniature painting.
One may interpret these paintings as the expressions of metaphorical space. The indeterminate marks of precipitation bear relevance to the indeterminate quality of memory with its vast wellspring of random and often surprising triggers for remembrance. The autobiographical elements co-exist with the environmental ones to create a continuum within which the artist creates a negotiable space that permits a dynamic relationship with the past.
The theme of memory carries over in the set of sketches rendered in graphite on paper. These sketches are presented as vignettes that often combine two or more individual drawings in order to draw attention to incongruity or similarity (sometimes both) between them. `Mama' contains four separate but overlapping images of infants. `Ride' depicts a horse cart and a motor car, connecting two dissimilar modes of transport. Aqsa has pasted multiple strips of tracing paper over the images, perhaps as a visual pun alluding to multiple layers of memory.
The artist has lived in many countries and says she has "an inherent obsession with tracing every slipping moment" which compels her to document experiences. She is an inveterate journal-keeper. Leaves from her Moleskine journals form a part of the exhibition. A series of minimalist notes and sketches made during travels are grouped under the name 'Trekoids.' On one leaf from a journal there is an intricate squiggle which represents the movements of the car she is riding in. The relationship with order and randomness permeates her interception of the world she is immersed in.
Next