Speaker's Corner: No Country for Activists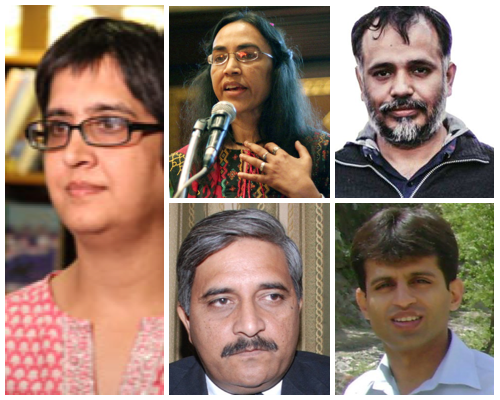 Throughout its chequered history, Pakistan has never been known as a haven for activists and human rights defenders or for being particularly tolerant, much less facilitating of their work. But never had our activists found themselves in the cross hairs of both state and non-state actors quite as firmly as they do now.
A glance at the list of prominent activists assassinated in the last few years alone — Parween Rahman (2013), advocate Rashid Rehman (2014), Sabeen Mahmud (2015), Khurram Zaki (May 2016) — underlines the perils involved in activism and human rights defence.
And then there are social, political and human rights activists, who have been abused, abducted, attacked, threatened and implicated in false cases for actively engaging with social or rights issues. Others have had to face vicious hate or defamation campaigns, especially on social media. Some have felt compelled to leave Pakistan in a bid to stay safe.
Early in June, a Senator used abusive language against rights activist Marvi Sirmed during a live television show. She has since received threats, reportedly not just from within Pakistan. Lawyer and activist Jibran Nasir has received death threats from the Taliban for campaigning against extremism.
How does one engage in debate while constantly weighing the security implications of speaking openly or engaging in various forms of activism?
It is manifestly clear that impunity for the perpetrators of such intimidation and violence has played a big part in breeding more violence against the activists.
Those who have grown up witnessing the activism of the 1960s, '70s and '80s, recall a somewhat different context. Although the pursuit of human rights causes was by no means a risk-free enterprise even back then, the threats came largely from state actors or goons backed by the authorities.
That seems to have changed. Now it has become a free-for-all. In addition to facing intimidation and threats from state actors, activists also suffer on account of the state's failing to honour its obligation to maintain law and order, to protect its citizens and prevent violence against them.
The state has also let the people down by not acknowledging or raising awareness about the vital role of activism in a democratic society. Successive governments, under whose watch this state of affairs has come about, have a lot to answer for.
As things stand today, there is no great mystery about the grand scheme behind such threats and attacks on activists. If the activists are sufficiently intimidated, they might skirt issues that are the bread and butter of the mischief-makers, including bigots operating in the garb of religion.
There are indications that the strategy might have worked to a fair degree; those speaking out for people's rights have largely started choosing their words and strategy with a degree of care not warranted in relatively free societies.
While the perpetrators have gone after the activists with single-minded venom, the response from civil society and the authorities has lacked the same focus and intensity. Little attention is paid to the damage inflicted upon a society that is robbed of the fruits of activism.
The state remains content merely with condemning violence rather than taking action, to protect its citizens. Meanwhile the task of shaming the authorities and, indeed, prodding society at large into action remains a cross that civil society must bear alone for now.
While one comes across sentiments of loss, grief and condemnation over the targeting of activists, there is no outrage and not nearly enough indignation and anger directed towards the actors and the environment, both of which are responsible for silencing our most outspoken, courageous and selfless daughters and sons who dared to stand up for people's rights.
Speaker's Corner is a forum for reader's views. Contributions should be between 600-1,000 words and may be edited for space and clarity. The views expressed in these columns do not necessarily reflect Newsline's editorial policy.
Next