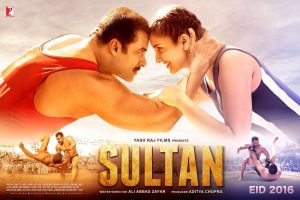 Salman Khan is not a great actor, nor is he the best dancer or action hero — and he is undeniably on the wrong side of 40. But he seems to have the common touch and plays right into the hearts of film audiences.
His latest hit, Sultan, tells the story of a wrestler, how he took up the sport, why he abandoned it and how he makes a triumphant comeback. But it is also a love story; it is love that goads Sultan to achieve new heights. But most of all it is a story of personal struggle, of hubris and humility, and of learning to live again.
The storyline is not particularly original. We have seen more gritty stories of athletic glory and personal achievement. Chak De India, for instance, filled this genre very well, telling the story of the Indian women's hockey team and their coach who led them to glory. But made under the Yash Raj banner, Sultan blends sports and personal struggle with the kind of epic love story that is the hallmark of this studio and which has always worked well for them. Throw in some foot-tapping numbers like the catchy, "Baby ko base pasand hai," and the formula works like a charm.
Salman Khan essays the lead role with his usual touch of buffoonery and tough but tender histrionics — a combination he has been reprising since his Dabang days and which never seems to fail to please. His bulked-up body, for once, seems to serve some purpose in the film and physically, at least, he is convincing in the role. But his performance lacks depth and nuance and, except for the Haryana accent specific to this film, this could be Salman Khan in any of his other roles. All this doesn't matter, however. The box office is ringing with success and Sallu bhai has his finger firmly on the pulse of the masses.
Anushka Sharma, as Sultan's love interest, puts in a more versatile performance in the role of a female wrestler with her own ambitions. The slender actress is surprisingly convincing and exudes a girlish toughness, without losing her femininity. Amit Sadh, as the wrestling league owner who convinces the gone-to-seed wrestler to fight again, is a welcome new face. But Randeep Hoda's talents seem wasted in his brief role of the coach who trains Sultan to recapture his lost glory, and the actor puts in a rather perfunctory performance.
Sultan's success brings to mind the lost opportunity for a far more powerful story — that of the Pakistani boxer, Hussain Shah. A Pakistani film, Shah, based on the incredible travails and achievements of boxer Hussain Shah, was made but it largely went unnoticed. If only a more skilled film-maker had done justice to that towering tale, it would have overshadowed any sports story Bollywood or Hollywood has come up with.
Zahra Chughtai has worked and written for Pakistan's leading publications including Newsline, the Herald and Dawn. She continues to write freelance.
Next