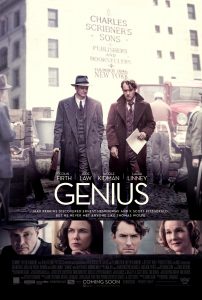 In an emotionally charged scene, outside the home of F. Scott Fitzgerald (Guy Pearce), famous literary editor Max Perkins (Colin Firth) implores American writer Thomas Wolfe (Jude Law) to "just shut up." He might as well be speaking for viewers of Michael Grandage's Genius, who are likely to get worn out by Law's inexorably loquacious Wolfe. In one of the worst performances of his career, Jude Law portrays Thomas Wolfe as an incorrigibly talkative, eternally selfish, thoroughly undisciplined, and emotionally unstable writer.
An important literary figure of the twentieth century, Wolfe tried to start his writing career in theatre, but was unable to get any of his plays produced. The problem was their length, verbosity and experimental style. After struggling for more than three years, he decided to shift his focus to writing fiction. Once again he, found it impossible to get his manuscripts published, for reasons of length, language and style. Two people — Aline Bernstein (Nicole Kidman) and Max Perkins — whom he met in the twenties, changed his literary and personal life forever. Aline Bernstein was a married mother of two and 18 years older than Wolfe. She worked as a set and costume designer in New York and served as Wolfe's muse for almost five years, providing him both financial and emotional support during what was an intensely stormy relationship. Max Perkins was one of the best-known literary editors of his time, who had edited the likes of Ernest Hemingway (Dominic West) and F. Scott Fitzgerald. He took a liking to Wolfe's person and the 333,000-word manuscript he brought to his Manhattan office. Perkins convinced Wolfe to revise and condense the manuscript that was published as Look Homeward Bound, Angela, a few days before the 1929 market crash. The novel met with both critical and commercial success. Initially grateful to Perkins for helping him get published, Wolfe eventually became insecure about Perkins' contribution to his works and unsure about his own ability to write without the editor. His misgivings about Perkins' contributions led to his distancing himself from Perkins.
Genius' primary focus is Wolfe's complex relationship with both Bernstein and Perkins. The film's exploration of what would have certainly been interesting relationships is drowned in the sea of words delivered fervently and frequently by Jude Law. The film has good dialogue — in fact very good, in certain scenes — which would have been great in small doses, but is unbearable in Genius' generous servings.
Michael Grandage, who was artistic director of London's venerable Donmar Warehouse for over a decade, is one of theatre's foremost figures today. He makes his directorial debut in cinema with Genius and fails primarily because of his inability to shake off the style and mores of theatre and seems to have lost his bearings in the world of cinema. He seems unaware of the power of the close-up and does not rely on the histrionic ability of the very capable cast of Genius. His direction is highly theatrical, and, consequently, ineffective and inappropriate.
Grandage's Genius suffers from a far bigger problem: it fails to examine the intricate relationship between Perkins and Wolfe. Wolfe's need for fatherly approval and Perkins' for raising a son is portrayed without any nuance and delicacy. The complex internal dynamic of the two men is left unexamined. The emotional drama seems constructed; at best, it is predictable and, at worst, it is boring. For a film that deals, inter alia, with editing, Genius sure has a lot of words and a lot of padding. It would have benefitted from the kind of editorial discipline that Perkins enforced on Wolfe.
—
Next