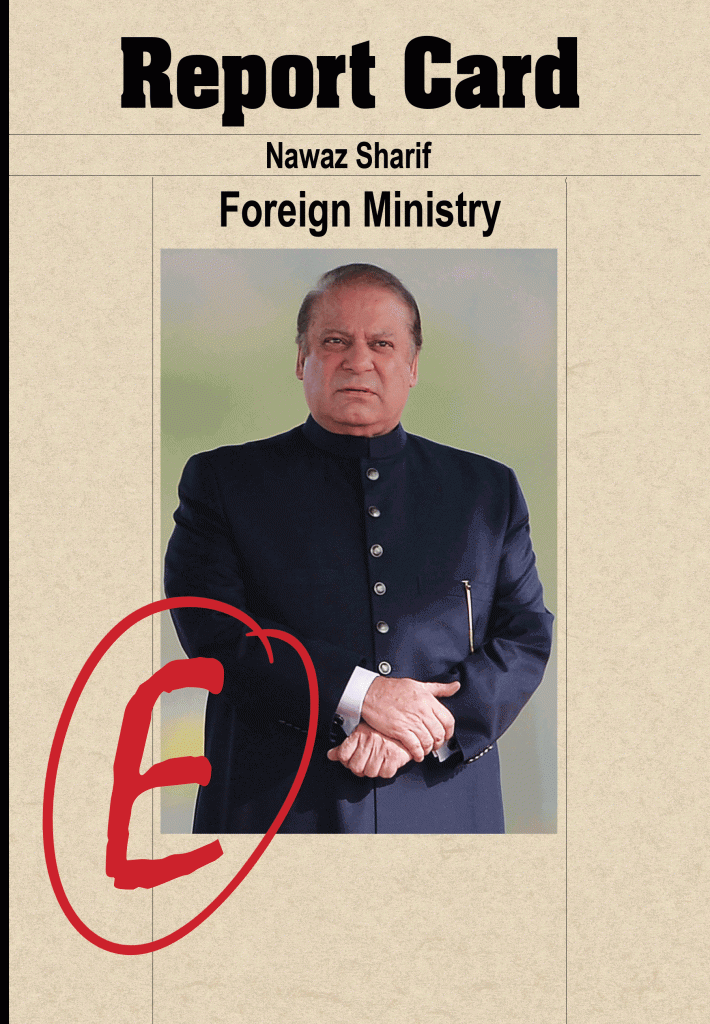 "After assuming the office of Prime Minister, I will not take any briefings on which institutions are running losses. We know where necessary interventions are required… I believe that we have a team of experienced people. If given a chance to form the government again, we will not take briefings on how to run the government during the first 100 or 180 days of our regime."
These were the words of our incumbent Prime Minister Nawaz Sharif back in September 2012, when he was gearing up for the general elections. After winning the May 11, 2013 elections convincingly, his cabinet took its oath the following month. Three years on, it is time to explore how the so-called experienced cabinet has fared and if it has managed to live up to its billing.
Appalling as it may sound, the prime minister has not reviewed the performance of his entire cabinet even once in these three years. He did review the performance of three or four ministries in October 2014 and, that too, after the pressure from Imran Khan's container parked outside his government's headquarters. Unfortunately, that exercise didn't lead up to its logical end of examining the performance of all the federal ministers. This task will now have to be taken up by others.
First up, the foreign minister, or shall we say the prime minister himself, as he has kept the all-important foreign ministry portfolio to himself. Despite having an advisor and an assistant on foreign affairs, the PM's performance has been dismal, to say the least. This can be gauged from the fact that Pakistan hasn't been this isolated the international arena before. We've lost Afghanistan to India; peace talks with India are going nowhere; Iran extended a hand of friendship to us but in order to appease the Saudis we insulted them; Saudi Arabia is gradually losing the influence it once used to enjoy via Washington and our relationship with the US has reached new lows. The only ally we have in the region is China, who also looks at us as an economic partner rather than a geostrategic one. In short, he has put us in a royal mess. One may argue that the civilians aren't running foreign affairs but, even then, the blame falls on the civilians for ceding this space and allowing others to take control.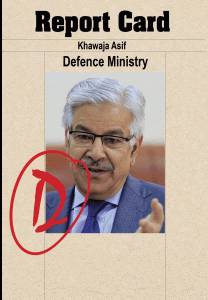 Foreign policy and defence affairs go hand-in-hand. Famous for his speeches and remarks in parliament, Federal Minister for Defence, Khawaja Muhammad Asif has an abundance of firepower in his speeches. He can knock his opponents off their feet with his slurs — ask Shireen Mazari — but unfortunately he lacks firepower when it comes to his work as defence minister. He is the only minister who has been entrusted with two different ministries right now — the other being the energy ministry — which shows how crucial he is to the current setup. He was recently summoned, along with other ministers, to GHQ by the top military brass. The fact that the army chief should theoretically be reporting to him but doesn't, shows how weak and inept he is. The drone strike on Mullah Akhtar Mansour and his subsequent silence, the failure to procure F-16s, the lack of transparency over sending troops to Yemen and participation in the Saudi-led coalition against terrorism, frequent LoC skirmishes and the Torkham issue have exposed the minister frequently. Yes, defence ministers over the years have never been able to exercise their powers but this government came with the promise of restoring democracy in its true essence.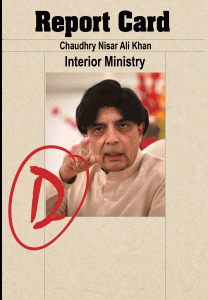 Next up is the Minister for Interior Affairs, Chaudhry Nisar Ali Khan, best known for his long-winded press conferences. The overall security situation in the country reflects his performance. There is no denying the fact that the security situation today is much better than it was a few years ago. However, his list of failures is huge. His first task, after taking over the office, was making the National Counter-Terrorism Authority functional. Today, the only hint that NACTA might exist is a good-for-nothing website. The implementation of the National Action Plan has also been superficial, concerned more with producing flattering statistics rather than taking concrete action. He talks of running institutions with minimum interference. But that is only talk and talk comes easy. Back in 2011, Nisar alleged that NADRA had been issuing fake CNICs in his constituency in an attempt to rig the election against him. NADRA replied with a lawsuit. The case went on until March this year, when NADRA quietly withdrew its suit. Who pressured the 'independent' NADRA to withdraw? Take a guess.
The budget has been presented before the parliament and we cannot ignore Finance Minister, Ishaq Dar. He has been fortunate, with the low world price of oil leading to a record fall in commodity prices. However, he has not been able to capitalise on this advantage. Pakistan's debt is sky-high. We don't know what we are going to do when the debt matures and we actually have to return the money we borrowed. Ishaq Dar's tax amnesty scheme, for which he fought hard, is an utter failure. He managed to clear the circular debt prevailing in the power sector after taking over but this hydra-headed monster has risen again.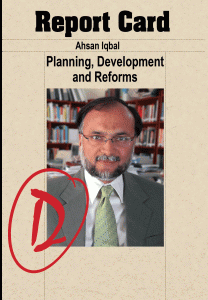 Federal Minister for Planning, Ahsan Iqbal came up with another development agenda for Pakistan calling it `Vision 2025.' Two years have passed since he introduced this plan but it, like the minister himself, has proven to be more style than substance. And that style too is outdated. His performance can be assessed from the fact that two of his cabinet colleagues have come on the record and asked for the dissolution of his ministry. To his credit, he managed to rename his ministry from Planning and Development to Planning, Development, and Reforms. But till today he has not been able to deliver the goods he promises every day in the seminars and roundtable conferences he loves to address. Civil service reforms are a non-starter; no serious policy or viable plan has made its way through the so-called think-tank that his ministry is supposed to be. People who know and watch his ministry closely know about the allegations of nepotism against him and he has lost control of whatever role he had in the China-Pakistan Economic Corridor. Such is his clout that he has not been able to increase the age requirement for CSS applicants, which he has been promising for more than a year now.
Information Minister Pervez Rasheed is a real gentleman. But given the nature of his job, he is too polite for his own good. He has virtually no control over the information and propaganda arm of this government. Maryam Nawaz, and her strategic cell housed inside the Prime Minister's House, controls the media projection of this government and the Senator has no say in it. He clearly needs to take tips from his counterpart in the ISPR, General Asim Bajwa, who has learnt how to use social media to his institution's advantage.
Any evaluation of the PML-N's cabinet will be incomplete without the IT sector. True, the government has been able to unblock YouTube and auction 3G/4G licenses but things are not as they may seem. Anousha Rehman recently championed the Cyber Crime Bill which is draconian, to say the least. It has received criticism from all quarters. 3G/4G spectrum auction was also mismanaged as one player already had a technology-neutral license giving it an edge over other players. The government was unable to get the money it aimed for through the auction. The telecom sector has reached a saturation point and could well be in dire straits in the future, as feared by several technology experts. The minister, working through the Pakistan Telecommunications Authority, loves blocking websites for no good reason. Wrong person in the right job?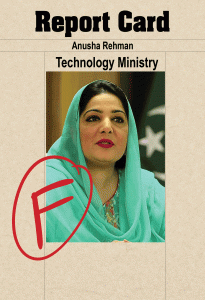 This is just a cursory glimpse of what has been happening in the PML-N's much-trumpeted cabinet. From the petroleum crisis a couple of years ago to the near-bankruptcy of Pakistan Railways to the abysmal performance in the agriculture sector and the introduction of draconian cyber laws, the cabinet has simply failed to deliver.
The prime minister's first task upon his return from London should be an in-house review of the performance of his ministers. There's a lot to ponder and a lot to set straight. The PML-N has to put its house in order. Another dharna season is fast approaching.
The author is an Islamabad-based journalist and has been associated with various media houses, including Geo, Sach TV, AbbTakk News and Capital TV.
Next