Pakistan's Neglected Sports Heroes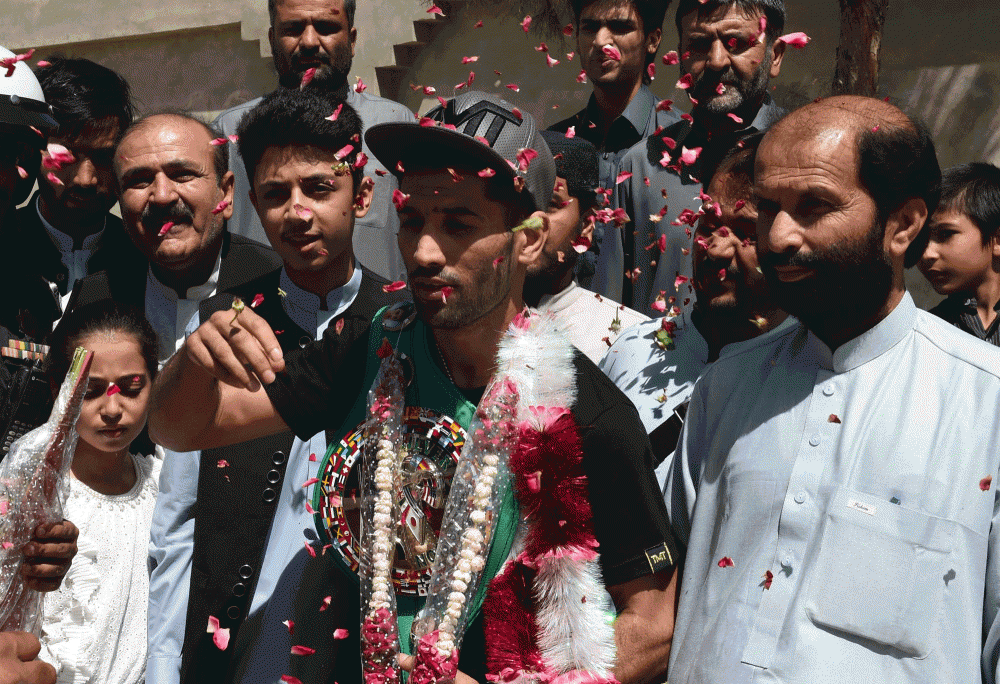 Heroes who bring laurels to their country are respected by the state and government in any part of the world, but in our country that is hardly the case.
Pakistan's Mohammad Waseem, who recently made history by clinching the title of WBC Silver Flyweight and becoming the country's first professional boxer, is a living example of that indifferent attitude. After Waseem secured the title in Seoul last month in a tough fight against his rival, Jether Oliva, from the Philippines, his family members and friends planned a big reception for him at the airport upon his arrival, first in Islamabad, and later Quetta. But their hopes were shattered when not a single minister, government or boxing association official turned up at the airport to welcome a national hero, who had earned Pakistan one of the highest honours in pugilism. What's even more shocking is that officials of WAPDA, where he is a permanent employee and for whom he plays, also stayed away, displaying total apathy towards the athlete.
"I wasn't surprised by the attitude of the government and the boxing associations as they have demonstrated a similar attitude in the past," says Waseem.
The only official present was Nazar Baloch, Director, Balochistan Sports Department, who received Waseem and drove him to his residence in his official car. And then, surprisingly, there was a traffic police officer, Jawaid Ahmad, who was sent by his chief, SSP traffic, Hamid Shakeel, with a bouquet on behalf of the Quetta Traffic Police. As a gesture of recognition, the traffic police was generous enough to provide four security escorts who hooted throughout the journey from the airport to the city to clear the way — that might have been a source of consolation to him and his family members. TV channels and the print media took the government to task for cold-shouldering the boxing hero. The following day, Balochistan Chief Minister Nawab Sanaullah Zehri and the Commander, Southern Command, Lt. Gen Amir Riaz called Waseem to wish him. The chief minister also gave him half-a-million rupees in cash and assured him that the government would bear all the expenses for his three-month training in the United States. Meanwhile, Gen. Riaz gave him two million rupees and promised to provide him a house. The Inspector General, Frontier Corps Balochistan, Maj Gen Sher Afgan, also invited the boxing champion for a cup of tea and handed him half-a-million in cash. Additionally, he invited him to head a boxing club to be established in Quetta under the Frontier Corps (FC) for the promotion of pugilism in the province.
According to Waseem, this is the first time that he has been rewarded, even though he has brought home nine medals, including two gold. "Shahnawaz Marri, the former sports minister, announced a gift of two lakhs seven years back, but never fulfilled his promise," says Waseem.
Waseem joined a boxing club at the age of seven. When he was 16 years old, he represented Pakistan in the international arena. In his 13-year-career, he has won a total of nine medals. He won his bronze medals in Bangkok (2009), Turkey (2009), India (2010), Indonesia (2011) and Korea (2014).Waseem also secured two silver medals in Bangladesh (2010) and Scotland (2014). He earned his two gold medals in China (2010) and at the Shaheed Benazir Bhutto International Boxing Tournament in the country (2010).
Prior to Waseem, it was Syed Abrar Hussain, a Director in the Pakistan Sports Board, who had made a name as a boxing star.
in 1990, 1985 and 1983 respectively, he had won two gold medals and one bronze at the Olympics. Though Hussain was feted as a national hero, he never pursued his career as a professional boxer or fought for the title. Of Hazara descent, Shah was gunned down in Quetta in an incident of sectarian violence.
Mohammad Waseem, meanwhile, has stayed the course and created history in Pakistan's boxing by remaining undefeated for more than seven years. He was nominated to represent Pakistan in the World Series Boxing (WSB) consecutively from 2010 to 2015, but was denied the opportunity by the Pakistan Boxing Federation (PBF) each time.
Waseem started out as a street fighter in his childhood. Seeing his aptitude his paternal uncle, Saleem Alizai, got him admitted to a local boxing club run by Atta Mohammad Kakar, who was his primary coach for a few years.
"Waseem couldn't make much headway because of the government's apathy towards sports; the ministers and the bureaucracy have their own priorities," says Kakar.
Waseem speaks at length about the injustices and excesses he faced from both the boxing associations of Pakistan and Balochistan, that are being run by non-professional boxers, and of how they deprived him of opportunities to win boxing titles years back. He remained the captain of the Pakistani boxing team for eight years on account of his performance. At one point in his life, Waseem had even given up boxing, after being extremely dejected by the injustices meted out to him, but three months later, one of his closest friends, Akmal, persuaded him to return to the boxing ring.
On one of his training trips to South Korea, he was picked up from among a number of boxers by a promoter/financier, Andy Kim, in Seoul. And the rest, as they say, is history.
After 19 long years someone has finally managed to not only step into Abrar Hussain's shoes but also go on to become Pakistan's first professional boxer. Hopefully the government and sports associations in Balochistan will rise to the occasion and provide Waseem the facilities to take the sports further and win many more titles and laurels for the country.
"The Pakistan Boxing Federation has been promoting its own favourites."  Mohammad Waseem

How did you enter the boxing arena?

It has been my passion to become a professional boxer since my childhood. Among all my friends and cousins, I was the one who was extremely fond of fist-fighting with the children in the neighbourhood. And being well aware of my expertise, my cousins and friends would always ask me to go first. When the stories of my fist-fights reached home, my paternal uncle Saleem Alizai, who saw the aggressive streak in my fights, used his judgment to put me in his friend's boxing club in the same locality.

I started boxing at the age of seven and, a year later, began participating in wrestling competitions. I used to bunk school and head to the boxing club. What motivated me further was the ruthless attitude of my teachers, who would beat me and my friends severely for being weak in our studies.

Did you ever have any professional trainer?

Yes, I did. My professional trainer for national competitions was Mohammad Tariq of WAPDA, who is now a trainer in South Korea. What I am today is only because of him. I ran into him in Quetta in 2004. I was dropped from the boxing camp for the Cadet Junior Competition in Hong Kong by the selectors, in order to accommodate their favourites. However, upon seeing my talent, Tariq asked me and two other boys to join the training camp being held in Lahore for the national championship in 2005. I left for Lahore without my family's permission and joined the camp. I won a gold medal for WAPDA, and from then onwards my boxing career took off. I was given a grade 6 job in WAPDA — and now I have reached grade 18.

You have faced many injustices and excesses at the hands of the Balochistan Boxing Federation.

Yes, they have been discouraging players like me and promoting their own favourites.

Once I was replaced by the officials' favourite, Haroon Khan, in my category of 52-60 KG and asked to shift to another category of 49 KG light fly, which meant I would have to undergo weight-loss measures, involving extensive exercises, which can be dangerous for a player. But I complied and managed to win a bronze medal, whereas Haroon lost the competition. Had I been kept in my original category, I would have won the gold — but I was deprived of that chance. Again, I was nominated by AIBA (Amateur International Boxing Association) for the world boxing series, which would have been a great opportunity for me to earn a handsome amount. However the boxing federation scuttled it, yet again. But the Almighty Allah is with me. All the machinations of the people in the federation could not stand in the way of my repeated successes.

Is it true that you were you offered the nationality of another country?

Yes, the Koreans offered me their nationality, but I declined because I want to represent Pakistan and Balochistan in any competition. I have grown up in Pakistan, and got all my basic training here. Pakistan is my identity, and I do not wish to lose my identity. Despite the injustices, my firm resolve is to continue to play for my country.

How and where did you find your Korean promoter?

I was without a promoter for 8 to 10 years. I was on a training trip to Seoul at the invitation of the Korean government last year, along with five other Pakistani players. There, I came across a Korean national, Andy Kim, [who took me under his wing].

One professional boxing event costs around Rs. 100 million and no one in Pakistan is willing to risk that kind of money. As for the government, while it pumps millions of rupees into cricket, there is no money available for other sports like boxing. For now [because of my promoter], I have had no problems as far as finances are concerned. However, I receive a meagre amount for these fights, like I got only USD 3,000 for my recent fight. I may earn more money in future competitions.

You came from a poor family and made it big in boxing. Do you have any plans to support the poor street boys, who have dreams of becoming a boxing star like you?

Sure, but it needs resources. The Inspector General, FC Major General Sher Afgan, offered me a job as head coach of a boxing club, to be established under the aegis of F.C. in Quetta, to train the players. I also urge the government to support potential boxers by allowing the use of college and school grounds in Quetta for their practice sessions. Presently political parties have occupied them and youngsters are not being allowed to use them. The government should also establish a well-equipped club in the city for the advancement of boxing in the province. I am prepared to offer my services to promote boxing in the country.
The writer is a journalist based in Quetta and is President of Quetta Press Club (QPC).
Next