Mahira Khan's son and my son are the same age. So when Bol was being released and she was becoming the woman everyone wanted to know, I would meet her at play dates where all the mommies would pull on tights and head into a pool with their babies. With no make-up, curly hair tied into a bun and wearing a simple shalwar kameez, she looked just like any other mom trying to ensure that her two-year-old son had a good time splashing in the pool. The sum total of our conversation was how to get our sons to sit still and do shapes and colours for more than 10 minutes.
When I went to interview Mahira for Newsline, we decided to meet at Samrahi, the school our sons go to. Located in the middle of Korangi, Samrahi moms tend to never leave the premises, given how far the school is from everything else. It was there that Mahira, dressed in her usual sweatpants and t-shirt, with no make-up on and hair casually tied back, met me. Perched on the extremely uncomfortable benches at Samrahi, Mahira began by telling me about her days as a student.
When Mahira was 16-years-old and had just finished her O-levels from Foundation Public School, she felt this uncontrollable urge to head to America. "I wanted to get out of here," she said, "I was eager to get out of Karachi and live life abroad, on my own terms."
Throughout high school and college in Los Angeles, Mahira worked odd jobs and her first stint was as a cashier at Rite Aid. "I had to do everything there: Mopping floors, cleaning toilets, running the till and shutting the store at night," she says, laughing as she looks back at those days.
"Over there everyone works," she adds, with a slight shrug. "Though my father was paying my college fees, I would make pocket money through these odd end jobs and it wasn't a big deal."
Having a 16-year-old live alone in the United States would be scary for most families but not for Mahira's mom and dad. "I guess I would describe my family as liberal, even though my mother has a more conservative mindset," she revealed. "My friends would only be allowed sleepovers at my place and they would share everything with my mother. Everyone knew that in my house little could go wrong with my mother staying up all night to keep a watchful eye on the girls."
Mahira grew up in a joint family system with her paternal grandparents, dado and dada, living with them, and her phupho's family and cousins residing next door. Shifting to the United States, after having lived such a sheltered life, was somewhat difficult but Mahira was determined to make it work. "Looking back, it's difficult to explain exactly why I was so adamant about staying in the Unites States but I really felt I needed that time to grow and explore," she reminisces.
There were times when Mahira would be working two jobs, and would be drained by the end of the day. But the feeling of making it on her own is what liberated her and kept her going. "The one job that I hated the most was at Express," she said. "All these fat women coming in, posing in front of a mirror and asking me questions like, 'Are these jeans perfect for me,' really got to me. I found that job super annoying."
It was in Los Angeles that Mahira met Ali Askari, her future husband, and it was Askari who almost accidentally led her to a lifetime of being in front of the camera.
"I always knew that I wanted to be an actress, that I wanted to be in movies," said Mahira, dreamily looking back at the years when she would tease her friends that one day they would have to stand in line to get her autograph. "It was just something I knew would happen."
Despite her determination to become a film star, throughout her stay in Los Angeles Mahira stayed far away from the world of films. "The closest I came to the filmworld was being an usher at a film festival in L.A.," she reveals.
Though money was scarce during Mahira's college life, she and her brother would work long and tedious hours in order to save up the thousand dollars needed for a ticket back home. "Saving up every penny in order to buy a ticket was the biggest challenge of the year," she says.
It was during a vacation back home, when Mahira went to pick up Ali Askari from MTV, that she ran into the man who would change her life just like he had changed so many other lives before her: Ghazanfar Ali. "MTV was new and upcoming at the time, and Ali Askari was working there when I met Ghazanfar sahib," remembers Mahira.
It was a meeting Mahira wasn't likely to forget: Ghazanfar took one look at her and said: "Come and become a VJ!" Shocked and eager to head back to the United States to finish college, Mahira simply laughed and said, "I don't think so."
But Ghazanfar Ali persisted, Ali Askari helped him and Mahira ended up saying yes with the understanding that she would only stay on till her vacations.
"I really began enjoying it," confesses Mahira. "I had never done anything like this before and so it was an experience, and every day was just so much fun with all of us hanging out together and just figuring out things as we went along."
It was during the early days of MTV that Ali Askari proposed and, much to the chagrin of her father, the 21-year-old said yes. "My father was definitely against this decision of mine and thought I was throwing my life away but it felt right to me and so I did it," she said.
It was a time of great changes for Mahira. The young girl who had fled to the United States to carve out a life for herself had discovered that the life she really wanted was waiting for her back home. "It was when I became a VJ that I realised how much I enjoyed interacting with people, sharing their experiences, and playing the music they wanted," says Mahira. "Being a VJ was a completely new experience and it was all about figuring it out."
She credits her early learning and development as a television personality to Ghazanfar Ali, the man she refers to as a genius. "Oh my god!" she exclaims when asked to describe how it was working with one of the most enigmatic television producers in the country. "In this industry there is nobody who is as competent at spotting talent and developing stars as Ghazanfar."
Exactly a year after Mahira was launched by MTV, she left the channel and joined Geo television's youth channel, Aag. "I think I had done everything I could possibly do at MTV and so I was eager to try something else," she said. "Geo asked me to do Pakistan Idol and I thought that was an exciting and unique opportunity."
Of course Pakistan Idol never happened and so Mahira ended up staying home and getting extremely bored till Aag television put her on air for Weekends with Mahira.
"The time that I left Indus television and sat at home, doing nothing basically, was a huge low point in my life," she said. "Being in front of the camera is addictive and I was left just sitting at home and staring at the walls after having been in front of the camera, five times a week."
It was during this time that she was offered a role in what seemed like a brilliant play Malaal, by Mehreen Jabbar. "It was going to be shot in New York and I was really looking forward to working with a director as intelligent as Mehreen Jabbar and I couldn't wait to get started," she says.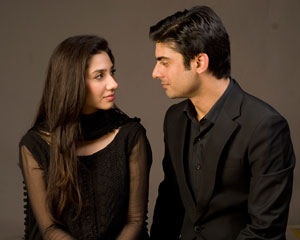 But a week before she was supposed to fly off to America, Mahira discovered that she was pregnant. "I couldn't do the play anymore and though I was ecstatic about being pregnant, I was really bummed about missing the play," she recalls.
When her son was a couple of months old, Shoaib Mansoor called her up and said he wanted her to act in his next film. "When you get a call from Shoaib Mansoor you are like, 'Oh my god! Is this for real?' But instead I told him that I would think it over and call him back."
The next day she said yes, and soon Mahira,with her parents, baby and breastfeeding pump in tow, made their way to Lahore. Shooting for Bol was stressful because every two to three hours Mahira had to disappear to pump milk for her son, who was being looked after by her parents.
And if Bol was something Mahira had been eager to do, Humsafar was almost an obligation she felt she had to fulfill.
Momina Duraid, the head of Hum TV Productions, had offered numerous plays to Mahira but for various reasons they never worked out. "I felt I owed it to Momina as I had promised her that I would work on a play with her," says Mahira.
It was only once she began reading the script in detail and the filming process started that Mahira realised what a phenomenon Humsafar was going to be. Based on a sweet and simple story of love after marriage, the play thrives on the subtleties of the relationships between the three main characters played by Mahira, Fawad Khan and Naveen Waqar, and has developed a cult following.
"I think Humsafar is one of those plays where somehow everything worked out," says Mahira. "It happens rarely but when it does, it's magic! We were talking about this the other day and while we all might go on to do other great plays, there isn't going to be another Humsafar."
For now Mahira is inundated with scripts for other serials but she knows it would be next to impossible to surpass the success of Humsafar, which is why she is taking her time to figure out which project to say yes to.
"I am also a mom so things are never that easy," she says. "I had to say no to a project in which almost the entireHumsafar team is involved simply because I couldn't travel abroad for two months and leave my son behind."
But looking at her trajectory, one is certain that something will work out for Mahira. Something always does.
This article was originally published in the March 2012 issue of Newsline under the headline "Not Just Another Leading Lady."
Next