Balochistan: In the Shadow of the Gun
"Mera bhai nahin milla, magar uss ki lash mill gayi hay." Even over the phone, I could sense the desperation and disappointment in Samia Rind's voice. I had met this young 22-year-old woman at a protest camp in Quetta, late last year. She was carrying a photograph of her brother, Sameer Rind, who was allegedly picked up by Pakistan's intelligence agencies. Samia was not alone; there were dozens of women in the camp whose brothers, sons and fathers had been picked up allegedly by the same agencies. Some admitted that they had been apprehended because of their association with Baloch nationalist organisations, but others claimed that they were taken away for no reason.
The last time Samia saw her brother was on the night of October 14, 2010. Men carrying guns raided her home in Turbat in the middle of the night and beat up her brother, who was sleeping outside in the verandah. Samia ran outside to confront the men and asked them why they were brutally bashing her sibling, "Keep quiet, otherwise we will kill him," they shot back.
While Sameer was being dragged out of his home, he screamed out to his father, "Do not retaliate, these men belong to the 'agencies.'"Just that one dreaded word, often used in Balochistan to succinctly describe Pakistan's powerful and notorious intelligence organisation, filled them with fear.
"But how do you know for sure that those men were from intelligence agencies?" I asked Samia.
"It was obvious. They were carrying sophisticated weapons, some wore FC uniforms and they drove a double-cabin car," she replied.
Sameer was the only earning member of his family. He worked in a car workshop during the day and was studying to become an inspector in the police at night. Sameer's father had been a driver in Bahrain but had retired a few years ago. "Since the day Sameer was taken away, my father has not been well at all," Samia told me tearfully. Following her brother's disappearance, the burden to find him had been placed squarely on her young shoulders. Samia travelled far and wide in a quest for justice — from protest camps in Karachi to Supreme Court hearings in Islamabad. When I asked her to attend a television talk show I was hosting in Quetta, she readily agreed to come as an audience member. She was keen to seize any given opportunity that allowed her access to people with power in Balochistan, who would be in a position to help locate her brother. Samia came to the show with several friends who were in a similar conundrum as she was, but unfortunately, they returned home disappointed. I had invited politicians from all major parties in the province, including the PPP President in Balochistan, Ayatullah Durrani.
Samia summoned the courage to stand up and ask him about the whereabouts of her brother. "During Musharraf's rule, our people were just picked up, but today we find bullet-riddled, tortured bodies. Why is this happening in the PPP government's tenure?" Ayatullah Durrani responded lamely: "Rehman Malik should have been answerable here; I cannot do more than sympathise with you."
Samia shouted back at Durrani, "If you cannot do more, then why are you in power? What use is your power to us? If you cannot implement your orders, give up this post and let someone else govern the province."
"I can only pray for you," Ayatullah Durrani responded patiently.
Samia was not going to give up that easily. "But we can pray for ourselves and hope that God will listen to us. We do not need you to pray for us; we need you to find our loved ones — that is part of your job," she said.
Ayatullah Durrani chose not to respond to Samia and spoke to the audience instead, all of whom had loved ones missing. "On the one hand you say you are fighting a war for independence, on the other hand you want your children to come back home soon. But this cannot happen in a fight for independence against the state — the state will retaliate," he said firmly.
"But if my brother is guilty of sedition, or treason, then try him in court and punish him accordingly. Why has he disappeared? Why must our whole family suffer?" Samia Rind continued to grill Durrani.
And then came an admission from Durrani that none of us expected, especially on national television: "We are limited when governing Balochistan. I wish I had the authority to find these people, but the fact of the matter is, I do not."
And that is the crux of the problem in Balochistan. When it comes to law and order, the elected government is just not in control in the province and is unable to take the necessary measures to implement change. On that very talk show, representatives of several parties, the ANP, the PPP, the National Party, the Balochistan National Party (Mengal) and the Pakhtunkhwa Milli Awami Party, admitted that they could not have a productive dialogue with Baloch nationalists since they didn't have control over the Frontier Corps (FC) or the intelligence agencies — who are allegedly picking up Baloch nationalists and also carrying out operations against them. On the face of it, there is little difference between Musharraf's Balochistan and Zardari's Balochistan.
In the capital, Quetta, the Frontier Corps (FC) check-posts have not been removed, even though the PPP government decided under the Aghaz-e-Huqooq-i-Balochistan package that the FC must comply with the provincial government's directives. As detailed by the package, the FC will be made answerable to the chief minister of the province. However, Chief Minister Nawab Aslam Raisani stated publicly in November 2011, that the FC was working at cross-purposes with the civilian government. In Balochistan, the FC and the army are considered two faces of the same coin; therefore, any attempt to rein them in would be considered a literal clipping of the army's wings in the province. So far, the PPP government has been unable to do this.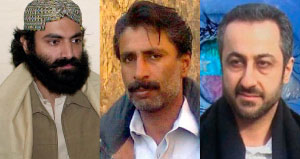 At the Balochistan University, students claim that the FC pickets are a cruel reminder of several military operations carried out against Baloch nationalists. They allege that the security forces are directly responsible for the target killing of Baloch separatists — a well thought-out plan to squash Balochistan's freedom struggle. However, the vice chancellor of the University, Dr Abdul Nabi disagrees, saying that the FC pickets are necessary to ensure peace on campus. And he has reason to worry: In the last few years, 22 Punjabi teachers were killed in Quetta, out of whom four were from Balochistan University. Last year, a professor of the same university, Nazima Talib, became a victim of target-killing. Dr Nabi describes how Punjabi settlers share their innermost fears with him, "We are leaving, it is no longer safe here. The Baloch have a lot of resentment against the state and the face of the state is Punjabi," they say.
However, freedom-fighting Baloch students, who belong to the Baloch Students Organisation (BSO, Azad group) state that it's only one side of the story. They believe that hundreds of their fellow rebels from the BSO have been picked up and subsequently killed by the agencies. The number stated by Interior Minister Rehman Malik stands at just 42. Independent sources, including human rights groups, say the figure runs into hundreds, while Baloch nationalists have declared over 8000 missing people. But the real debate is not about the numbers of the missing people but rather the present government's failure to exert its authority, thereby deepening the resentment of the Baloch against not just the army, but also the present democratic government.
While I was interviewing students at the Balochistan University, a particular student's words provided insight into a segment of student opinion: "We do not trust the current civilian leadership because the federal leadership doesn't care and the provincial leadership is corrupt and discredited. Our real leaders are Brahamdagh Bugti, Dr. Allah Nazar, Harbiyar Marri and all those Baloch leaders who are fighting for independence and have not compromised with the state. We have not pinned our hopes on the federation that has only built three universities in our province in all these decades."
But one can see divisions among the students. When I asked them if their leaders should take part in politics or just resort to the gun, most of them believe that change may come through politics. It is quite clear that no one, not the Baloch, nor the Pashtun or Punjabi settlers, is happy with the status quo. Not even the sons of the ruling elite in Balochistan.
The Balochistan PPP President Ayatullah Durrani's son, Saeed Durrani is one of them. During our talk show, while we attempted to make all political parties in power accountable, Saeed Durrani stunned us all by humiliating his father in an impassioned speech. "What have you and your party done for education in this province, except indulge in corruption? You are with the PPP, but I am a part of the Baloch Students Organisation, and I know your party has done nothing for the youth. And since the quality of education in Balochistan is so bad and there are hardly any job opportunities here, I've studied in London and now work there too. The young Baloch have no option but to take to the mountains. I challenge you all to address our grievances. But none of you talk of our rights. What kind of democracy is this? My younger brother warned me not to speak up in this programme. But I told him that this is a democracy."
A rather stunned Durrani tried to calm his rebellious son, dismissing his anger as part of the Baloch nature. But it is clear that the young Baloch are not only feeling threatened but cornered as well. They feel they have no other option but to fight back.
After Nawab Akbar Bugti's killing, Hasil Bizenjo, the leader of the National Party, told me that the youth wings of most nationalist parties began rebelling. They feel that if the state can kill a pro-federation leader like Nawab Akbar Bugti, then, there is no hope for the other leaders. Nawab Bugti was the first Balochh sardar to vote for Pakistan in 1947 and when he took up arms against the state, he became a traitor to the military government, but a freedom fighter for Baloch nationalists. For many years now, and for many people outside Balochistan, Bugti always represented the genuine Baloch voice. But inside the province, he was considered a traitor by those who felt that supporting Pakistan's federation was tantamount to diluting the Baloch cause for separation.
I was one of the last few journalists who had the opportunity to interview the nawab when he took to the mountains to fight against Musharraf's military-led government. We travelled first in a camouflaged jeep on rugged, mountainous terrain, and then on foot, to meet him at his hideout where he was surrounded by well-armed tribesmen and his two grandsons, Brahamdagh Bugti and Aali Bugti. At that time I asked him if he was negotiating with the government and he replied sarcastically, "They are negotiating, can't you see. They are negotiating with the big gun whose thunder can be heard all over the country." When I asked him if the Balochistan committee, formed by politicians from across parties, had been helpful, he said, "The leaders of the committee, Chaudhry Shujaat Hussain and Mushahid Hussain, have no mandate. I told them, if they can meet our demands of pulling troops out of the province, abolishing cantonments and giving us our due share of funds, we can talk, otherwise they are wasting my time."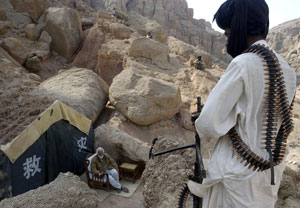 When Bugti was killed in 2006, I vividly remember the words of Afrasiab Khattak, who had accompanied us to meet the old sardar, "This is a recipe for disaster. They have killed the only leader who they could negotiate with." His words proved prophetic. Now the young leaders of the young Baloch, Brahamdagh Bugti, Harbiyar Marri and Mehran Marri have proved to be tough negotiators and so far have only rejected the government's peace offerings.
Recently, Rehman Malik announced that the government would withdraw cases against Brahamdagh Bugti and Harbiyar Marri, but the move has not convinced them to return to Pakistan. They continue their struggle for freedom from western capitals.
In the meantime, on the ground in Balochistan, young Baloch like Samia Rind are growing up in the shadow of the gun. Two days after our programme was aired, I received a call from her, "Mera bhai nahi milla, lash mill gayi hay." She proceeded to inform me that now her younger brother has been politicised and she fears that he, too, will follow in his elder brother's footsteps. Meanwhile the government-owned media regulatory body, PEMRA, has sent a letter to all TV channels, warning them not to air voices of dissent from Balochistan.
But I know, even if we do not air them, they will not be silenced.
This article was originally published in the March 2012 issue of Newsline as the cover story under the headline "In the Shadow of the Gun."
The author is a contributor at Aaj TV
Next