Film review: Wine Country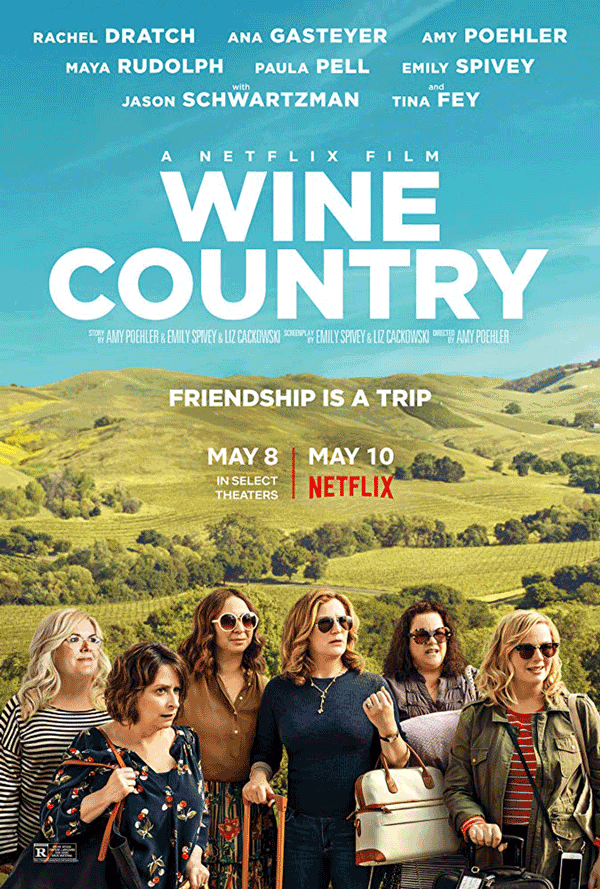 Longtime friends and Saturday Night Live alumnae, Amy Poehler, Rachel Dratch, Maya Rudolph, Ana Gasteyer, Paula Pell and Emily Spivey play reel-life friends in Poheler's directorial debut, Wine Country. Inspired by one of the many real life trips these women have taken together, Wine Country follows the six friends, who first met waitressing at Antonio's Pizzeria in Chicago in the '80s, as they reunited in Napa Valley to celebrate Rebecca's (Dratch) 50th birthday, or the "Big 5-OH!" as they refer to it.
The film introduces the characters through a 6-way phone call; bossy and hyper organised Abby (Poehler) details the trip's itinerary as she packs up her desk at work; Naomi (Rudolph) is the overworked mother who can't pee in peace without one of her kids barging into the loo; Rebecca, is a therapist who offers everyone some 'feedback' but refuses to acknowledge her husband's shortcomings; Catherine (Gasteyer) is the most successful of the lot, a workaholic ridden with guilt about having missed previous plans; Val (Pell) is the queer person in the group whose sexuality is thrown in for good measure – evidently as a reminder of the socially aware writing of the movie – and the ever-anxious Jenny (Spivey), who is surrounded by various medicine bottles as she comments on the germs they will possibly come in contact with during the trip.
The women reach their Airbnb in Napa Valley and the stage is set for the perfect feel-good comedy as they tour vineyards, eat at restaurants and sing along to songs from their youth. But despite all the right ingredients, Wine Country struggles to make a lasting impact. The six women have great chemistry, playing in tandem without one character overpowering the other, but while it is fun to watch them unwind, as the audience you feel like an awkward bystander trying to get in on the joke – clearly the characters are having a lot more fun than the audience. A constant repetition of "things we say now" – the group's version of 'that's what she said,' – and a long drawn scene about young people and their ways are forced, unnecessarily stretched out and fail to induce a hearty-laugh.
Some of the best comedy in Wine Country is delivered by guest stars Tina Fey, who plays Tammy, the sardonic owner of the Airbnb, and Cherry Jones who essays the role of Miss Sunshine, a tarot card reader who informs the group that their friendship may not be as strong as they believe. Much to Abby's dismay, the trip goes downhill from there; the itinerary long forgotten, secrets are revealed and arguments ensue. But even as the women struggle to navigate love, children, financial success, lay-offs and failed relationships, they ultimately find their way back to each other.
Wine Country is not an original story, Poehler's inspiration comes from movies of the past but this girl group lacks the spontaneity of Bridesmaids and the nostalgia of Steel Magnolias. Her penchant for comedy that shone in her earlier works – Parks and Recreation, Saturday Night Live sketches – is lacklustre at best in her directorial debut. Still, Wine Country is an important movie, especially during a time where female directors are finally getting their share of opportunities. Poehler's film will not be remembered as a game changer, but it is a step forward in making more female-centric movies that explore the nuances of friendship and tell a tale of female endurance – minus the objectification and the male gaze.  A great watch for girl's night, it is a reminder that through it all women will always have each other's backs.
A journalism graduate, Zoha's core areas of interest include human and gender rights issues, alongside which she also writes about gender representation in the media and its impact on society.
Next