As I sporadically met him over the years, I saw the person slowly emerge from within the canvas. And Jamil Naqsh, I learnt, was as much part of his own individualistic, stylised, ever-evolving creative oeuvre as his textured, multi-layered artwork. Sometimes in almost frenzied motion, painting like a man possessed, he would produce canvas after canvas of near sublime work. Then there were the lulls, a distance and a darkness perhaps, which yielded a relatively soulless creative output. And then, that too would pass. Jamil Naqsh would be back painting up another magical storm.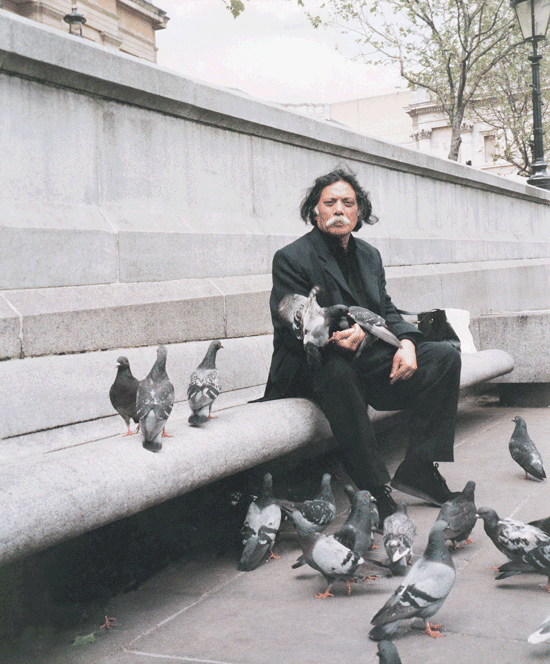 As an art afficionado with an avid interest in discovering the only living 'master' in Pakistan's art circuit I had not yet met, Jamil Naqsh struck me as an enigma. He was a man of few words, but he watched closely and imbibed … I believe few things missed his notice, and some found their way into his paintings.
According to those who knew him well, Naqsh was never much of a people's person, and with the passage of time that reclusiveness intensified. Leaving home virtually ceased, even though visitors were always welcome to his home and both him and Najmi Sura remained warm generous hosts.
As I slowly got to know Naqsh – to the extent that knowing him was possible in limited encounters and the determined distance he had created in relation to human interaction – I sensed the artist's deep, fiercely guarded inner core. There was also, I sensed, a brooding sadness. But then that  would give way to sunnier moments, to conversation, to cryptic humor, and even to an an endearing affection. And lurking, omnipresent I think, was the artist's ego, that manifest itself in little ways.
Earlier, when I would meet Naqsh, I would wonder, were his ostensible eccentricities for real, or were they contrived to portray the embodiment of 'the true artist' – a Van Gogh or Dali perhaps? I think I realised he was a man of many parts: he could be a maverick, his ego could colour his judgement and his mood, and as was visible in his relationships with his family, he had to be lord of his manor. But for all his strangeness, this mercurial, brilliant egocentric, generous man was, for the most part, the genuine article.
Jamil Naqsh was known, apart from his creative genius, for his 'elephant's memory' and I once became a target of that and his ego. Many, many years earlier, I had reviewed one of his exhibitions, a calligraphic show.  That genre and the collection was perhaps my least preferred choice of all his work I had seen until that time, and I unequivocally said so in the article. He was clearly not amused. All those years later at an otherwise amicable evening at the Naqshs' Karachi home, midway through an animated conversation on something completely unconnected, he turned to me and quoted verbatim what I had written – and actually long-forgotten. Then he proceeded to 'educate' me about how he was also a master – and a unique one at that – in the art of calligraphy. I did not agree, but found myself unable to demur. And that body of work still remains my least favorite of his vast and varied creative output.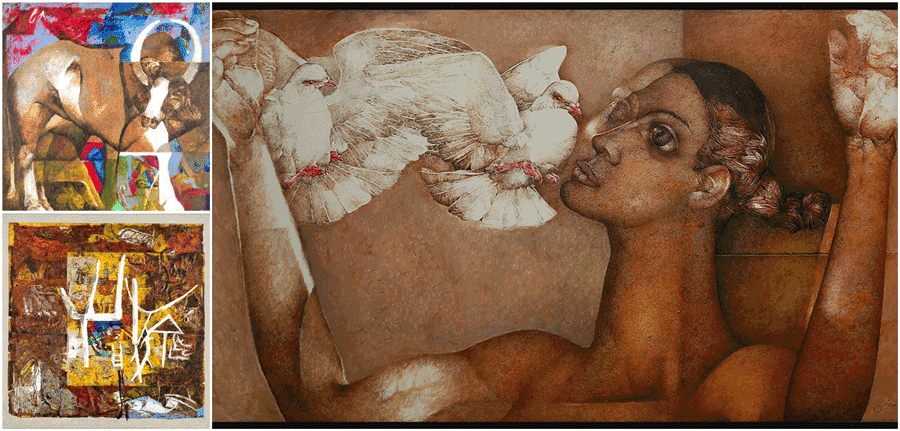 Through his life Naqsh, man and his art alike, engendered diverse opinions. Unlike many of his detractors, I never saw the artist as merely a 'competent draftsman' or a 'purely commercial' painter. His work was born of passion and executed with unarguable skill. At their Maida Vale home in London,  Naqsh's studio testified to his passion almost to the end. There, stacked against each wall were endless paintings. Each time one went, it would be replaced by another.
Virtually since they moved to London, trips there in summer were never really quite complete without a visit to the Albemarle Gallery where a Jamil Naqsh show became an annual feature,  and equally whatever the season, a visit to the artist's home to meet him personally since he never attended his own shows.
I will always recall those visits with a smile, for there was Naqsh ensconced before a large flat screen airing Pakistani news, in his favourite recliner, clad in his ubiquitous wrinkled khaki linen shorts and black T-shirt, glass of red wine in hand at 12 noon, visibly happy to receive visitors, wanting all the news about politics, the art world and people that interested him, and readily allowing even non-buyers to see his latest works. That labour was left to Najmi, who lovingly conducted the guided tour, saw to his every need and want – and to ours as well, plying us with refreshments and the wonderful food she always served up.
No matter how infrequent our meetings, to me Naqsh – and all his avatars – had always appeared larger than life, somehow almost immortal. Through his work, that now adorns walls in the Naqsh Museum in Karachi and many, many homes in Pakistan, India, the Middle East, Britain and beyond, that still holds true. The artist will not die. But the absence of his physical presence is palpable.
He will be missed.
Next