Jamil Naqsh enjoyed great renown as an artist from a fairly young age. His art exemplified the liberal values that underpinned the rise of modernism in Pakistan in the '60s and '70s. He tirelessly painted the female nude and the pigeon and they became exemplars of his style. Naqsh's part-figurative and part-abstract idiom was a carefully evolved synthesis of western aesthetics and eastern ideas – a synthesis that marked a point of arrival in his development as an artist.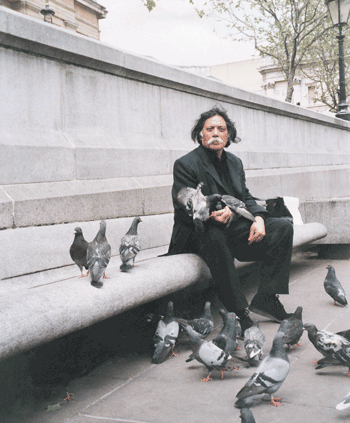 Jamil Naqsh was born in Kairana in Uttar Pradesh in 1939. He moved to Pakistan at the time of Partition with his brothers. In 1954, he enrolled at the Mayo School of Art (now called The National College of Arts) where he apprenticed with Ustad Muhammad Sharif in the art of miniature painting.  His dedication lay with his mentor but not with institutional affiliation. He left Lahore for Karachi at the end of that year.
The early years in Karachi constituted an era of intense artistic exploration. He painted traditional miniatures; he sketched vignettes of the city and its street vendors. His line work began to shift from the conservative continuous line in miniature art to freer forms such as hatching and planar analysis drawing. The latter technique allows complex surfaces to be represented in flattened geometrical form and Naqsh's mature work relied heavily on it.
A job at an advertising agency made buying art materials more affordable. Naqsh befriended Masood Kohari and other artists. He took classes at the American Center. His exposure to art styles and conversations was informal and diverse.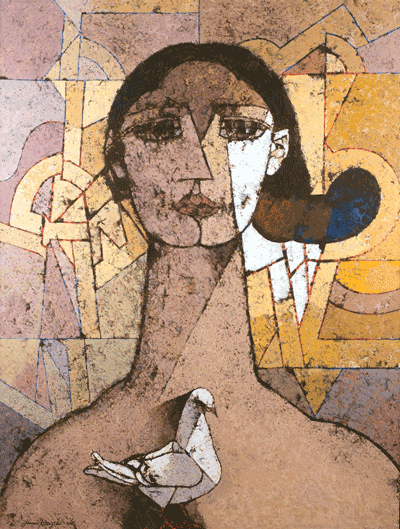 Naqsh started exhibiting in the 1960s. A solo show was held at the Arts Council Karachi in 1963. The pigeon as subject emerged in these works. The composition was carefully crafted to balance the relationship of the pigeons' bodies to one another as well as to the considerable empty spaces left on the canvas.
It was around this time that Naqsh began to paint pigeons with female nudes, a juxtaposition that would later become his hallmark. A painting dated 1958 in catalogues shows a woman's head with an elongated neck holding a pigeon in her upturned hand. The oil painting is done in monotones of white with thick paint and fractured lines.  Arguably this pairing of woman with bird was popular in the modernist zeitgeist of that decade. Shakir Ali had painted abstracted women with birds. To his mind, the birds were a symbol of freedom.
Jamil Naqsh's art, on the other hand, was unconcerned with narrative or meaning. His concerns were purely aesthetic and compositional. The woman in his work was calm, statuesque and unemotional. She existed as an archetype of female beauty in a mythic relationship with the natural world which was symbolised by the pigeon. The mosaic-like architecture of line and colour added dynamism to the surface of the canvas in contrast to the stillness of the human form which emerged like a carving from the geometrical divisions of the background surface.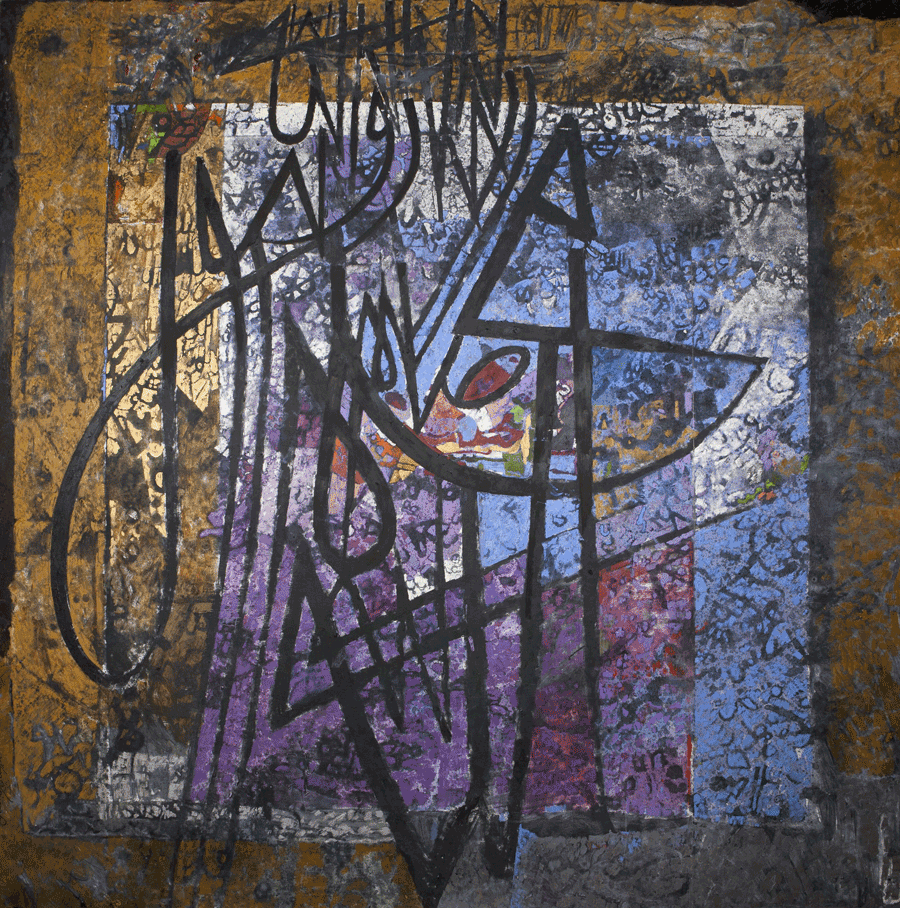 Sculpture and geometry played an important role in Naqsh's mature style. In the 1990s, he exhibited the Woman and Horse series as a tribute to the Italian sculptor Marino Marini. Marini had introduced strong Cubist elements in stylising his depictions of horse and rider. Naqsh also incorporated Cubist elements in his work and fragmented the figures thus rendering them more abstract. Unlike Marino, who expressed his concern with the state of the world in the way he depicted the horse and rider, Naqsh's renditions were aesthetic rather than philosophical. Naqsh made no demands on his viewers to interpret his art in the context of external references.
This ahistorical approach did not reduce the appeal of his work among connoisseurs. His work sold steadily and Naqsh's prolific output more than kept up with the demand. In 1999, the Friends of Jamil Naqsh Foundation was created to which he donated a thousand paintings. The Foundation was the early incarnation of the Jamil Naqsh Museum.
Naqsh had carefully curated the influences on his artistic style and he did the same with regard to his lifestyle. He entered a reclusive phase by sequestering himself in his custom built-house in Baloch Colony. He relied on close family and companions to interface with the outside world and to keep him abreast of happenings.
Select visitors were allowed access to himself and they spoke of his gracious, old world hospitality during appointments. His studio however, located within the house, remained a private space.
Naqsh always followed the trajectory of his own reasoning and explained very little about himself or his art. In 2003, the recluse surprised his admirers by emerging from his sanctuary and relocating to London. He remained there until his death from pneumonia on May 16, 2019.