I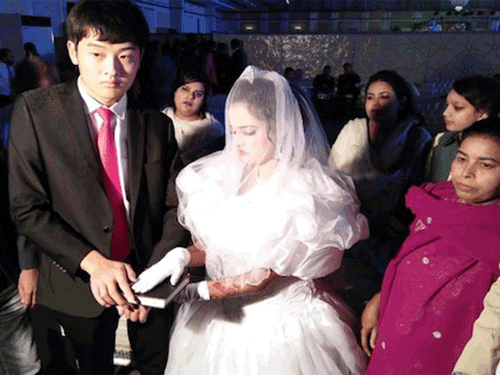 n a society riven by social inequalities, moving abroad is often seen as the magic key to unlock a prosperous future. While both skilled and unskilled workers take up opportunities to work abroad, some families also look out for marriage proposals from foreign nationals to give their daughters a secure future. With the influx of Chinese nationals into Pakistan, this phenomenon has taken a new turn as women accept offers of marriage from Chinese nationals. Many of these liaisons are fake marriages, as revealed by news stories that uncovered a trail of exploitation.
Nineteen-year-old Mehak, who belongs to a Christian family in Faisalabad, married a Chinese national last November. "One of my cousins was getting married to a Chinese national. At her wedding, a Chinese man saw me and proposed," says Mehak. Her family accepted the proposal and she got married at just a week's notice. "He wanted to get us married as soon as possible so that the documentation for the visa process could be completed," she says.
After getting married to Song Guoqiang, Mehak soon realised that her dream of going abroad was not what she had imagined. Guoqiang and his family had told her they were Christians, but Mehak found out that he did not even read the Bible, nor did he practice any Christian rituals. Mehak got in touch with some women in China through a mobile app called WeChat, and learnt about the scam of trafficking Pakistani girls in China. She separated from Guoqiang after a month. She says, "One of the Pakistani girls in China told me that the Chinese men force them into prostitution and other felonious schemes, getting them pregnant and selling off their children."
Hundreds of women now claim they were forced into organ selling and prostitution after contracting fake marriages with Chinese nationals. The incidence of fake marriages and exploitation of Pakistani girls was reported for the first time in January when Pakistani immigration officers arrested a Chinese man forcibly taking a woman, whom he claimed was his wife, from Islamabad airport to China. Details emerged of the extent of the cross-border wedding scandals when the FIA conducted raids in Lahore, Faisalabad and Rawalpindi.
At first, the main target of the scam artists was lower middle-class families in the Christian community. While the constitution of Pakistan declares all citizens equal, reality tells a  different story. The Christian minority in the country is subjected to various forms of abuse, intimidation and persecution ranging from mob attacks, to burning down of churches and false blasphemy charges. In these less than desirable living conditions, members of the low-income Christian minority in search of a safer environment can be easily lured into marrying foreign nationals who promise them a better life.
The Chinese husbands of these Pakistani brides make sure that they complete the documentation as soon as possible. And once the woman is brought to China, all contacts with family and friends are cut off. The Chinese men have received help from accomplices in Pakistan; agents running fake marriage bureaus actively look for vulnerable targets, reportedly loitering outside churches to find potential brides. Some clergymen are also alleged to have approached families in the congregation, luring them into the marriage scam with promises of money and a visa. The men in question not only bear all expenses for the wedding but also promise to provide consistent financial support for their 'in-laws.'
Natasha married a Chinese man and went to China after tall promises made by a broker and the concerned party. She and her family were informed that the Chinese boy was Christian, but later discovered that he was Buddhist. She somehow managed to come back to Pakistan after a couple of months. Natasha says, "I want to send out a warning that marrying Chinese men and going to their country is just a scam, you should avoid it."
Saleem Iqbal, a human rights activist for Christians, researched the issue and is said to have rescued more than a thousand Christian girls who either got married, or were planning to marry Chinese citizens. Iqbal interviewed many women involved in the marriage scandal. They told him about the initial process and the methods used to convince them to move to China. Later, the girls were involved in sexual slavery and organ trading.
The Federal Investigation agency (FIA) has reportedly arrested 79 Chinese citizens who were involved in this scandal and detained several people at Islamabad airport in previous raids. They say arrests were made mainly in central Punjab, parts of Khyber Pakhtunkhwa  and Sindh.
On May 10, a Senate Committee meeting stated that over 150 Pakistani women moved to China last year on the basis of marriage and that the Chinese embassy in Islamabad is supporting investigations into the matter. The committee also revealed to the media that victims of the scam belong to both Christian and Muslim communities. Much like the Christian families, Muslim girls were lured into marriage by Chinese men pretending to be recently converted Muslims. Local accomplices are in on the scam too, vouching for the prospective grooms and convincing families to marry their daughters off to them.
The raids conducted in Rawalpindi by the FIA's Anti-Human Trafficking Unit, involved the arrest of 20 people for bride trafficking, of which 14 were Chinese nationals from whom weapons have been recovered. Three local facilitators and three Pakistani women were also arrested.
The majority of cases have been reported from Faisalabad, the second-most populated city of Punjab. A special intelligence report of a law enforcement agency mentioned that some Chinese nationals had rented out a house in Eden Garden for a monthly rent of Rs.30,000. According to reports, they came here to work on a development projects but stayed on  for months after the completion of the project. They were even provided security by the local police.
Cases of trafficking exist not only to Pakistan, but in other neighboring countries of China as well. Hundreds of Myanmar women were reportedly deceived into travelling to China for employment purposes, but were later sold off to Chinese families as brides and held in sexual slavery for years.
International human rights organisations are aware of this matter. On April 26, the Human Rights Watch (HRW) said that both Islamabad and Beijing should consider taking action to end bride trafficking, following evidence found in Pakistan.
The Islamabad High Court (IHC) and Lahore High Court (LHC) have passed rulings regarding fake marriages. On May 13, the LHC announced the judicial remand of 11 Chinese nationals held accountable for the fraudulent scheme. The accused were presented before the court by the FIA after two days' physical remand and Judicial Magistrate, Amir Raza, concluded the hearing.
China's Belt and Road initiative has led to many changes and developments in the region. The twists and turns of the ambitious programme brings opportunities as well as challenges to the forefront in Pakistan. It has led to the arrival of hundreds and thousands of Chinese nationals in different parts of Pakistan, who come here in a CPEC-related capacity. Some of them are found to be involved in dubious activities. China's notorious 'one child' policy may be one of the reasons for cross-border marriages by Chinese nationals, who are allegedly involved in selling off children. They have also been found guilty of trading the organs of newly-wed brides.
Beijing is attempting to brush the scandal under the carpet, insisting that the media should avoid playing it up. Pakistan's Foreign Office backs the stance of the Chinese government, but it has not denied the fact that the fake marriages did take place.
This scandal has brought to light several concerns regarding newly-wed Sino-Pakistan couples. Even legal marriages between citizens of the two countries are now under suspicion.  On May 15, the Chinese embassy decided to withhold the visas of Pakistani women planning to travel to China with their spouses and is conducting an investigation into all the marriages that took place in 2018.  
Next