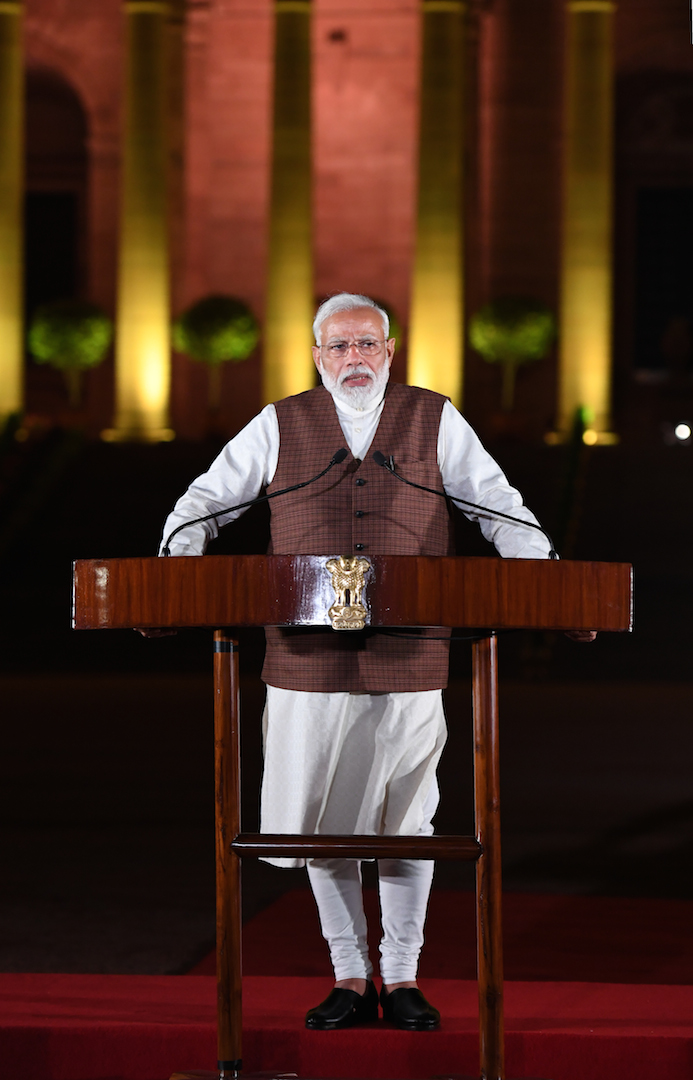 The journey from Prime Minister Narendra Modi's landmark victory in 2014, to a landslide victory in 2019 – a decisive re-election – is both difficult to understand and explain. Exit polls and analysts had predicted a win for the Bharatiya Janata Party (BJP), but few had imagined a walk-over translating into 353 seats out of 543, up by a whopping 19 seats. Many Indians believe that Modi is one of the most powerful – and divisive – leaders India has produced in decades.
Those opposed to him and his ideology feel an abject sense of defeat and despair. Congress was unable to even make a dent. Hopes had gone up for a larger role for Congress in the 2019 Lok Sabha polls, when it beat BJP in three states and emerged as the single largest party in Madhya Pradesh, with 114 seats. Yet this did not translate into the party's emergence as a restraining opposition.
Congress, which had managed to recover some ground in assembly elections, has once again failed to reassert itself as a national party. Its 52-seat tally is embarrassing, given the fact that it will now not even be able to elect the leader of the opposition.
Rahul Gandhi, post-elections, appears desperate and defeated and has offered to resign as the President of his party. He was unable to even hold onto his family's long-held home constituency, Amethi – Smriti Irani [of the BJP] won it. Congress has held Amethi in Uttar Pradesh, since 1967, except for one three-year stint in 1977-80 and a separate one-year period in 1998-99. Gandhi won the seat in 2004, 2009 and 2014 and the constituency is considered one of the two Nehru-Gandhi family bastions.
The Congress that once boasted of strong regional leadership, has no big names to its credit now. Nine former chief ministers lost on a Congress ticket in the 2019 Lok Sabha elections. Amit Shah, the BJP President said, "Congress got zero seats in 17 states and Union territories, while the BJP secured over 50 per cent of the votes in as many states and Union Territories." This is how huge the gap between the two parties is.
The sheer scale of the Grand Old Party's defeat – it won a total of 52 seats, as opposed to the BJP's jaw-dropping 303-plus – heralds the end of the party, or perhaps an era.
Time magazine dedicated its cover to India's Prime Minister Narendra Modi, labelling him the country's "divider in chief." The elections have also been called divisive. The victory speech rejected secularism, and liberals are once again saying, 'Modi has won, has India won too?' The answer is – it's not about winning or losing. India has changed; Modi just represents it.
The truth of the matter is that the 2019 elections made it clear that Modi is no "divider in chief." Moreover, divisive or not, Modi becomes the first Prime Minister in nearly 50 years to win a majority in successive parliamentary elections in the largest democratic exercise ever, where 600 million Indians voted, with a whopping turnout of 67 per cent – the highest ever. Analysts call him "larger than life," a cinematic character. His party is India's richest and most aggressive. Indians see Modi as a nationalist icon, who stood up to China, is hard and aggressive on Pakistan and has Washington courting India. This gave voters the justification to bypass economic issues and vote for BJP on the security agenda. Also, Neelanjan Sircar – a political commentator on Indian politics – noted that many Indian voters appeared to be looking for an "excuse" to support Modi, while the lack of an alternative also helped.
The promised economic narrative of 2014 never materialised. The "achay din" (good days) never came. India experienced a 45-year high in unemployment, rural distress, an impactless 'Make in India' scheme, demonetisation and an overall picture of economic shrinkage. However, the voters favoured the security agenda Modi was able to portray so well.
The economy may not have performed so well, but the social service schemes initiated by Modi had a positive impact. These included the Swachh Bharat Mission (Clean India campaign), where around 90 million toilets were built in the rural areas since 2014 and a total of 546 districts were declared 'open defecation-free,' according to NDTV. Open defecation in India is a real issue. The BJP claims to have made India 96 per cent open defecation-free. It also claims to have given a 100 million LPG connections in four years against 130 million in six decades.
Modi also claimed that in four years, the National Democratic Alliance (NDA) government had constructed approximately 13 million homes for the poor, compared to approximately three million built by the previous United Progressive Alliance (UPA) government in the same period. Those who were not recipients of toilets, gas connections and low-cost housing, expect it post-2019.
Modi may be divisive, but he is also a friend of free enterprise, and is supported by the corporate elite of India. Modi is India's new truth. Hindutva may be racist, communal, irrational and a vengeful ideology, but it has found traction in Indian society. Modi is here to stay.
Both a reactive and a responsive leader, he has won India over. Will he reinvent himself and Indian politics to ensure that the country emerges as a 21st-century great power? Will he contribute towards regional and global stability? Will India become more aggressive, or progressive, under him?
Modi's re-election is not good news for Kashmir and Kashmiris fighting for their right to self-determination. In its manifesto, the BJP vowed that it would abolish Articles 370 and 35A of the Indian Constitution, which are applicable to the region. The two laws provide special citizenship rights and autonomous status to the disputed state of Jammu and Kashmir, and prohibit outsiders from permanent settlement and jobs in the Muslim-majority region. With the BJP securing another term, residents feel the party will allow 'demographic changes' in the volatile region.
The brutal use of force and human rights violations by the Indian military, have failed to end the struggle of the Kashmiris. The situation in the disputed territory is worse than it has been at any time in the past. The Indian government has 7,00,000 troops in Kashmir. Since 1989, rebels have been fighting against Indian control in the region. About 70,000 people have been killed in the uprising and ensuing crackdown. A recent United Nations report on Jammu and Kashmir pointed to the Indian government's official figures of approximately 17 people killed between July 2016 and August 2017, and 6,221 injured in the same period due to pellet firing.
Between July 2016 and February 2017, the figures show that around 728 people's eyes were damaged. These figures could be more, considering that a number of victims prefer not to provide exact details to hospitals for fear of being arrested by the intelligence agencies. The year 2018 saw a surge of violence, with over 400 deaths – the highest in a decade. The Central Reserve Police Force, the Indian paramilitary deployed in Kashmir, told a court in 2016 that they fired about 1.3 million pellets in just 32 days.
The cost of holding on to Kashmir is proving to be high for India. Continued use of force and hard power as a strategy to control the region may be counter-productive for India itself. Arundhati Roy sums it up beautifully, when she says, "India needs freedom from Kashmir as much as Kashmir needs freedom from India."
Modi's re-election has significant implications for South Asia, especially the Pakistan and Afghanistan peace initiative. Pakistan and India went to the brink of war earlier this year, after a terrorist attack in the disputed territory of Kashmir. Pakistan may have won the global perception war post-Pulwama, but the terrorist attack on Indian forces in mid-February and the subsequent failed air strikes in Pakistan, enhanced Modi's image in India, giving him the requisite push for victory just before elections.
Pakistan has maintained a conciliatory tone and behaviour all along, emphasising diplomacy and dialogue with India. Some Indian analysts hope that Modi will revive the currently stalled diplomatic dialogue with Pakistan at some point. Pakistanis consider Modi a hardliner – a sentiment that will only be reaffirmed by his snubbing of Prime Minister Imran Khan, the only South Asian head of state not to be invited to Modi's oath-taking ceremony in New Delhi last month. This notwithstanding, the question is whether or not, in his second term, Modi will change his policy of 'offensive defense' and actually pursue the 'neighbourhood-first' policy he heralded after winning the May 2014 elections.
Despite Modi's attempts at diplomatic isolation, Pakistan has become a strategically sought after state. Recent developments, including the peace initiative in Afghanistan, a warming in relations with Tehran, Riyadh and Washington and a consolidation of ties with Beijing, are all indicative of a foreign policy that has enabled Pakistan to improve its international relations and connectivity.
PM Khan has congratulated Modi on his re-election and his party's electoral victory and expressed his desire for both countries to work together for the betterment of their people. Foreign Minister Shah Mehmood Qureshi also recently stated, "Pakistan wants all the matters resolved through dialogue, and that Prime Minister Imran Khan had said in his very first speech that if India takes one step forward, we would take two steps forward. Even today we are ready for a dialogue". Hopefully, a more secure and powerful Modi will not rely on Pakistan-bashing anymore to win support and will respond to the positivity showcased by Pakistan. He can and should re-invent India's regional role to one that befits its size and stature. The twenty-first century should witness a new India under Modi.
The writer is an Associate Dean at IBA, Karachi.
Huma Baqai is the Associate Dean, Institute of Business Administration (IBA), Karachi.
Next