It took us 17 years to figure out but we finally know the secret to cricketing success: a Khan should always captain Pakistan. In the country's first major trophy since Imran Khan's cornered tigers lifted the World Cup in 1992, Younus Khan's motley crew of unfancied outsiders defied all expectations to annex the Twenty20 version of the World Cup. In doing so, Younus showed that there are varied paths to victory. Where Imran was taciturn, steely, some would even say dictatorial, Younus was democratic, generous in his praise for others and remarkably jovial, providing an endless stream of quotable observations.
At the risk of ratcheting up the sentimentality and elevating the importance of cricket, there was a certain poetic justice to the final. Just months earlier the sanctity of cricket in South Asia, long considered a unifying force that transcended mere politics, had been exposed as a romantic illusion by terrorists who attacked the Sri Lankan team bus in Lahore. Cast into cricketing wilderness, the Pakistanis were woefully underbaked and arrived in England with a ragtag bunch of talented players prone to blowing hot-and-cold for no discernible reason.
But as is the case with all true champions, Pakistan were at their sublime best when it truly mattered. Basketball great Michael Jordan once explained after a remarkable performance that he had "imposed his will" on the opposition. This is what the Pakistan cricket team did. From the very first over of the final, they seemed unafraid to lose, taking the gambles necessary to beat a Sri Lankan team that, at least on paper, held the advantage.
Teenage pacer Mohammed Aamir, who was born three years after Sri Lankan opener Sanath Jayasuria started playing for his country, belied his years with aggressive bowling that went straight for the batsmen's throats, not only getting a wicket in the process but also bowling an all-too-rare maiden over. The gauntlet was picked up by Abdul Razzaq, returning after two years in ICL wilderness, as he snapped up three more wickets in quick succession, leaving the Lankans reeling at 32-4. From there, Shahid Afridi, nicknamed "Boom Boom" (an unfortunate moniker for a Pathan) took over. The undoubted standout player for Pakistan in the tournament, Afridi's lightning quick legspinners stifled any momentum the Sri Lankans would have hoped to generate. A responsible innings from skipper Kumar Sangakkara and a late flurry by Angelo Matthews took Sri Lanka to 138, but that score was always going to be 10 runs too short.
That proved the case after a solid, if unspectacular, start from openers Kamran Akmal and Shahzaib Hasan. They gave Afridi just the platform he needed. The last two years had been hard on Afridi the batsman, a period in which he only crossed 30 once. But in a move that many considered lunacy but ultimately proved inspired, Younus Khan promoted Afridi to number three in the semi-final against South Africa. He blitzed a match-winning half-century in that match and was similarly irresistible against Sri Lanka. His innings was atypical, cautious to begin with, and even when he caught fire, he was never reckless. It seemed that his promotion had unearthed a sense of responsibility, no one, probably including Afridi himself, was aware existed. His well-paced 54, accompanied by the steadying hand of ex-skipper Shoaib Malik, took Pakistan to a drama-free eight wicket victory, one that might be called un-Pakistani, so efficient were the team in their pursuit of the target. With that came a championship that should serve as a balm to a war-torn country that came into the tournament without any preparation, a domestic system that is a shambles and an administrative set-up that is so ad hoc that the only permanence is in its inefficiency.
But victory seemed a distant dream when Pakistan began the tournament on a sour note after being thoroughly outplayed by the hosts — a distinctly mediocre team themselves who had just come off a loss to minnows Holland. Pakistan trailing behind in all departments of the game, with the fielding being particularly clownish. Younus Khan saw the funny side of things as he continually laughed at the amateurish efforts of his teammates. The country's fans were not amused.
Younus' statements after the game provided further grist for the pessimist brigade.
Seemingly confirming that Pakistan were preparing for an early exit, Younus said, "I have never attached too much importance to Twenty20 cricket, as it is fun cricket. I mean it is more for entertainment even if it is international cricket." He then proceeded to plant his foot even more firmly in his mouth in trying to explain away this remark. "Twenty20 cricket is entertainment, in this form it is better to take it easy and have fun. It is like WWF." At the time the casual nature of his quotes were maddening; in retrospect they seem to explain the joie de vivre that made Pakistan's run in the tournament so exciting.
If the game against England was tragedy, it was swiftly followed by farce as yet another chief selector — Abdul Qadir in this case — quit, citing outside interference in the selection process as the main reason for his resignation. In the merry-go-round that is the Pakistan Cricket Board, Qadir was replaced by his predecessor Wasim Bari, who insisted that he would only hold the job temporarily until a suitable alternative was found. As Oscar Wilde might have said, to lose one selector may be regarded as a misfortune; to lose half-a-dozen in under a decade is sheer carelessness.
As it happens, Pakistan may be better off without Qadir. As Pakistan's greatest spinner, he was a decidedly unorthodox practitioner of his art, and his views on selection matters were similarly out of the mainstream. He told reporters that he did not get his way on all selection matters and was overruled by the Board when he expressed his desire to omit current and former captains Younus Khan and Shoaib Malik and choose controversial — and genital warts-ridden — pacer Shoaib Akhtar. His reasoning seemed to be that Younus and Malik do not score at the brisk pace required in the hectic T20 format and that Shoaib is a talismanic player who can change the course of the game in a single over. But Qadir seemed not to realise that every team requires middle-order batsmen who can steady the ship after an uncertain start. This function is performed by Mahela Jawardane for Sri Lanka, Michael Hussey for Australia and Paul Collingwood for England. Without Younus we would have been denied this essential stability while Malik's worth to the team cannot be calculated without accounting for his bowling and fielding abilities. As for Shoaib Akhtar, he is years past his best and should do himself — and his long-suffering fans — a favour by announcing his retirement. The constant injuries, which originally occasioned sympathy, then frustration and now mirth — make him an unreliable player and his presence in the dressing room seems to bring out the worst in the Pakistan team, a fact that was confirmed by former coach Geoff Lawson, who said that Shoaib's attitude was so unprofessional he would not even be chosen for an Australian grade team.
Amidst these distractions, the team had to ensure that they did not lose sight of the task at hand: beating the Netherlands by a margin of 25 runs to qualify for the next stage of the tournament. They achieved the task with empathic efficiency and the match showed the strengths that Pakistan would rely on to progress deeper into the tournament. A rapid-fire start from Kamran Akmal at the top of the order, followed by consolidation in the middle overs from Younus, Malik and Misbah-ul-Haq before ending with a burst of boundaries from the lower order. On the field, the catching and ground-fielding was predictably shoddy but the bowlers were finally at their best. Afridi and Saeed Ajmal bamboozled the inexperienced Dutch batsmen before Umar Gul finished them off with a series of yorkers that were reminiscent of Wasim and Waqar in their heyday.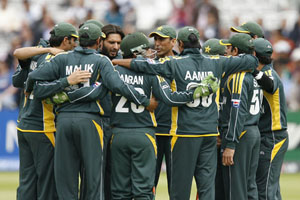 But the dawn seemed to be a false one as Pakistan crashed to defeat against Sri Lanka in the first match of the second stage.
There was nothing to recommend in this performance save the bowling performances of the Pathan brigade: Gul and Afridi. Even worse, this defeat meant that Pakistan could no longer afford to lose a single match or they would be out of the tournament. Or as the inimitable Younus put it, Pakistan would have to treat every match like a "semi final to reach the semi final."
There was some good news for Pakistan before their all-important game against New Zealand. The out-of-form Yasir Arafat sustained an injury, allowing Pakistan to call up Abdul Razzaq, returning to international cricket after two years with the rebel ICL. And his impact was felt almost immediately. He picked up an early wicket to put the Kiwis on the back foot. Afridi also took the catch of the tournament, running backwards for about five yards, and then diving, with his back still to the ball, to pull off an amazing catch. From there on, Afridi, Ajmal and Gul resumed normal service, with Gul in particularly devastating form. He picked up the first five-wicket haul in T20 international and only gave six runs in his four overs. It would be no exaggeration to say that this is the greatest feat in the short history of T20. So shell-shocked were the Kiwis that captain Daniel Vettori made an unfortunate accusation of ball tampering that was swiftly shot down by the umpires. Set a target of only 100, Pakistan rattled off the total with no alarms. This was followed by a routine win over the Irish, notable only because Pakistan got to take revenge for their shock defeat in the 2007 World Cup. A semi final against the mighty South Africans beckoned.
The Pakistan-South Africa match-up was a study in contrasts. The unbeaten Proteas were the favourites for a reason. Exceedingly methodical, the South Africans went about the task of unraveling their opponents with scientific accuracy. Pakistan, meanwhile, seemed to be making up the rules as they went along, with no clear plan. To have a real shot, the Pakistanis would have to take the South Africans out of their comfort zone and hope the pressure was too much for a team that have famously been labeled as "chokers" for finding creative ways to lose crunch matches they should have won comfortably. And, thanks to an inspired bit of captaincy from Younus Khan, that proved to be the case. Thus far, Afridi's batting had been as insipid as his bowling revelatory. On the surface, that would make his promotion to number three in the batting order look slightly foolish. But Younus correctly gambled that a promotion up the order would give Afridi the vote of confidence he needed in his batting. A bludgeoning half-century from him set Pakistan up for an above-par score of 149. Once again, the bowlers proved more than up to the task. The spinners, Afridi and Ajmal, choked the South Africans for runs while picking up crucial wickets. Umar Gul then ensured victory, and a place in the finals, with a spell of death bowling so penetrative it left Wasim Akram in raptures.
After this semi-final victory, there almost seemed a sense of inevitability that Pakistan would go on to lift the trophy. Much like in 1992, when the far more consistent England could not overcome the passion and self-belief of the Pakistanis, the final was a step too far for the Sri Lankans. Despite an unpromising start, no one could deny that Pakistan had ignited the tournament with their unpredictability, fervour and sheer talent. Pakistan's return to the international fold has not only helped lift the sagging morale of the country, it has also brought personality and verve that the cricket world should embrace with outstretched arms.
Click on any image to begin slideshow:
Nadir Hassan is a Pakistan-based journalist and assistant editor at Newsline.
Next