Hidden between a commercial block and residential apartments, this run-down street is not as visible as it should be. Ironically, our law enforcers live on this poverty-stricken boulevard — the New Town Police Line. Criss-crossing electric wires, clothes hanging from every apartment balcony and paint-chipped walls surrounded by broken windows are a common sight from one end  of the road to the other. In addition, eight people on average are stuffed in two-room quarters on this street. Every year, money for maintenance is allotted, but it never reaches the police quarters.
Khan, 31, a police constable, has been in the police force for 11 years and is uncertain each month if he will be able to make ends meet. He lives with his wife and three daughters — two infants and a five-year-old.
He earns Rs 12,000 a month, out of which he sets aside Rs 4,000 for his monthly fixed costs, Rs 3,000 for rent and
Rs 1,000 for electric and gas bills. "I have no other choice. We have to get by on whatever I earn because there is no other source of income," says Khan.
All quarters at the Police Line comprise two rooms. Khan laments the fact that "they are not designed to our needs. People have to accommodate everyone regardless of the size of their families." Khan's parents are deceased but "others living here have parents along with eight to nine kids."
Even though Khan is one among the thousands employed in the police force, his story is similar to all those in the lower ranks of the police structure, which is an overwhelming majority.
The recently renovated Frere Police Station and Police Line Area at Clifton present a completely different picture and look far better than the New Town Police Line area. Here, the boundary walls and flats look freshly painted and the usually cramped up passageway looks clean and less congested. Ali, an assistant sub-inspector (ASI) at Frere Town police station, Clifton, says that earlier, this too was a shabby-looking area surrounded by beautiful high-rise buildings which illuminated the stark difference between the living conditions of the rich and the poor. It was only after incessant complaints that this area was renovated.
Looking out from his office window, Ali explains the situation: "As it is, most of the policemen have to live in 10×10 rooms with kids and grandparents around. It gets claustrophobic for us to accommodate visitors in our homes. So what you see on the outside is just to please the eye. Inside our homes, the situation is very different."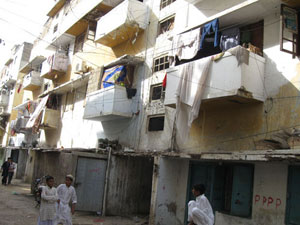 Mohammad Raheem, an investigative officer (IO) at the Frere Town police station, lives with a joint family at the Police Line in Frere Town and earns Rs 10,000 a month. His father and brother are also part of the police force and all the family's male members contribute to the household budget. Even so, there is no possibility of accruing any savings.
Ali is also worried about rising living costs and family expenditures. "We have to get by on a very tiny budget," he informs us. He is married but doesn't have any children. Unlike Raheem, he refused to live at any of the Police Line areas saying that it would not provide a healthy environment for his children in the future.
"My father made sure that I studied in a good school and acquired good manners. That's why even as a kid, I lived in Ancholi, which is a far better place than a Police Line area," Ali says. He wishes the same for his kids.
The provincial government has allocated a sum of Rs 24.9 billion for the Sindh police in the new budget. It is 11% percent higher than the amount allotted in the previous financial year. Rs 1.2 billion has also been set aside for acquiring vehicles, a surveillance system and modern weapons. Due to the recent terrorist attacks and an increase in the number of extremists groups, the government has earmarked a sum of Rs 17 million for the anti-extremism cell to keep an eye on extremist elements.
Will the new budget for the 2009-10 fiscal year benefit the lower ranks in the police force?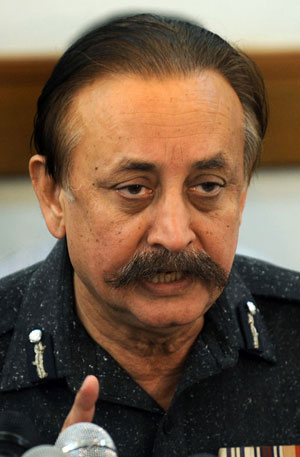 The Capital City Police Officer (CCPO), Wasim Ahmed, has an answer to that. Ahmed says that the last development package they got was back in 1996, which consisted of Rs 1.2 billion. But the development work that had painstakingly started in different parts of Sindh was unfortunately shut down when the new government came in 1999. "Now, though the budget of Rs 24 billion is impressive and it's the first government to have done that, it will still take time to allocate it for maintenance and renovation purposes. We can start the work only when we get the money." The CCPO admits that it's a slow process and changes can't be made in a matter of days.
Commenting on the meagre salaries policemen get, Ahmed says that in a recently held meeting with the National Police Management Board on June 22, attended by the DIGs of all four provinces, he took up the issue of salaries and expressed the need for equal treatment of policemen in all provinces. "The government is a bit biased in their treatment of policemen, especially the Sindh Police, which is by far the most neglected," says Ahmed.
The Sindh chief minister didn't respond to Newsline's repeated calls to comment on that.
Police stations are also lacking in the basic facilities needed to function effectively. For instance, police officers have to use their own cell phones to make calls. Outgoing calls can only be made on landline numbers. "No one uses landlines anymore. Everyone has a mobile phone these days," remarks Ali. In addition, officers are not reimbursed for the work-related phone calls they make on their own account. Also, police officials do not get paid for overtime work. Ali says that the working shift consists of 12 hours — the morning shifts run from 8 a.m. to 8 p.m. and the night shifts from 8 p.m. to 8 a.m. The police often have to work longer than their prescribed hours. And that's not the end of the story: if a policeman is killed in the line of duty, the compensation paid to his legal heirs is Rs 300,000. It varies, however, according to the officer's rank and whether he dies a natural death.
According to Khan, the police higher-ups have it very easy. He says that when a police constable is killed in action, his widow will have to make several trips to the police station to recover the compensation. "However, if the police official is a DIG or the like, the compensation is delivered to their homes. It's only us, the lowest class in society, that have to suffer the system."
Out of every pay cheque, a certain amount of money is deducted by the police authority and added to the retirement fund that every police official gets upon retirement.
Khan spluttered out his grievances in his sorrowful voice, saying, "Thirty to forty percent of our retirement fund is pocketed by the clerk when we go to collect it. The clerk requires a bribe in order to process the cheque. So if the amount is Rs 300,000 for instance, we end up getting only Rs 150,000. The same applies to the compensation fund if a policeman dies. The clerk says that he is doing a favour by processing the cheque. So one should not complain," says Khan.
Complaining about the clerk's misdemeanours to the higher police officials can be risky and even result in a "report being filed against us instead of delivering help." As far as the increment in salaries is concerned, Khan maintains that the police force always gets their raise a month late. "They [the clerks] pocket the raise in the first month and resume it from the second month." He says that senior officials should take notice of such corrupt practices — only then can the system be overhauled.
Equipped with outdated weapons, drawing meagre salaries and expected to serve long hours on duty, policemen are often held responsible for taking bribes from the public. This allegation is vehemently argued by Ali, who says that when reality hits you in the face, such actions (like taking bribes) become necessary. "If we are paid well and our families are secure, we can definitely withstand any storm," says Ali unapologetically.
Wasim Ahmed concurs; he says that like every other institution in the country, the police force is also accused of being corrupt, and that they don't shy away from this fact, but in a reassuring and firm voice, claims, "We believe in accountability and react strictly against complaints of bribes."
"One should, however, see both sides of the story," says Raheem. "Traffic police personnel do accept bribes. But the fact is that the driver himself, whoever it may be, offers the bribe. So the public is equally culpable for this on-going corruption."
To quote defence and strategic analyst Ayesha Siddiqa: "One cannot expect a great performance from a poorly paid, badly trained and ill-equipped force." According to her, "In cases where the force has been provided with resources and leadership, and backed by those at the top, the results have been nothing short of amazing." She cites the example of the Islamabad Traffic Police (ITP), which has worked wonders with the "right combination of resources, leadership and commitment."
At the end of the day, how can the law be enforced when the law enforcers are living in such pitiful conditions? And why should one be so surprised that they accept bribes when they can hardly make ends meet? A decent income would go a long way towards improving the morale of the police force and motivate them to put their lives on the line to maintain law and order and provide security to the people.
(Names have been changed to protect identities).
Next