On the ramp, she is the ultimate diva — gorgeous, sensuous, seductive. But when the spotlight is turned off and the designer labels are back on the rack, Iraj Manzoor returns to a normal life and surrounds herself with family and friends. The quintessential supermodel, Iraj began her career in the early '90s. Distinguishingly tall, a head-turner and très trendy with an aura that is hard to miss, she climbed to the top very fast but the mega success didn't go to her head. Iraj is surprisingly centred and strives to maintain a balance in her life.
A free spirit, warm and down-to-earth, Iraj speaks with candour and earnestness as she sits cross-legged on the floor, pausing reflectively during our conversation, a far away look in her calm eyes. Not one to obsess about weight and looks, Iraj managed to hold her own in a field that she calls 'disorienting' and 'superficial' but extremely challenging at the same time.
In this interview with Newsline, Iraj Manzoor dissects the pros and cons of her stint in the world of glamour and glitz.
Q: What are the major irritants in modelling?
A: When I started my career around 1991, things weren't that bad. You did not have to be part of any clique to succeed and find fame and fortune. However, it took me longer to move up the ladder, because I had to get business myself, make incessant calls here and there … There was not much help available but the industry at that time was a lot easier to manoeuvre because it was literally like a family. Frieha [Altaf] was sweet enough to let me lead the catwalk on my first show, which was really overwhelming.
A lot of models fall into the stereotype, with hopes of gaining popularity and earning more if they become what is demanded of them, especially the Lahore models. They are groomed by someone else and told to look and act in a certain manner, so that most of them appear mass-produced. They lose their individuality and don't have any sense of personal style. I have issues with that.
Q: How do you fight the stereotype?
A: I have always tried to be true to myself. I appreciate creativity and I really believe in having a personal style, which I have developed and remain true to. I surround myself with people who allow you that space (to be who you are), and try to be around those who are creative and humane. And, of course, I'm close to Him (she points to the skies).
Q: What is modelling about? Is it just about having a pretty face?
A: I think it's about being true to yourself. Being creative, being confident about who you are. The present set of younger models are hung up on what everyone else wants them to be and I try to tell them 'Be who you are first.'
I myself try not to get caught up in this trap of feeling like I'm a diva. I've stood on garbage dumps for shoots without a murmur of protest, but things are not like that anymore. People who meet me say that they are surprised that I'm just like them and my reply is, 'I want to be like you, I want to be normal. I need to be a simple human being.' I treat everyone equally when at work, give everyone equal respect — even the chai wala deserves respect because he too, like us, is doing his part of the job.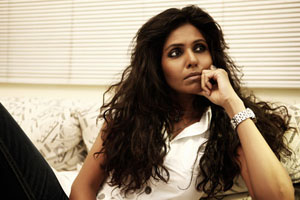 Q: And you don't fit into the run-of-the-mill requirements of the industry?
A: A misconception the new models have is that the more work you do, the more popular you'll become. I'm content doing what I do, even if I'm not in every commercial or every shoot. If, at the end of my career, people call me just a high fashion model, I would be more than pleased because that is what I decided I would be. I don't want to overwork myself to get more fame.
I find people at the top level [of the fashion industry] judgemental. They decide from the start that a girl from the other side of the [Clifton] bridge will not go far because she is not fluent in English, so she can't mix with a certain group of people. I teach the younger girls in this field to respect themselves first and I tell them 'You dont have to go with the flow.' Khoni, who is a new model, was wearing coloured lenses for a show and I told her not to do that because you become so dependent on artificial beauty enhancements that you lack confidence in your natural looks. She refused to listen to me because someone told her it would make her look better. However, in a subsequent ramp show, she came up to me and said she wasn't going to wear the coloured lenses because she understood what I had meant earlier. I was very pleased that even though it was something minor, I was able to knock some sense into her.
Q: Do you have any close friends in the industry?
A: No. All the people I'm closest to are outside my field.
Q: How has the Pakistan fashion scene changed?
A: It's just that more people have entered the industry, and with more people you have more room for creativity. Although that doesn't necessarily mean that all the work happening here is great. In fact, since there is such a huge industry now, it is easier to distinguish the good work from the bad. If there are 50 ugly dresses, there will also be 20 beautiful ones that are produced. There are more make-up artists too, but some of them aren't even worth mentioning.
Q: You often travel abroad for shows. How do people perceive Pakistan's fashion industry and you as a model coming from Pakistan?
A: People generally assume I am Indian or Bangladeshi and are always shocked when I correct them and say, 'No, I am a Pakistani.' Unfortunately, Pakistan is now well-known for all the wrong reasons.
We usually do shows for the Pakistani community abroad. I think we still have a long, long way to go if we have to compete internationally. And it's the political and religious elements in our country that keep us from crossing certain boundaries.
Q: You haven't ventured into acting like many other well-known faces from the modelling world …
A: I have never really been inspired enough by a project to want to act in it. I do come from an artistic background; my family is into the arts. But whatever you see on TV these days is just Star Plus serials.
When my mother, Zeenat Yasmin, was acting it was a different time altogether, with quality dramas being produced, that explored something real. I really need to be inspired to act, if I ever do.
Q: You are quite the performer on the catwalk …
A: I love doing runways! I think that's where I can be myself. While fashion shoots are static and limit you, the ramp doesn't and you can really be bold and creative. Similarly, I prefer to do shoots which are experimental, rather than the usual ones you see in every magazine — shoots that stand out, so I can be proud to be a part of them.
Q: Name a recent a project that you have been proud of?
A: A shoot for Zaheer Abbas. I was wearing nylon clothes in the sweltering heat, with my hair loose, climbing towers on a factory's premises. It was really something!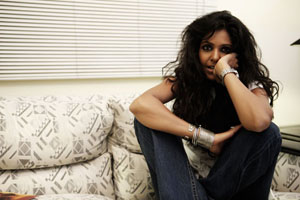 Q: What has kept you so grounded?
A: Family values — it's the best thing you can get. My mother has always been really humble and that is what I've picked up from her — humility. These days I'm spending quality time with my parents and I have the best relationship with my mother, now that I'm in my 30s. I make a distinction between work and my personal life.
I know how easy it is to get pressurised in this field — I have discovered that the hard way. I went to a sort of extreme at the start of my career. I even lost a lot of weight. But I realised that that was not the way to go. I couldn't let myself obsess about losing two more pounds or gaining half a pound. I think I need to be with myself and to have my own time in order to collect my thoughts, because this field really disorients you.
Q: What is your idea of beauty?
A: I am against photoshoping and airbrushing because it makes everyone look so perfect. It's like telling them that you are not beautiful as you are — this is what constitutes beauty. Here no one knows when to stop. You convert a model into a doll's face, where even the pores on her skin don't show.
Recently, I saw an ad which had the tagline, "Beauty is power." And I absolutely disagree with that! Intellect is power, knowledge is power — not what you look like. This 'fair-and-lovely' phenomenon has to go.
Q: Would you go for botox or any sort of cosmetic tweaking?
A: Never. I want to age the way I am supposed to.
Q: Your everyday routine?
A: I start my day early, spend time with my mother, help around the house, and clean my room, washroom, etc. I am a model but I don't live like one. I do the housework, I'm a perfectionist when it comes to cleaning. And I spend time with my cat. I wish I was a female cat so I could just marry him. I love him that much!
Q: Your diet regimen?
A: I am a vegetarian, so that really limits my choice here because there aren't any tofu or soy products available locally. I know I should convert and have some meat, too, since God has given us that right but I just love animals so much that I can't do it!
Q: Your favourite model among the new breed?
A: Fawzia, Rabia Butt, Fia, who has this tomboyish-ness which is appealing, and Fayeza, who is a classic high fashion model because she has remained true to herself.
Q: Your pet peeve?
A: (Wracking her brain) … Nothing. I've become quite tolerant. I always think if I find someone annoying, I could be annoying to others too.
Q: Any major/minor vices?
A: … You should be able to tell me!
Short Take
Q: Your hidden talent?
A: I can see through people.
Q: What about your painting?
A: Well, that was never really hidden, I just haven't pursued it seriously since I graduated from college.
Q: Your comfort food?
A: Daal chaawal.
Q: Your favourite dress in your wardrobe?
A: A simple white shalwar kameez, starched, almost manly in cut.
Q: Your favourite fragrance?
A: It will always be Escape by Calvin Klein.
Q: Your favourite designer?
A: I don't have one. I don't want to limit myself to think only one person can make beautiful clothes. By choosing one, I limit myself from liking others.
Q: Your favourite book?
A: The Life of Pi.
Q: Your favourite movie?
A: Coppola's Dracula.
Q: What do you do to relax?
A: Walk or run, in open spaces. Under the sun. I love the feeling of the sun on me, its strangely relaxing.
Next