Since the Bushra Zaidi incident in 1986 — when a Mohajir girl was killed by a speeding Pathan driver, leading to weeks of ethnic conflict — targeting inter-city transport has become a form of public revolt and social unrest in Karachi. All conflicts, be it power breakdowns, price hikes, ethnic divides or political unrest, lead to the targeting of buses — perhaps the only reliable means of transport for hundreds of thousands of people commuting to work. Bus-burning is now a regular occurrence in the city as brightly-painted, elaborately-designed buses and coaches have become a natural target of angry mobs.
Karachi's inter-city buses are owned by the Pakhtun, Punjabi and Mohajir communities. Eighty percent of Karachi's inter-city buses and minivans are owned by Pakhtuns and transporters belonging to the Hazara division. Another 10% are owned by Punjabis and Balochis, and about 3% belong to the Mohajir community. Pakhtuns own 40% of the trailers, while slightly less than 60% are owned by Punjabis, Sindhis, Balochis. And about 2% belong to the Mohajirs, mainly those plying route W11 between New Karachi and Keamari.
Some inherited the transport business from their elders, while others have been running it for more than 30 years. The president of the Karachi Transport Ittehad (KTI), Syed Irshad Hussain Shah, came to Karachi from Abottabad 38 years ago. The general-secretary of the KTI inherited his business from his father, who came from Bombay at the time of Partition to start a transport service in Karachi.
But all that is changing as fathers are discouraging their children from pursuing what has become a high-risk, non-lucrative business. There is no room for new entrepreneurs in this field as banks are reluctant to offer loans and insurance is hard to come by.
For the most part, this can be blamed on the rise of bus-burning incidents. It takes a little more than half an hour for a group of angry young men on motorbikes to torch their colourful victims and turn them into grey and black cinders. The loss to the bus owners is immense. A new bus costs between Rs 6-9 lakhs and the ornate work on the bus costs another Rs 1,200-1,500. All buses are assembled locally, but the main parts like the engine, chassis and wheels are imported from Japan. All private buses and minivans seen in the city for the last 15 years have been reconditioned.
December 27, the night of Benazir Bhutto's assassination, was one of the worst in terms of the monetary damage suffered by the transport industry. It is estimated that they lost Rs 7 million in that one night alone. Three thousand buses, minibuses and vans were torched. Even trailers were not spared: according to Mohammad Khalid, president of the Karachi Goods Carrier's Association, 966 trailers were burnt between Udaro and the Super Highway. About 8,000 to 10,000 trailers regularly commute from Karachi up to Afghanistan on a daily basis. A demand for compensation was put before a special committee headed by the then home secretary, Kamal Shah, but no progress has been made to this day.
Equally devastating for the local buses was May 12 — known among bus owners as a "black day" — where the loss was also due to the forced use of buses to block roads and highways. Fortunately, trailers did not suffer any losses.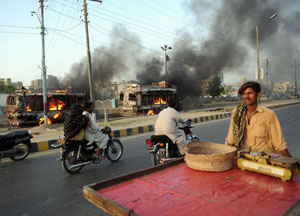 According to a major transporter and  the owner of the Muslim minibus and coach service, Mohammad Afridi, "We run our buses on our blood, not diesel." He claims that since 1992 not a single new bus, minivan or coach has come into Karachi as investors are wary, given the ongoing political turmoil in the city.
But the hazards to the transport industry have become even more frightening in recent times. Along with buses, bus drivers are also being targeted. On April 29, four bus drivers were killed before their buses were torched. Since most bus drivers are hired on daily wages and are not permanent employees, there is no compensation for the families of those who lose their lives or those drivers who lose their buses.
Although the present provincial government has promised to compensate the bus owners, they have not yet delivered on that promise. Former chief minister Abdullah Shah had given Rs 200,000 for the loss of each vehicle during his tenure while Ishrat-ul-Ibad, in his first stint as governer, handed out similar compensation after the riots of May 12.
Frustrated with government indifference, the transport owners formed the KTI in 1986, which has 25 members drawn from all ethnic communities, on the basis of "apni madad aap." "Transport is not a political party; it is a service," explains a KTI member. All bus, minivan and coach owners pay the KTI Rs 50 daily, while buses hired by other departments pay Rs 1,200 per month. Since 1987, the KTI has given around Rs 40 million to bus owners in compensation.
Apart from the constant threat of arson, bus owners in Karachi also face other problems. The police department hires buses, coaches and minivans to bring in extra officers and barricade roads whenever there are disturbances in the city. The department is supposed to pay Rs 1,500 per bus but they still owe the bus owners Rs 7 million for services rendered over the past three to four years. The Karachi Bus Owners Association had an understanding with the police that their buses would not be taken without prior notification, but this no longer happens.
Bus owners are also charged high rates of interest when seeking bank loans because of the many risks associated with their business. The loan payment can vary between Rs 15,000-20,000 per month and all told, the bus owner will end up paying about Rs 1.5 million. To cut costs, most bus owners either drive their own vehicle or hire a relative as a conductor. On days when strikes are called — which is often the case in Karachi — the bus owner loses all his revenue for the day.
With the threat to life now outweighing the economic benefits, the transport business is no longer as lucrative as it once was.
Next