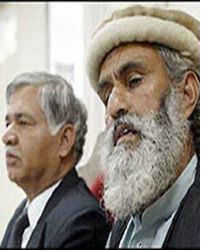 Life is tough and economic realities harsh in the peaceful, sleepy village of Pattan, a few hundred meters down the Silk Route in the mountainous Kohistan district. It has become even harsher for religious-minded Muhammad Sagheer, 54, since his return from Camp Delta at Guantanamo Bay, Cuba, where he was detained by US forces along with other al-Qaeda and Taliban suspects for about 10 months.
Sagheer's only source of income — his small woodcutting machine under a shade adjacent to his woodhouse — lies dysfunctional. He has wrapped parts of the machine with pieces of sheets to protect it from rusting, in the hope that some day he will be in a position to run it again. "It's closed for three years now and needs repair. It rusts even after a month's closure. But I don't have the money to fix it," he laments.
According to Sagheer he is mired in debts accrued by his family — including his wife, six sons and three daughters — during his year-long absence. His sons spent whatever the family had on their sojourns to Afghanistan in search of their father, who disappeared in the northern Kunduz province following the US march on Kabul. To provide for the family's daily expenditure they took loans which they now need to pay back. "The business is closed and it's hard to cope with the situation. It's difficult to make both ends meet," he says.
Sagheer's hard times, however, do not coincide with his return from Camp Delta in October 2002. They began in November 2001 with his arrest in Afghanistan by the Northern Alliance forces for being a Taliban or al-Qaeda suspect. He underwent immense physical and psychological anguish at the hands of the US and Northern Alliance troops in Afghanistan and Guantanamo.
Neither a Taliban nor a Taliban supporter, Sagheer was on a preaching mission in Kunduz when the US launched its strike on Afghanistan to capture Osama bin Laden and dismantle the Taliban government. He was part of a 10-member Tableeghi delegation from Kohistan that had left for neighbouring Afghanistan to preach the basic tenets of Islam.
As Kunduz fell to the Northern Alliance forces in November 2001, Sagheer was captured by the troops of Uzbek warlord, Abdul Rashid Dostum. He was taken blindfolded to Mazar-i-Sharif and transported from there to Shibarghan jail in a container along with 250 other prisoners. "The journey took five hours. It was dark, hot and suffocating as there was not enough air in the container. Fifty out of the 250 prisoners died on their way to Shibarghan," recalls Sagheer.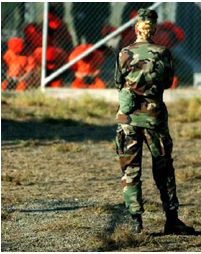 At Shibarghan jail, he spent one-and-a-half months along with other prisoners from Kunduz. The conditions inside the prison were poor and the attitude of the troops extremely bad, he says. "We were given six loaves of bread and one pot (lota) of water for 70 persons. Our bodies were searched and we were deprived of all our belongings there as well," says Sagheer.
From Shibarghan he was taken along with 15 other prisoners to Kandahar and handed over to US troops. Here Sagheer's head, moustaches and beard, which he was sporting in accordance with his religious beliefs, were shaved along with other prisoners. They were blindfolded and made to put on orange suits before shifting to Guantanamo Bay. "During the 24-hour air journey, each of us was provided with just two apples and a single piece of bread," he says.
At Guantanamo Bay, the prisoners were greeted with inhuman treatment by the US troops. "The Americans threw each one of us down on the ground. Everybody got injured. Some of us received injuries on the nose, some on the head," says Sagheer. "We were paraded in a line and made to wait for one to four hours." Sagheer was provided with an ID bracelet identifying him as Prisoner No 143.
The US authorities — the so-called champions of human rights — kept the prisoners in cages at Guantanamo Bay. "The prison was a six-by-six-feet cage for each one of us. Here we had two buckets: one for water and the other for the call of nature. We were not allowed to talk, say our prayers or give the call to prayers. They did not allow us to sleep and we were not permitted to cover our faces even to take a nap," says Sagheer.
This situation, according to Sagheer, provoked the prisoners and they went on hunger strike after about a month and a half. "On the fourth day of the strike, a general visited us and permitted us to talk and say our prayers. He provided us with the holy Quran, beads and a recorded tape of azaan to be played on a loudspeaker." Thenceforth, he says, they were taken to another prison where water and bathrooms were available. Here the prisoners were given their breakfast, lunch and dinner.
Sagheer was taken out of jail twice and put in solitary confinement. The first time he spent two days and the second time 16 days there. "There was no light in the solitary confinement cell and they used to pump cold air inside the cell," says Camp Delta's ex-Prisoner No 143.
While Sagheer suffered physical and mental distress at Guantanamo Bay, his family remained clueless about his whereabouts. "My sons searched for me in Afghanistan to trace me out but in vain. My family was overwhelmed with grief and people even visited my home to offer fateha and condolences. It was after about seven or eight months that the Red Cross staff visited the prison and helped me establish a link with my family through the exchange of letters," says Sagheer.
In Guantanamo, according to Sagheer, he was gagged and interrogated about his links with al-Qaeda, his purpose in visiting Afghanistan and the whereabouts of Osama bin Laden. "I was interviewed 19 times and asked the same questions repeatedly but I would say that I haven't even heard the name of Osama. Finally, they were convinced about my innocence. They declared me not guilty and promised to pay me compensation."
Muhammad Sagheer was the first Pakistani prisoner to be released from Guantanamo Bay. However, even after confirmation of his innocence, the US authorities brought him to Kabul's Bagram Airport in shackles. He reached Islamabad on October 27, 2002, where Pakistani agencies took him in custody for five days. Subsequently, he was shifted to Peshawar and kept there for two more days before finally being handed over to family members.
To his surprise, Sagheer was given a 100-dollar note at Peshawar "by the Americans. I was told that I would be given the rest of the compensation back home but that is yet to happen," complains the hapless Pattan villager.
Left with no other option, Muhammad Sagheer has taken recourse to litigation. He has filed an appeal in the Rawalpindi Bench of the Lahore High Court (LHC) seeking compensation of 10.4 million US dollars from the United States for his illegal detention and suffering, torture and humiliation at the hands of US forces. A similar lawsuit he had filed earlier was dismissed by the Civil Court Islamabad over its territorial jurisdiction.
"I hope that this case will solve my financial problems," says an optimistic Sagheer who wants to repair his machine and run his business again to pay back his debts. Sagheer has a strong case in court, but it would have been stronger had he been a US citizen filing a similar case against a developing country like Pakistan.
Next