Warmed by the persistent afterglow of the January spring in Islamabad, the ceasefire holds along the international border in Rajasthan and Punjab, the line of control in Kashmir and the actual ground position line in Siachen. Never mind that General Musharraf has moved into his Aiwan-e-Sadr labyrinth, the cross-currents of hope, revealed and confirmed from his travels to Turkey and Davos, find an echo in Hyderabad and resonate across the hills that frame the picturesque little town of Dehradun. Here and elsewhere on his pre-election trail across the length and breadth of India, Prime Minister Vajpayee speaks of a new era of optimism. Of the gravity of this moment in the subcontinent's geography — and how history has a way of settling scores with a people who refuse to see the same things differently.
The mood in India, after the surprise of a Vajpayee-Musharraf summit on the margins of SAARC in Pakistan, can best be described as one of unconsummated relief. The short, even bald, January 6 statement that promises the earth to both New Delhi and Islamabad, sometimes looks too good to be true. Especially when you're sitting in one of those corner rooms-with-imperial-views in South Block, with a high ceiling above and a heater at your feet, it's easy to get that sinking feeling. Have we, once again, bartered the soul of Mother India, for a mere thirty pieces of khota Pakistani sikka?
You think not. After all, never has Pakistan conceded in such certain terms as on January 6, that the problem of Kashmir will be resolved to the "satisfaction of both sides." That there's no room for interfering, third-party busybodies, such as the United Nations or the Americans and the British, and even the Iranians. For encouragement you look across to North Block, where deputy Prime Minister L.K. Advani has just held "unconditional talks" with the Hurriyet leaders from Kashmir and, as we speak, is flying over parts of the Line of Control and, like some self-anointed dove, proclaiming that "levels of violence" are definitely down.
This, then, is the same Advani (who only half-jokingly and very recently, referred to his once-home town Karachi as, "I hear that it's now become quite a dirty city") whose Toyota chariot journey across north India in 1990 galvanised the rightwing and the religious to not only topple the Babri Masjid, but make the Bhartiya Janata Party a major political force to reckon with. Widely — according to some, wrongfully — accused of trashing the Agra summit between Musharraf and Vajpayee, few noticed that Brajesh Mishra, Vajpayee's National Security Advisor and principal confidante, called upon Advani on December 31, on the eve of his departure for Islamabad and the SAARC summit. That it was the selfsame Advani, who during a visit to Chandigarh on January 5 — one day before the pathbreaking accord in Islamabad — told the national TV network Doordarshan that what was happening in Pakistan was a "breakthrough."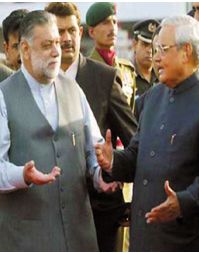 Clearly Advani, and by implication the hardline faction within the BJP and its mother organisation the RSS, seem very much on board this new peace initiative with Pakistan. More than one BJP leader, in private conversations, has admitted that "having tasted power for nearly six years, we have to come realise that India is bigger than the party." For the first time, the couple of token Muslims within the BJP have been thumping the ground with confidence at pre-election rallies. At Rampur, a majority-Muslim region near Delhi (a lot of people migrated to Pakistan from here in 1947), one Muslim leader pointed out that it was Prime Minister Vajpayee, "a BJP leader," who had once again tried to build bridges with Pakistan. Another BJP leader from Bihar, with a large number of Muslim voters in his constituency, pointed out that "peace with Pakistan would have a major impact on Hindu-Muslim relations at home."
As the second anniversary of the Gujarat pogrom nears in end-February and India gears itself for another election the month after, appropriating the "Hindu-Muslim peace plank" is no mean achievement for a right-wing party such as the BJP. Determined to go through the second, albeit more painful phase of reforms, relations with the US are on an upward trajectory. Brajesh Mishra, along with Tariq Aziz, the architect of the Islamabad statement, is already talking to China (Pakistan's "all weather friend") to resolve India's "other" border problem. In fact, it seems to have considerably helped New Delhi's case that Beijing has also recently submitted its own "list of militants" to Pakistan to extradite to China.
For a change, the political leadership is also, at last, taking apart the lovingly cultivated positions of Foreign Office bureaucrats. A classic example of this was the denial of permission last week to Punjab chief minister Amarinder Singh to visit Lahore, ostensibly to participate in the World Punjabi Congress. Since no dialogue with Pakistan had started yet, New Delhi argued, "such a high-level dignitary could not possibly go to Pakistan." Singh went to the PM's office to complain, which in turn told the Foreign Office to get a move on. Singh later drove across Wagah to spend the eid holidays in Lahore as the guest of Punjab chief minister Pervaiz Elahi.
As new age Punjabi journalists rediscover the trauma and travails of the Radcliffe line, other boundaries are being erased right here in Delhi. The Foreign Office has recently ordered the demolition of its own rules, to allow Pakistani diplomats to freely travel out of the city precincts. Only a few months earlier, Pakistan High Commissioner Aziz Khan had been exempted from the same, silly ban. Thankfully, though, life has now been allowed to meet up with literature — letting Aziz rediscover a different kind of passage to India.
Next