Musharraf's pardon indicated a significant shift from his promise to punish all those found guilty of leaking nuclear secrets. " Dr Khan is my hero and the nation's hero and will remain so as he made Pakistan a nuclear power," declared the President at a press conference.
The move has helped diffuse public protest and prevent a trial that could have serious domestic political implications for President Musharraf who is facing the toughest challenge yet to his rule. He faces opposition on his handling of the nuclear issue not only from Islamic groups , but also from liberal opposition parties like the PPP and PML(N) who accuse him of using Dr Khan as a scapegoat.
Musharraf's problems on both domestic and international fronts are far from over after his decision to pardon Dr Khan. He now faces a separate confrontation with the international nuclear watchdog, demanding full access to Pakistan's nuclear programme in order to ensure that no more nuclear secrets are sold to other countries. Mohammed El Baradei, Head of the International Atomic Energy Agency, said Dr Khan's revelations were only the tip of the iceberg. "Dr. Khan was not working alone… there were items that were manufactured in other countries, items that were reassembled in different countries. We have to make sure it is not repeated."
Musharraf maintains that Pakistan is willing to discuss the outcome of its investigation with the IAEA, but has rejected international supervision of the country's nuclear programme. "No documents will be submitted to the IAEA, to an independent inquiry, and we will not allow the UN to supervise our nuclear programme," he declared. It will, however, be difficult for Pakistan to avoid demands for intrusive international monitoring as evidence shows that Dr Khan was at the centre of a clandestine nuclear black- market network with tentacles spread over three continents. With the help of middlemen belonging to various countries, it supplied nuclear materials to Libya, Iran and North Korea. According to international investigators, Pakistan had become a supermarket for the purchase of nuclear technology.
Dr. Khan's confession raised more questions than it answered. In a 12-page signed statement, the disgraced father of Pakistan's nuclear programme has confessed to transferring nuclear technology and hardware to Iran, Libya and North Korea. He claimed it was all due to ideological reasons and not for money, as he wanted to strengthen the defence capabilities of Islamic countries.
According to some reports, Dr Khan claimed that centrifugal uranium enrichment plants were exported to Iran through a Pakistani businessman and that Pakistan air force planes were used to ferry the goods to Dubai from where they were taken to their final destinations. Drawings and other nuclear materials were also transferred abroad secretly. Most of the transactions took place through two Dubai-based, Sri Lankan middlemen. The deals were made at Dubai, Istanbul and Casablanca between 1988 and 2001.
In exchange for cash transfers to his bank account in the Gulf, Dr Khan helped Libya establish contact with blackmarket networks. From 1995 until last year, Libya received centrifuge equipment used for enrichment of uranium and blueprints for making a nuclear bomb. The network Dr Khan built involved a Malaysian engineering firm and middlemen from Germany, the Netherlands, South Africa and Sri Lanka.
Although Dr Khan claimed he was driven by Islamic zeal to pass on nuclear technology to Muslim countries like Iran and Libya, his links with the North Korean nuclear programme ran even deeper. Pakistan's defence cooperation with North Korea started in 1994, when the then prime minister went there to negotiate a missile deal. Pakistan desperately needed a nuclear missile system at that point to counter India's.
Pakistani officials said North Korean scientists received nuclear briefings at Khan Research Laboratories, although even top Pakistani civilian leaders were not allowed to visit the highly guarded secret facility. In 1999, the ISI reportedly intercepted an air force aircraft, which was allegedly carrying nuclear material to North Korea. Dr Khan was reprimanded, but no action was taken against him at that point.
He was sacked in 2001 for this reason, under US pressure. Dr Khan apparently traded nuclear technology in return for missiles from North Korea, which are the mainstay of Pakistan's nuclear weapon-delivery system. The KRL later developed its own medium- and long-distance missile system based on North Korean technology.
Most defence analysts and political leaders doubt that Dr Khan could have traded secrets abroad without the knowledge of senior military and intelligence officials who controlled the nuclear programme. General Musharraf said Khan was solely responsible for the leakage of nuclear secrets and denied any official sanctions. "All the proliferation, unfortunately, was under the supervision and orders of Khan. No government official or military man was involved," he said.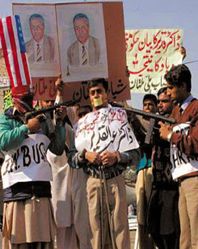 In his public confession Dr Khan also accepted full responsibility for the scandal, absolving the government and his fellow scientists of any blame. But most analysts are skeptical of these claims and doubt if such a widespread transfer of nuclear know-how and hardware could have taken place without the knowledge of military leaders. Many commentators said Dr Khan's public confession smacked of a cover-up.
"Given the massive security in place for nuclear installations and personal security of the scientists, could any of them engage in clandestine activities without being noticed? " questioned Hasan Askari Rizvi, a defence analyst.
Musharraf has let some of the military generals whose names were mentioned in the proliferation scandal off the hook for obvious reasons. "Musharraf has omitted to note the most critical factor in such reckoning, the unaccountable status of the Pakistan army as the guardian of our nuclear programme," says an analyst.
Two former chiefs of army staff, General Aslam Beg and Jehangir Karamat were also questioned, along with Lt. General ( retd.) Zulfiqar Ali Khan by Pakistani investigators. While they were absolved of any wrongdoing, they admitted a failure of intelligence and negligence.
No action has been taken against General Aslam Beg who has been accused of trying to sell nuclear technology to Iran. General Beg was the chief of army staff from 1988 to 1991, the period when the alleged transfer of technology to Iran occurred.
Defence analysts maintain that the scientists could not have moved without General Beg's approval. "General Beg was the boss when the leakage occurred. He must have given the clearance, " said Lt. General ( Retd.) Talat Massood.
General Beg has dismissed the allegation as "fabrication and malicious." He, however, defended Dr Khan, saying he was morally and legally justified in passing on nuclear knowhow to other countries. "It is not a crime to transfer your nuclear knowledge," he declared.
A major reason cited by officials for not broadening the investigation into the proliferation scandal to the military or the government is that this could have serious implications for the country. Musharraf warned that Pakistan could face UN sanctions if official complicity in transfer of nuclear technology was established. But some observers believe that international agencies will continue to push Pakistan to explain how the transfer of nuclear technology could take place without the approval of the powerful military, which controlled the nuclear programme.
It was largely external pressure that forced Musharraf to confront the problem of proliferation. "The international community not only wanted to know what happened in the past, but also sought reassurance that no nuclear proliferation will happen in the future," said a senior Pakistani official. Musharraf has argued that the international community was satisfied by his assurance that there was no more leakage in Pakistan's nuclear pipeline. The action against Khan and other scientists underlined President Musharraf's seriousness and commitment that the state will not permit any individual to be involved in proliferation activities," said a senior official.
Most observers agree that the proliferation case is not over yet. The government, for its own reasons, is reluctant to go into the depths of a scandal that has put the security of the country at stake. The military authorities are trying to sweep the whole issue under the carpet by blaming just one person and absolving other culprits. Musharraf has warned journalists not to speculate further on the military's role in peddling nuclear secrets, saying it would not be in the national interest. But is it in the national interest to protect the people who have committed a crime against the country with their irresponsible and rogue policies?
Musharraf is right when he said the country was standing at the crossroads, but his own attitude does not indicate whether he realises the seriousness of the situation. Responsible leaders do not flaunt their nuclear capability as he did by declaring that Pakistan had gone beyond the minimum deterrent. Is it necessary at this stage, when the country faces international censure for nuclear proliferation, to accuse a past government of nuclear rollback? It is time to unite the nation and take responsibility for past mistakes.
The writer is a senior journalist and author. He has been associated to the Newsline as senior editor at.
Next