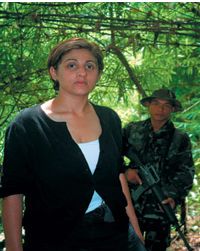 It was last summer when Channel 4 aired a documentary about honour- killings in Britain. Journalist and producer Zaiba Malik, 35, who investigated how honour crimes can affect men and women in many different communities within Britain, says it was a complex film to make. She was treading a fine line between what was acceptable to the Pakistani community and her commitment to factual, candid portrayals.
"People on the street came up to me and thanked me for making this film. My job is to look at the truth, although very often when I do something on Asian countries, I am also accused of harbouring anti-Islamic views and am often asked why I portray Muslims in a bad light. I strive to be professional in what I do and be as objective as possible," says Zaiba.
I met Zaiba last year, when, after watching her documentary on honour- killings, I was prompted to query certain issues in the film such as the almost detached tone in what is, otherwise an extremely vocal and informed documentary. "I should have been more vociferous in what I said," she admits, adding that if you're a British journalist and white, you aren't asked to comment on the issue at hand. In her case, being a young, British-born Asian, she had little choice and was only too aware of being the butt of criticism from all quarters.
We talked about women's issues, the rise of Islamophobia in the west and whether Pakistan can realistically evolve into a more tolerant and educated state. Zaiba is articulate, discerning and witty, but most of all, an interesting and committed journalist. She is understanding and sympathetic, especially when talking about Pakistan.
Daring and courageous, with an uncanny gut instinct, Zaiba has had her fair share of the hazards of journalism. In November 2002, Zaiba and Bruno Sorrentino, an Italian cameraman who had worked extensively for British television, were arrested after three weeks of filming in Bangladesh. Both were working for an independent production company, Mentorn Midlands, which was commissioned by Channel 4 to make a film about Bangladesh's political situation for its series on foreign affairs, Unreported World. Arrested near the Benapole border en route to India, both were travelling on tourist visas and had been trailed by Bangladeshi authorities, who suspected that the film portrayed the country as a haven for Islamic terrorists. They were released after two weeks of intense interrogation. "The Bangladeshi government thought we were doing a story about Islamic fundamentalism, and they had repeatedly denied foreign media reports that the country had become a haven for terrorists," she says. I ask if she found any truth in those allegations during her investigations. "Most countries all over the world today have militant cells. I wouldn't be surprised if there were such cells in existence, but the government was obviously very sensitive to such stories. I did not realise that Bangladesh would be so problematic, since it had no previous history of detaining foreign journalists. We did not even know at what stage the intelligence services became aware that we were doing a story. As journalists, our job is to go to places and do stories that wouldn't even get mentioned. Most places are a risk. At first, I was half-expecting that we would get deported. But, when they started talking of sedition (which carries the death penalty), I knew we were in trouble," she recalls.
Zaiba says both Bruno and herself were accompanied by police on the five- hour road journey to Dhaka but were kept in the dark about why they had been arrested.
She is calm while narrating her days in captivity and subsequent release. "I refused food for seven days because I knew Priscilla (her interpreter) and Saleem (the fixer) were being tortured. We were held separately in a prison in Dhaka for ten days and then allowed access to our lawyer. Later, I was amazed to learn how many people had supported us. My sister was working closely with Channel 4 to secure our release by putting pressure on the government. The condition of our release on December 1, 2002, was that we would not broadcast our film," Zaiba says.
She says her older sister Adeeba, who works with a charity for ethnic minorities in Yorkshire, played a huge role in initiating a campaign for their release. The week they were released, Zaiba's proud but tearful sister, accepted a prestigious award on her behalf in London for "best new talent at the Carlton Women in Film and Television Awards." Judges praised Zaiba for her work for Channel 4 and BBC's Panorama, describing her as a "brave and dedicated young journalist."
"My parents came over to England in the mid-1960s. My father especially put a huge emphasis on our education. He knew the importance that education would have for us particularly in a country like England — opportunities had to be maximised. Coming from a rural background, he had not had the chance to attend school. I think it's fair to say that he was disappointed when I changed my career path from law to journalism. The latter he didn't regard as a "decent" profession, but I was adamant. In hindsight, it is the best thing I did, especially today when this whole debate about Islam has arisen in the media. My mother has always been supportive as has the rest of my family. Since mine is not a regular nine to five job and I freelance, there is little financical security in what I do."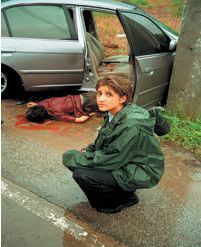 Zaiba studied law at Nottingham University from 1989-1993 and then went on to do a postgraduate degree in journalism at Stadbroke College, Sheffield in 1996. She started working in television in 1997. Having served briefly as an assistant producer on BBC's Panorama, Zaiba now works mainly for Channel 4. "I don't do news as I don't enjoy day-to-day reporting. I want to look at a story in-depth," she says.
Asked how she has managed to achieve such a substantial body of work in just under five years, Zaiba says: "Luck has played a role. I am hoping it's got nothing to do with my colour! But I am focused. I really want to do a book on Pakistan in the next two to three years. When I was growing up, I wasn't really interested in Pakistan, but now I am fascinated with what's going on there politically and socially." She speaks of her desire to pursue certain stories in Pakistan. "I do feel that Muslims are getting a raw deal at the moment and have been for the last couple of years. I resent how a few people have hijacked an entire religion."
"Interpretations of Islam differ from country to country," says Zaiba. "What I saw growing up in Yorkshire was a very fixed idea as to what being a Muslim meant. I would take a more liberal, tolerant view in which women's rights and democracy are vital." As a second generation immigrant, Zaiba understands the constraints of not identifying completely with western culture. She is unable to fathom why the first generation who came to Britain in the 1960s fail to realise that their children cannot culturally adapt to the Pakistan of yesteryear. "Even young Pakistanis living in their own country are not frozen in time, but walk down a street in Bradford or even Birmingham and what you see is a picture of Pakistan in the mid-60s. "We have to assimilate into British culture without losing our sense of who we are. It is not an easy task, and often causes confusion in those Pakistanis born in Britain. But this confusion has little to do with Islam and deals, more often, with cultural differences. Why don't Muslim parents in England allow their children to take part in extracurricular activities at school? It will broaden their horizons and allow British pupils to interact with them too."
Whilst investigating her story on honour-killings she discovered that Pakistani families tend to keep to themselves. "Even the Metropolitan Police has acknowledged last year that the problem does exist, and that they must understand how our culture works. In most honour-killings, I don't think one person plans such a murder. The families of the victim and the murderer are often involved. The family often goes free, which subverts the course of justice. There is a need to understand the cultural aspects at play here. I don't believe this problem will end with the new generation of British Asians. There is no extradition treaty between Pakistan and Britain and many leave the country and find refuge in Pakistan."
Zaiba's most recent film investigates Thailand's silent killings where almost two-and-a-half thousand people were shot. The government claimed the killings were the work of rival drug gangs. What Zaiba uncovered in Chiang Mai was that the killings were, in fact, the work of a trigger-happy police force.
Her passion, however, remains Pakistan. These days, Zaiba is often called upon to explain her views on Islam and the west. However, she is modest about her role on British television's most exciting and adrenaline-filled programme. For Zaiba, the bottom line is all about getting in there and reporting with vigour and integrity.
Next