"The ultimate solution lies in peaceful coexistence " – Sajjad Lone
Do you think it is a good idea to have gone from separatism straight to Modi's league? You are widely seen as a Modi (Delhi) man.
I am on my own. I am here by virtue of a struggle and rebelling against traditions. I made a very difficult transition from separatism to mainstream and survived, and am now in the process of committing the sin of starting to thrive politically. And that is an unpardonable sin in this part of the world. [You should] ask Omar Abdullah and Mehbooba Mufti this question. Remember how the establishment rigged the 1987, 1996 and 2002 elections in their favour and handed the government to them on a platter. They have been literally hand-held and groomed. That is what you call patronage. Why should I be Delhi's man? What have they done for me politically? I am despite them – not because of them. And if you could kindly subtract Delhi from the bio-data of the two dynasts post-1987, it would need very average intelligence to understand who the establishment has invented, who has struggled and gate-crashed.
You keep saying dynasties (the Abdullahs and Muftis) don't have a monopoly on the Valley's politics. But you belong to a dynasty too, don't you?
I am not here by virtue of political inheritance. I was never groomed or selected by my father in his lifetime. There is a difference between dynastic succession and tragic succession. I am in politics because of a personal tragedy, not the passing on of a political baton.
Dynasties represent a certain set of attributes and a state of mind predicated on a particular approach to politics. This is not imbibed by merely being born into a certain family. I took on the mantle of a genre of politics that was eschewed by my father decades ago, which meant I had to start afresh from scratch, toiling, labouring my way to where I am today. If at all, I inherited the suspicions and scepticism of a certain element of the 'system', which only added to the barriers to entry every newcomer faces in Kashmir, such as the lack of security – mine has been intentionally denied by the then state government, headed by one of the dynasts, merely days after my father was brutally assassinated. Violence has many enablers in Kashmir – political insecurity is just one of them.
Yes, I had the popular goodwill of my father's political career but that was it. Now compare this to the institutionalised facilitation and heavy political investments over generations available to these entrenched dynasts, capitalised through a well-oiled political network, cultivated over decades of quid pro quos by them. In this scheme of things, I was the outlier 'other'.
You haven't been able to expand beyond your Handwara-Kupwara family base. Aren't your ambitions exaggerated? 
Haven't I? I thought I had. Ambitions are never exaggerated. I often say I am a dreamer and that a dreamless existence is a worthless existence. But I am certainly not delusional.
You have attracted disparate disgruntled elements from the National Conference (NC) and the Peoples Democratic Party (PDP). Does that make a party?
This is the model across South Asia. Take your own country – the same model is relevant. That is how newer parties came up. The other parties in my state are welcoming elements from other parties routinely. The basic requisite is to have a mass core and an ideological core, and wait patiently for the tipping point – when your party starts attracting leaders with an ideological overlap. In a barren political landscape, where every opportunity at throwing up natural leadership is scuttled, [or] bludgeoned rather, to continue the musical chairs of the chosen two, how else are parties supposed to be formed?
How was the PDP formed? In fact, till late, most of its senior leadership was derived from the People's Conference (PC) founded by my father in 1977, which dispersed after my father left the electoral arena. If at all, it has been a homecoming of sorts. It's not as if PC is the only party taking recourse to such action; an equal number of disgruntled elements have happily been embraced by PDP's rival dynasts. 
This also reflects the distinct irony of Kashmir – while everywhere else the political landscape has expanded and been enriched by new incumbents and fresh ideas, we are stuck in a time warp recycling the same tried, tested and failed faces and formulae.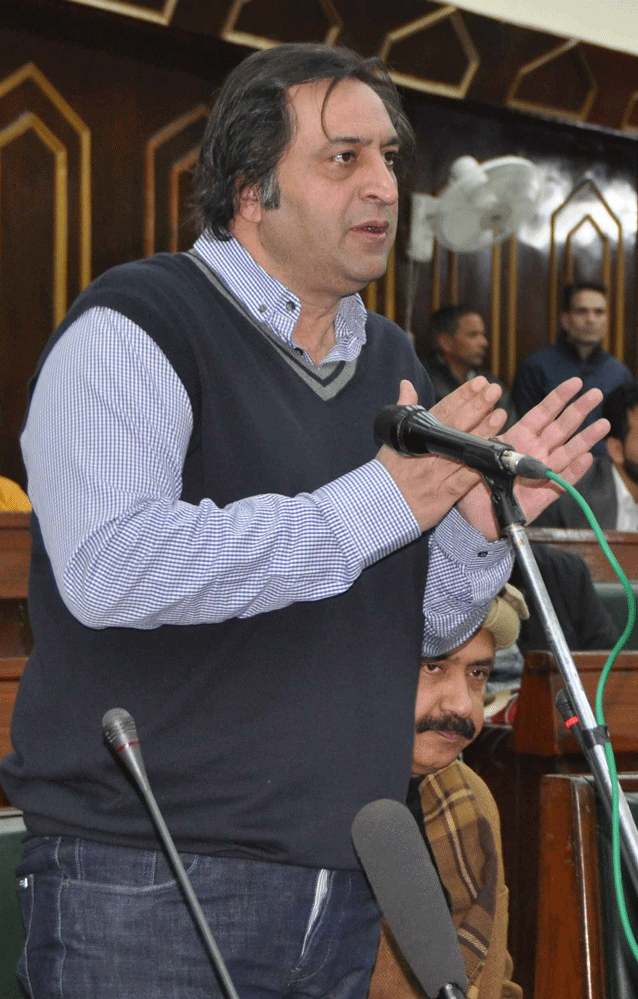 Constant tension between India and Pakistan is owed to the Kashmir dispute. What is the solution to that?
Both the countries would have to be realistic in their expectations. This is turning out to be a rather intractable dispute. The ultimate solution lies in peaceful coexistence and I am afraid, we are a long way from realising that dream. Disputes per se are not irresolvable. Leadership makes a dispute resolvable or irresolvable. I wouldn't go into details, but I believe that the two countries will have to wait for the day when statesmanship will prevail and the dispute will be resolved. The size of the leadership will have to be bigger than the size of the dispute for it to be resolved.
There is an indigenous movement in Kashmir. So is it right for India to keep accusing Pakistan of cross-border attacks? Isn't it true that locals are joining militancy?
It is true that some locals are joining militancy but it is equally true that not every militant is a local. There are unambiguous exogenous variables present in Kashmir, both in terms of men and material. And these exogenous variables may have irreversibly harmed indigenousness. Typical short-term gain, long-term pain.
If the BJP comes to power again, will the situation in Kashmir get worse? Will a Congress government make a difference?
A dispassionate analysis of facts will lead to the conclusion that there is not much difference in the approach of both the parties when it comes to Kashmir, or, for that matter, Pakistan. Historically, the Congress has been at the root of every ill in Kashmir, whether it was the erosion of Article 370, stealing of mandates, scaling back on state autonomy through symbolic measures such as demoting the position of prime minister to that of a Chief Minister, the introduction of draconian laws and methods of quelling dissent, or the triggering of militancy itself. The brutal clampdown of the '90s is still fresh in our minds. Closer in time, if you compare the loss of life during the agitation of 2010 – when the Congress was at the Centre – to that of 2016, you will see a massive lowering in the number of fatalities. Today, the one Indian leader that stands out for inspiring hope in Kashmir across the board, is Atal Behari Vajpayee; not any Congress leader.
It was during my meeting with the Congress PM, Manmohan Singh, in 2004, that I proposed to write a vision document. The document was a fulfilment of this promise – Achievable Nationhood wasn't even acknowledged by the government and instead as a punitive measure, my young family, then in Pakistan, was denied visa for years and I was denied a passport for the same duration.
Do you have a strategy to internationalise the Kashmir issue? With the kind of atrocities taking place there, isn't it time to internationalise this issue and raise your voice?
Pakistan as a country is more prone to international pressures than India. There are heavy external influences ranging from Gulf interests to US interests. The current state of Pakistan isn't really an inspiring model for internationalisation. It is India and Pakistan who will have to sit and resolve their problems. There are human rights violations from both sides. So who does one go to and internationalise? Which major power in the world is not neck deep into human rights violations? This internationalisation discourse is a myth.
What is your one message to Kashmiri youth beyond platitudes? What's in it for them?
My message to the Kashmiri youth would be to first empower themselves economically. Economic independence is the mother of all independences.
Who is to account for the thousands of Kashmiris who are dead and many hundreds who have vanished or have been reduced to disability during the last three decades?
While [it is] customary to lay the blame at the doorstep of either New Delhi, or Islamabad, it is essential that we in Kashmir also introspect and own the blame. That will be the first step towards the much-needed healing and a process of recovery, if at all. Towards this end, we need to identify the local processes facilitating this mayhem, be it the immediate trigger [behind] the rigged 1987 elections, or the continuous process of stolen mandates, the mechanisms of eroding our special status enshrined in Article 370, the denial of space for political dissent through facilitation and introduction of lethal laws such as the Public Safety Act (1977) whereby anyone can be incarcerated without any trial (more than 16,000 people continue to be held under it), the introduction of the fatal pellet guns in 2010, or the behind-the-scenes sabotaging of political processes between the Government of India and separatist elements. 
At the heart of it all, however, has been the imposed leadership of a select few, which has led to the stymieing of the emergence of natural, grassroot [level] leaders, not just in terms of political leadership, but thought leaders too, who could have otherwise better equipped our masses through the force of ideas and reasoning, to address the conflict dynamics we find ourselves in today. There needs to be a process of accountability across the board within Kashmir if it is to find a way out of this vicious cycle of violence.
What, frankly stated, is your position on the Hurriyat, or groups committed by definition to Kashmiri independence?
They claim they represent the sentiment. I believe they need to evolve as leaders and not as followers. They need to come out of the Pakistani shadow and have a mind of their own. For the Indian state to take them seriously, they need to take themselves seriously. 
Where does the Pakistan factor figure in your politics and your conversation with your electorate?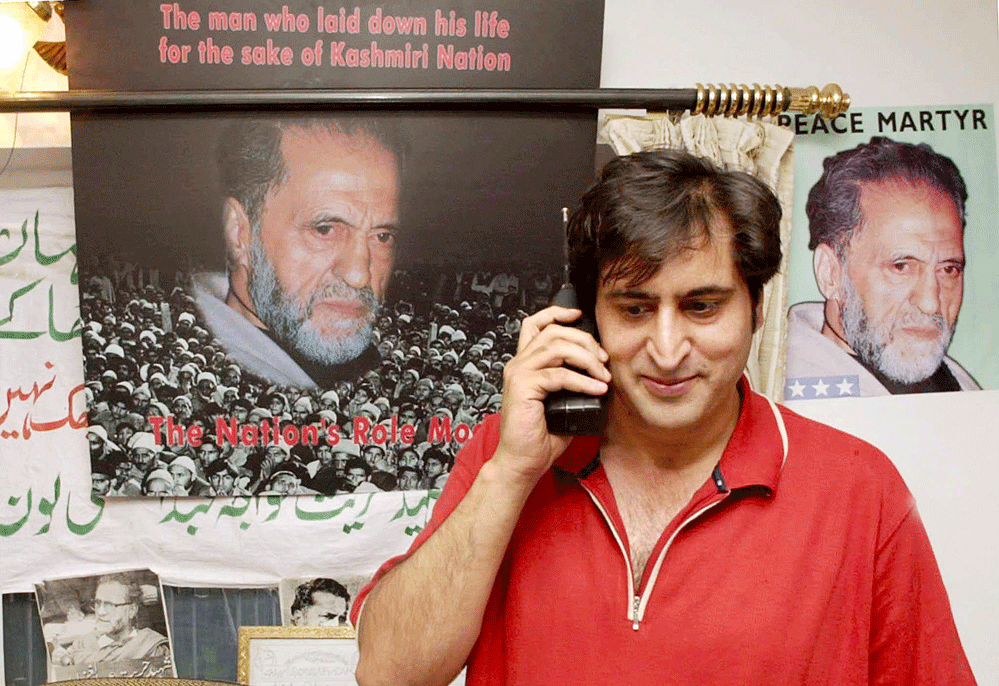 On a personal level, my wife is from Pakistan and I have some very happy memories of my time spent there. Politically, I am in a stream of politics, where my official mandate pertains to issues of empowerment, uplifting and good governance on a local level. This is beyond the purview of the larger regional dynamics, which includes the role of Pakistan, or aspects of Conflict Resolution, which are the domain of the central governments of both the countries.
However, as stakeholders in Kashmir, we have a definitive role of facilitating a process of peace-building. Academic literature on peace processes is replete with the role of political practitioners creating the grounds through mechanisms of good governance, political reforms and other structural interventions for such a process to take root. Unfortunately, in Kashmir,  successive governments have shirked from this responsibility, of even symbolically adhering to it, yet when out of power conveniently take recourse to rhetorical posturing as a substitute for their failures. They are good separatists when out of power and cruel mainstreamers when in power.
My conversations regarding Pakistan will always be within the ambit of peace and engagement. As a representative of the people, my party will articulate the desire for peace of an ordinary Kashmiri.
What is it that you can do to even inspire people to come out and vote? The Valley voter turnouts have dipped alarmingly and their faith in mainstream parties is nothing to speak of.
My area of strength votes heavily. Having said that, the voting percentage does need to be increased. But apart from ideological factors, violence also is a factor for low participation rates. This so-called loss of faith in mainstream leadership is certainly exaggerated. In your own country, do mainstream parties who get two-third majority not get booted out in the next elections? You might be mistaking anti-incumbency for loss of faith. Not all so-called loss of faith is anti-incumbency, neither is it all ideological.
What do you fear most as a Kashmiri mainstream leader today?
The shrinking space of political credibility and maneuverability for which I hold the conduct of our political elite over the past 70 years to account. Regime after regime of epidemic corruption, graft, non-deliverance and collusion to undermine our regional consciousness in pursuit of rentier self-seeking interests has fostered a deep-seated resentment and disillusionment, sharpening the alienation among masses. This shrinking political space will only give way to more extreme and violent forms of expression, leading to a complete breakdown of our societal fabric as we know it. 
What is your prescribed way forward from the situation Kashmir is in today? Autonomy? Self-rule? Achievable nationhood?
Achievable nationhood can be the start of a discussion.
What is the one thing you can tell  the Kashmiri people to bring them back into the mainstream?
We are at a point in history where, as a people, we have been extremely disempowered and stripped of all agency. We need to change that. That can only be done by investment in our youth and the development of a robust human resource capable of invigorating our socio-economic, political and ideological spaces. As much as previous dispensations have given reason to be sceptical, I firmly believe participatory politics is a powerful avenue of achieving this empowerment and self-reliance, through sincere measures of political and administrative reforms. If committed to it honestly, it has the power to change human lives in every measure possible. Even today, if we plug the widespread channels of corruption and nepotism, so much can trickle down to the common man. All the more imperative that we have leadership at the helm which has risen from the grassroots and is accountable to it so as to be able to devise and deliver on a vision best tailored to the needs and aspirations of empowering our youthful human capital.
We are an economically sick state dependent on dole-outs from New Delhi. That will have to change. We need to do what we are chosen for and that is to deliver good governance. We are elected to address grievances. We should stick to that and stop pretending that we are here to fulfil aspirations. That space should be left for an evolved separatist leadership, if and when it evolves.
Would you say so that political differences between the Valley, Jammu and Ladakh are irreconcilable now? Do you foresee a trifurcation of the state? Who is responsible?
This is a small state and we will have to learn to live with our differences. Sameness is boring. Differentness is lively. Thoughts of trifurcation are a sin. 
Next