A young Natalie (Rebel Wilson) sits glued to the TV, watching Pretty Woman, when her wine-drinking mother bursts her bubble; these fantasies, she says, "are not for girls like us." In all fairness, plus-sized or not, rarely does anyone's life ever turns out like a romantic comedy, especially not how Julia Roberts did in Pretty Woman, or Hugh Grant's in Notting Hill. Her mother's words ringing in her mind, Natalie grows up to resent the very romantic comedies she once so blindly believed in. Although for someone who hates them with such ferocity, she knows a little too much about how they always play out (It's obvious they're just as much her guilty pleasure as they are for everyone who grew up in the '90s).
Over-worked and under appreciated at her firm, Natalie returns to her dingy New York apartment after someone she refers to as "CW hot" – so good-looking he could be a lead on the CW channel – client asks her to fetch him coffee just as she is ready to present her idea. An unfortunate encounter with a mugger on the subway results in an altercation between the two and she ends up hitting her head. She wakes up in a hospital bed, where her doctor is unbelievably good-looking and polite, her hospital room is far too big and bright, and as she so aptly puts, "New York doesn't smell like shit anymore." Confused Natalie leaves the hospital in clothes – so sophisticated they could give Audrey Hepburn a run for her money – from the Lost and Found, and bumps into a limousine. And out comes – no surprises there – the same client who mistook her for the coffee girl, except in this universe he is smitten by her "beguiling" personality and Natalie has lived in New York for too long to know something's amiss. It only takes so long for her to realise she has been thrust from her normal life into the absurdly perfect world of a PG-13 romantic comedy.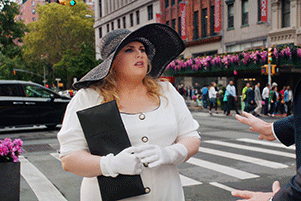 From the get-go, Isn't it Romantic tries hard to have its cake and eat it too, setting out to appeal to both, the cynic and the hopeless romantic. Director Todd Strauss-Schulson plays into the same stereotypes he satirises, throwing some fortune cookie-like advice – love yourself first – in the mix. Even when Natalie feels uncomfortable in this alternate reality, she can't help but be fascinated by what it has to offer. But Isn't it Romantic does not shy away from taking jabs at the ludicrousness of romantic comedies that have always been peddled as aspirational. Her once grumpy drug-dealing neighbour is now her flamboyant gay best friend with no signs of a life of his own, and her once loving assistant is now her arch-rival at work. Isn't it Romantic offers some food for thought, but it in no way is going to make you love your favourite '90s romantic comedy any less.
Rebel Wilson as Natalie is, undoubtedly, the star of the show. Her unparalleled ability to deliver comic lines with deadpan expressions are sure to elicit some laughs from the audience. In addition to her comic timing, Wilson's singing chops too make an appearance in the film in a Bollywood style song-and-dance sequence with Indian actor Priyanka Chopra – eminently forgettable in her role as a "swimsuit model/yoga ambassador." Adam DeVine, who plays Natalie's adoring but oft-ignored co-worker, Josh, brings realness to a film that otherwise tips the line between satire and overtly-cheesy romance, but it is Liam Hemsworth as Blake – Natalie's real world client and alternate reality boyfriend – who truly surprises. He seamlessly shifts from an entitled and disrespectful client to a lovesick puppy, "beguiled" by his lady love.
Isn't it Romantic isn't groundbreaking, neither is it a radical re-imagination of the classic romantic-comedy, but it paves the way for more self-aware films that are unafraid to call out the absurdity of the very genre they fall into.
A journalism graduate, Zoha's core areas of interest include human and gender rights issues, alongside which she also writes about gender representation in the media and its impact on society.
Next