Editor's Note: April 2019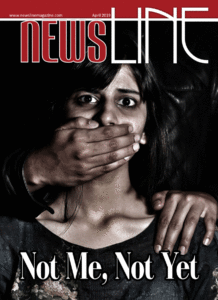 "He took off my clothes in front of his employees. The employees held me as he shaved off my hair and burned it… I was bound by a pipe and hung from the fan. He threatened to hang me naked." Given this chilling narrative of a woman from Lahore who was physically assaulted by her husband for refusing to dance in front of his friends, was the public outrage caused by a placard that read, "Divorced and happy," at the Women's March on International Women's Day in Karachi, justified? Another innocuous one, that suggested, "Apna moza khud dhondo," offended an MMA legislator of Khyber Pakhtunkhwa so much that the entire KP Assembly – women and PTI included – passed a resolution condemning the Aurat March for being "shameful and unIslamic." Why was the conscience of the KP Assembly not similarly aroused when, around the same time, Afzal Kohistani was shot dead in the province's backyard? For the last six years, this brave young man had been fighting to secure justice for eight people, including three of his own brothers and five women – who were brutally gunned down, because a mobile video of them dancing and clapping at a wedding celebration in Kohistan, had gone viral.
Eight murders in the name of "honour"! And yet, there was not a word of condemnation from an assembly that was quick to deride the Aurat March.
The wily Maulana of JUI, who has been booted out of all assemblies but never misses an opportunity to stay relevant, went a step further: he threatened to disallow the Aurat March for all times to come. So beware, for the "holy men" are known to make good on their threats by using their muscle and street power. Just recently, a women's bike rally in Peshawar had to be cancelled because the mullahs threatened to disrupt it. A similar incident took place in Punjab a few years back, when women cyclists attempted to take to the road. Thanks to the official policy of appeasement, the mullahs have become a law unto themselves.
In 2015, the Sindh Governor did not ratify a bill passed by the Sindh Assembly, that aimed to criminalise forced religious conversions (the Protection of Minorities Bill 2015), following pressure from the mullahs of JI and JUI.
Last month, two under-aged Hindu girls were abducted from Daharki, Sindh, forcibly converted and married off to two already-married men.
Steeped in poverty, rural Sindh is a hotbed of religious conversions. The authorities are fully cognisant of the culprits – an unholy nexus of pirs, feudals and politicians – but are unwilling to move against them. For how long will we continue to cede more and more space to the fundamentalist lobby that is stoking the fires of extremism, and radicalising young, impressionable minds?
A student stabbed his teacher, the head of the English Department in a college in Bahawalpur last month, accusing him of "promoting permissive behaviour" by organising a party for the newly enrolled male and female students. He was very likely instigated by a Tehreek-i-Labbaik member, who he befriended on social media.
As a wave of bigotry and intolerance sweeps across the country, with disastrous consequences, the parliamentarians appear to be totally oblivious to the country's changing landscape. Prime Minister Imran Khan is focused on nabbing the corrupt; Bilawal Bhutto and Mariam Nawaz are caught up with their "Abbu Bachao" campaigns; and assorted PML-N and PPP legislators are embroiled in their legal battles. Meanwhile, the religious bigots continue to have a field day.
Rehana Hakim is one of the core team of journalists that helped start Newsline. She has been the editor-in-chief since 1996.