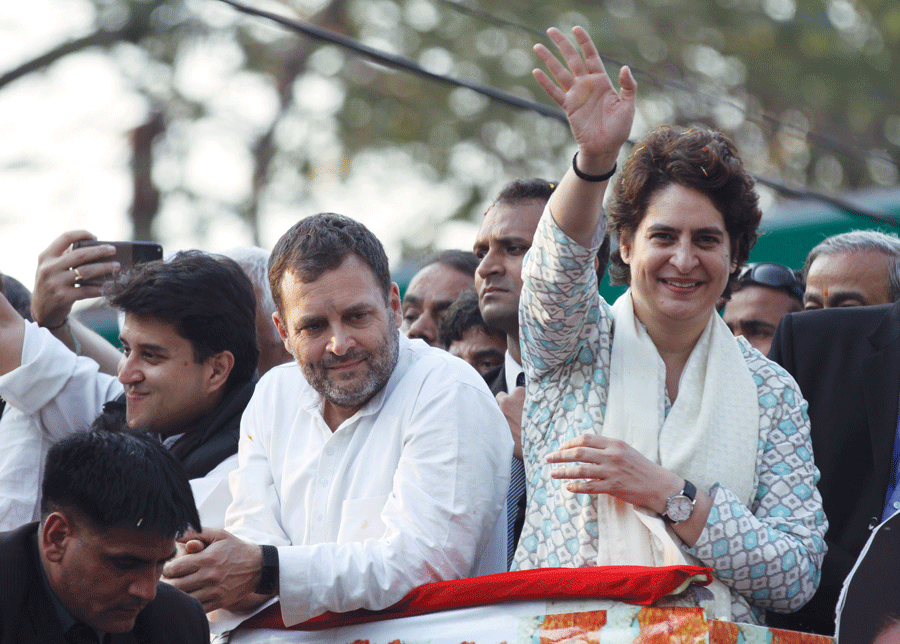 Priyanka Gandhi Vadra's initiation into the hubbub of Indian politics, three months before the country elects its next government, has been discreet, languorous and a bit out of step with the mammoth challenges her party, the Indian National Congress, is up against. In the last general election, the Congress was down to one of its lowest ever numbers in the House of People (Lok Sabha), having picked up just 44 of the 543 seats. 
What ought to have been a baptism of fire in Uttar Pradesh, of which she has principally been put in charge, got off to an unexcitable start. The highlight of her debut was a 100-kilometre boat ride on the river Ganga, that is venerated by Hindus as their Maa (Mother). Uttar Pradesh is India's most populous and politically weighty state because it yields 80 Lok Sabha seats and often mediates on the choice of a prime minister. It was the political turf of Priyanka's great-grandfather and India's first prime minister, Jawaharlal Nehru and from then on, became the family turf of the Nehru-Gandhis. Nehru's daughter, Indira Gandhi, was elected from Uttar Pradesh as was her husband, Feroze Gandhi, and her late sons, Rajiv and Sanjay Gandhi. Priyanka's mother, Sonia Gandhi, launched her political career from here as did Priyanka's  brother, Rahul Gandhi, who is presently the Congress President.
As she sailed on the Ganga, the high spots of Priyanka's three-day voyage were stopovers at the temples along the way, where she offered prayers guided by the priests, and holding brief interactions with Congress workers and farmers. The temple pit stops constitute an important part of the Congress' political blueprint. After the drubbing five years ago, the party elders' assessment was that it lost the Hindu votes because it was perceived as tilting excessively in "favour" of the Muslims. To "correct" the image of being "partisan," Rahul Gandhi made temple visits an integral part of his campaign and Priyanka is following suit.   
Other significant course "corrections" were carried out by her. Her sojourn culminated in Varanasi, which is Prime Minister Narendra Modi's political constituency. It is the most visited pilgrimage site for Hindus, although the city has a large Muslim population. Priyanka paid obeisance before a statue of Lal Bahadur Shastri, India's second prime minister, who was virtually relegated to oblivion in the annals of Congress, dominated as the chronicles are by the Nehru-Gandhis. The ruling Bharatiya Janata Party (BJP) expediently enshrined the forgotten Shastri in its iconography because it fostered its narrative against the "dynasty" and the Nehru-Gandhi's hegemony over Congress. Historian and author Ramachandra Guha tweeted sarcastically to say, "Is this the first time Indira Gandhi or her descendants have chosen to publicly pay homage to that great Congressman and outstanding PM, Lal Bahadur Shastri?"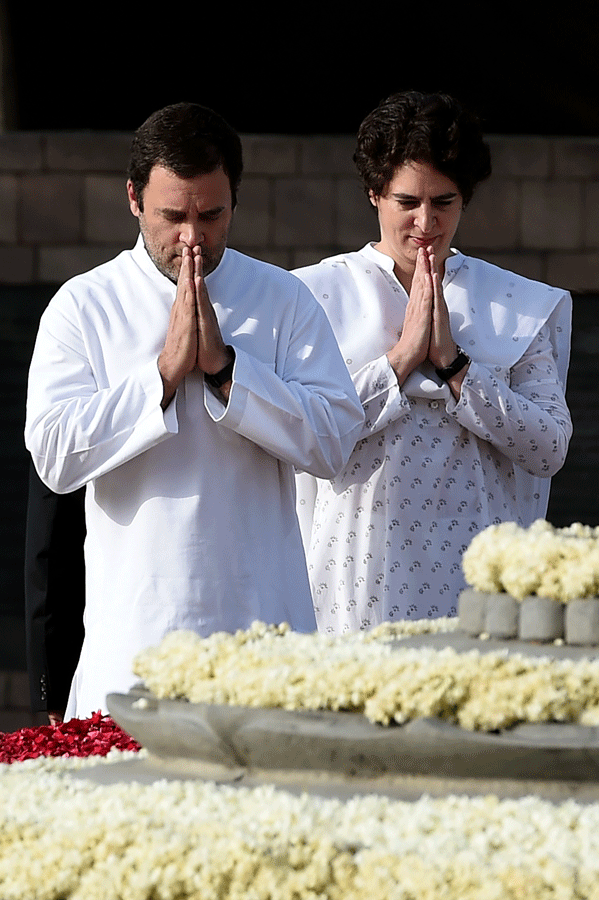 However, Priyanka's circumspection beamed other political signals.              
On February 20, she and Rahul  made an "unscheduled" stop in Uttar Pradesh's  Shamli town, 132 kilometres away from Delhi, to call on and commiserate with the families of two soldiers who were killed in a terror attack in Kashmir's Pulwama. The local administration and Congress members were caught off-balance.   
The Gandhis' Shamli sojourn was significant for another reason: its inconspicuousness stood in sharp relief to the fanatical patriotism demonstrated by the leaders of the ruling BJP at cremations and private prayer meetings held for the departed men from the Central Reserve Police Force. 
In her debut, Priyanka has also been careful not to resurrect the speculation of how key decisions in the Congress were often clinched at the Gandhis' "dining table" by her mother, Sonia Gandhi, Rahul and herself, without wider consultations. 
In her first visit to Lucknow, Uttar Pradesh's capital, as a Congress General Secretary on February 11, she was slated to address the media but called off the press conference after the Pulwama killings. Her launch in the state was staged in a road show that journeyed through Lucknow's roads and gullis on a motorised rath (chariot). She folded her hands in a traditional Namaste, but spoke nothing.  The message implicit in her induction was conveyed by Rahul. 
When she attended her first official meeting in the Congress headquarters, she unobtrusively took a seat among the other functionaries to denote that she was an equal and not a first among equals. The Congress' over-reliance on the Gandhi dynasty to map its destiny and sustain its fortunes has become polemical in India's current political discourse,  shaped principally by the BJP.  The BJP has defined the dynasty as a political infirmity, "undemocratic" and out of depth with a "New India" that places a higher premium on self-reliance and repudiates political inheritance.     
As the hullabaloo over Priyanka's Lucknow trip – which she curtailed for a different reason – settled, came a reality check. What did the crowds that had gathered to cheer and shower flower petals over her, signify? Did they turn up as curious onlookers or cheerleaders? The Congress lost power in Uttar Pradesh in 1989 and showed no sign of recovery, except for a flash-in-the-pan performance once, in the 2009 parliamentary election. It turned out that the people on the roads were mostly Congress workers, mobilised from Lucknow and nearby places. Their presence denoted one trend: if the Congress had a promise on offer, its workers, typically lethargic, could be motivated to put up banners, organise a procession and shout slogans.  Rahul never drew this degree of attention in Uttar Pradesh's capital – currently a BJP bastion.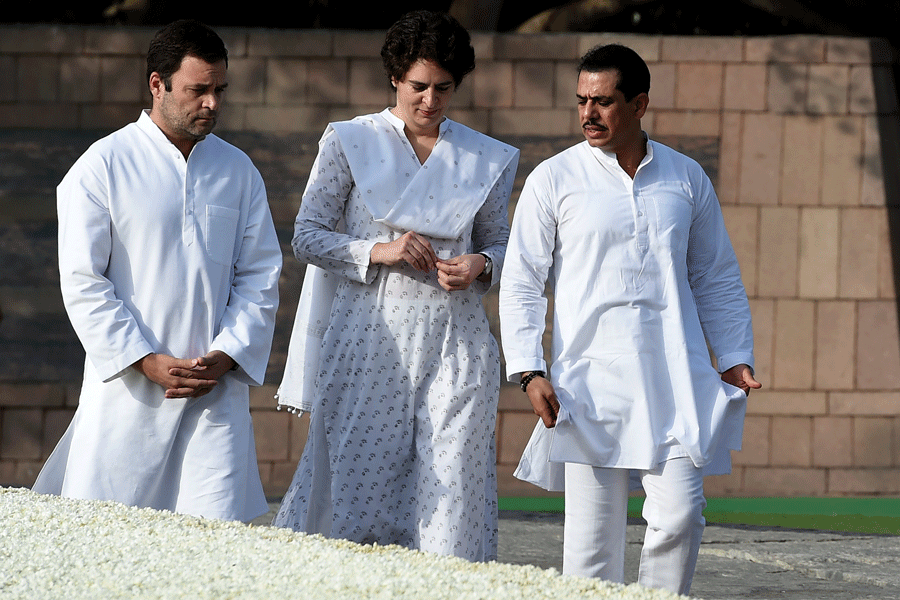 There was, however, a flip side. Reports from Lucknow said the BJP's high-caste supporters (note, not the party cadre) got into huddles after the road show, shredded Priyanka apart and questioned her "right" to "intrude" into their city.  These meetings reportedly concluded with a collective determination to vote back the BJP and Modi in the impending parliamentary election. 
The formalisation of  Priyanka's political role was premised on the Congress' assessment that she would reclaim for the party, its traditional high caste votes – comprising principally those of the Brahmins – that it had lost to the BJP in the late '80s. The Congress failed repeatedly in Uttar Pradesh and indeed, north India, because it could not hold together its rainbow coalition of the high castes, the Muslims and the scheduled castes, or Dalits.      
Comparisons are mean but the Gandhi siblings have learned to live with them. Milan Vaishnav, a senior fellow at the Carnegie Endowment for International Peace, remarked in February 10 edition of Foreign Policy, that "Despite her limited experience in partisan politics, Priyanka Gandhi is widely viewed as the more charismatic, telegenic, and politically savvy of the Gandhi siblings." Vaishnav went on to speak of Priyanka's resemblance to her grandmother Indira – she herself emphasised the similarities in their demeanour, especially the chiselled nose – her "polished" Hindi and a "natural comfort with the thrust and parry of Indian politics," as her major attributes. 
Those like me, who covered her road shows and village meetings in Rae Bareli and Amethi, Sonia and Rahul's parliamentary constituencies, could see that she's a natural at politics unlike Rahul who took time to get the right fit, as it were. She instinctively senses the popular mood. In the rural boondocks, she turns up in a handloom saree and wears Kolhapuri chappals, covers her head before entering a temple, speaks to people in the Avadhi dialect and drinks what's on offer, whether it be a glass of lassi or goat's milk.  When she put in a rare appearance in the Indian Parliament on July 22, 2008, the Congress-led United Progressive Alliance government faced its first vote of confidence after the Left Front, that partially propped up the coalition, withdrew support after the Congress refused to revoke the Indo-US nuclear deal. Priyanka's attire, black trousers and a white shirt, became the biggest side-story, because the outfit reflected the season's "flavour." The deal was perceived as a major step forward in India's progression into the millennium that "regressive" forces such as the BJP and the Communists were out to scuttle.
During the 2009 parliamentary elections, Modi, who was the chief minister of Gujarat, but desperately sought to acquire a national footprint, believed he was smarter than the Gandhis and engaged Priyanka in a jugalbandi (a war of words).  He first called the Congress a budiya (old woman) because of its long history. When the media sought Priyanka's reaction, her answer was, "Do I look old or young?" Modi joined issue with her and this time called the Congress a gudiya (doll). Priyanka capped the exchange with a serious statement, saying that politicians should discuss the state of the economy and development instead of getting into a debate on who was old and who was a doll. Modi was seldom served a reproach of this kind.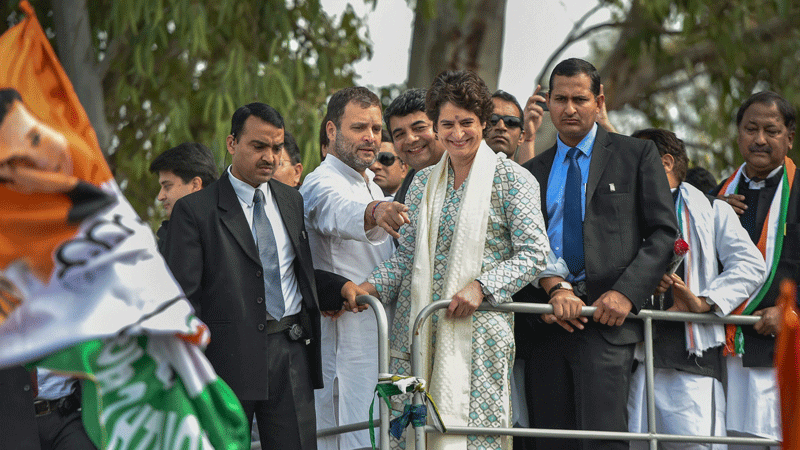 Priyanka is doubtless an unknown quantity, but does she have the X-factor?  She comes with baggage in the shape of Robert Vadra, her husband, who earned the moniker of 'India's Asif Ali Zardari.'  Implicated in dubious business and real estate deals, Vadra has not been prosecuted so far. Close to the elections, the Modi government, that spent over four years threatening to send the damaad (son-in-law) to the cooler, unleashed the agencies, investigating economic offences involving Vadra, who was questioned almost daily for hours.
One such interrogation at Bikaner, Rajasthan, to which Vadra and his mother, Maureen, were summoned, prompted Priyanka to truncate her Lucknow trip and be with the family. Far from treating him like an encumbrance, the quintessentially South Asian Priyanka stood by her patti (husband) from the word go. She accompanied him when the Enforcement Directorate sent for him in early February, before showing up at the Congress office to herald her formal engagement at a meeting. 
Priyanka's public support of Vadra after her appointment in the Congress effectively silenced the sceptics in the party, who privately wondered whether bringing her in was politically prudent because of her "tainted" better-half. 
Priyanka has never stepped out of Rae Bareli and Amethi except to campaign for Sonia in Bellary, Karnataka, in 1999. Sonia was pitted against a formidable contender: BJP's Sushma Swaraj, who took the joust seriously enough to take lessons in Kannada, the regional language. Priyanka did the same and outsmarted the eloquent Sushma. Sonia was elected from Bellary.
Although she galvanises the local Congress workers, whose only hopes in Uttar Pradesh are reposed in the two marquee constituencies, lately a sense of fatigue with Priyanka was discernible even among the party's foot soldiers. The residents of Rae Bareli and Amethi compared her with a seasonal bird that flew in at election time to "picnic" and  hand out (metaphorical) "lollipops" before returning to her children in Delhi.    
Now that Rahul has farmed out a large part of Uttar Pradesh to her charge, Priyanka has her task cut out.  She reportedly told workers at a meeting in Lucknow not to expect miracles from her but to fortify the Congress at the grass roots. The Congress' political opponents seized the reported statement as an early admission of defeat. 
However, Priyanka hit the ground running, presiding over meetings in the Congress' dilapidated old Lucknow office through the night until sunrise. Does her advent in politics herald a new dawn for the Congress? Noted political commentators were expectedly cautious in pronouncing a verdict. Sadanand Dhume, columnist and resident fellow at Washington's American Enterprise Institute, wrote in a blog, "At this point, Priyanka is like a newbie in Bollywood with a famous last name and a largely favourable set of advance reviews." 
Guha's verdict was uncharitable. "In any case, the Nehru-Gandhi name has lost much of its sheen, while the younger (and even older) Indian voter increasingly demands proof that prospective leaders have achievements independent of their family name," he stated in an article in Kolkata's The Telegraph in 2015.
Radhika Ramaseshan is consulting editor of Business Standard, New Delhi and columnist for Mumbai Mirror.
Next