Masala, or spices, are an essential ingredient of the subcontinent's culinary culture. Different spices provide the local cuisine with distinct tastes and aromas in every house and restaurant in Pakistan and its neighbouring countries. 
With more than 400 small and large businesses, Bannu is arguably the hub of loose spice production in Khyber Pakhtunkhwa (KP). A variety of spices produced in Bannu are known for their tastiness across the country and in the Gulf region. It takes at least 16 different natural herbs to make the loose masala in Bannu.
However, food experts believe that loose spices are exposed to many hazardous, unhygienic and adulterated foreign agents that can lead to health complications. Keeping the customers' health and safety in view, the KP Food Safety and Halal Food Authority (FS & HFA) initiated a campaign to ensure the quality of food products in the province.
Soon after becoming operational in 2018, the food authority carried out inspections of food handlers across the province and discovered that unpacked spices were prone to contamination, as well as adulteration and the addition of foreign particles. Hence, a one-year grace period – which will end on March 20 this year – was given to spice vendors in which they were expected to bring about changes in the way they conduct their business.
According to Dr Abdul Sattar, Technical Director at the FS & HFA, swift action was taken against loose spices as scientific research proved that they are exposed to fungal attacks that can produce hazardous aflatoxins and mycotoxins.
"Spices are a dry product and a moisture level of only up to 12 per cent is acceptable," he says. "Controlled moisture will allow the spices a one to two-year shelf life. A higher level of moisture makes spices defenceless against fungal attacks and also reduces their shelf life, sometimes to only a few weeks. That's why we are stressing on the selling of packed spices," he adds.
"The use of food or non-food colours in spices is not permitted, yet they are being used openly," continues Sattar. "Similarly, the mixing of used and dirty oils, rotten spices, saw-dust and, more seriously, bird feed are also widely practiced. Fortunately, the adulteration of packed spices is easy to trace, and we are easily able to identify a specific producer if any issue emerges in the product." 
During the past 11 months, the seven divisional offices of the food authority conducted 319 inspections, during which 4,154 kilograms of adulterated spices were confiscated. Meanwhile, 22 businesses were sealed after repeatedly violating the law. Similarly, penalties of Rs 290,000 were levied on serious offenders, while 156 businesses with lesser neglect were given notices for improvement. In addition, roughly 24,000 kilograms of sawdust and bird feed intended for mixing in spices were also seized from the possession of spice producers.
On the positive side, 16 spice wholesalers were issued business licenses for meeting the required standards and another 161 were issued notices for minor improvements before they could secure licenses. The authority will carry out further inspections of these dealers before awarding them licenses. 
Aneela Mehboob, an Assistant Director at the FS & HFA in Peshawar, oversees the authority's performance in one of the four zones in the provincial capital. Six out of 20 spice producers and sellers in her jurisdiction have already begun packing their products, while more are starting the practice soon. 
"We care for the producers' grievances, but customers have a right to get safe, healthy, nutritious and halal food," says Mehboob. "Packing spices significantly reduces contamination and intentional adulteration, such as the use of oils to give the spices a shine and sawdust to reduce production costs." 
The oils, originally imported for use in the manufacture of soap, are sprayed on powdered spices before they are dried in the sun, to prevent the powder from blowing away in the air. The sawdust is used for giving more weight to masala, hence reducing the production cost. Other intentional impurities include ground leaves and stems of plants that are not classified as edible.
The FS & FHA intends to start a major operation across KP against all vendors who are found selling loose spices, from March 21 onwards. The authority plans on penalising spice producers and sellers as per different sections of the KP Food Safety Act 2014. An offender can be charged with a minimum fine of Rs 25,000. In more serious cases, confiscation of the unsafe food product, along with a maximum fine of Rs 2 million and a six-month jail term, can also be handed out.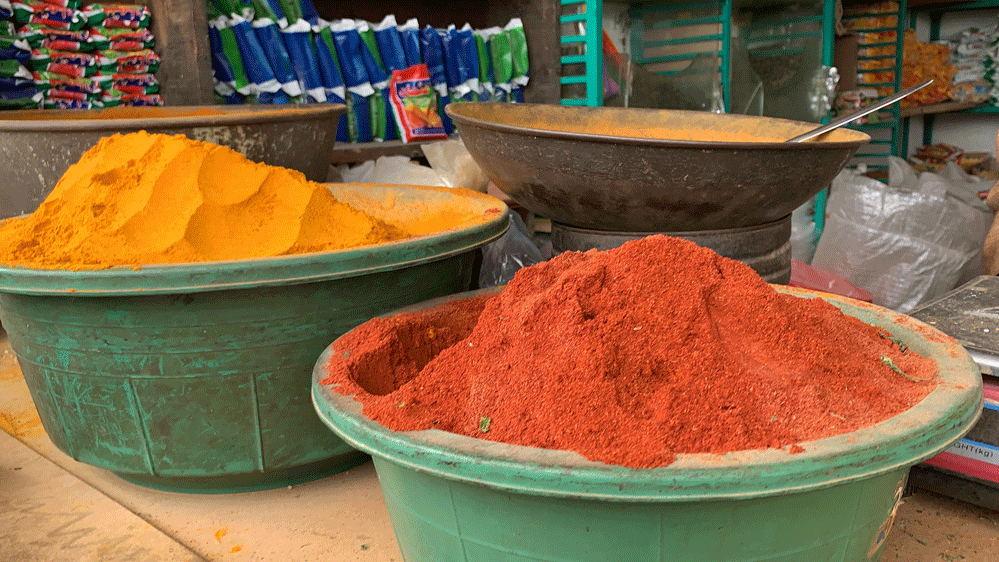 However, the various trade unions of spice merchants are not necessarily on the same page as far as the decision to sell packed spices is concerned. Shaukat Ali Khan, Chairman, Markazi Tanzeem-e-Tajiran Peshawar, appreciates that the food authority is trying to improve food handling and provision of halal food in KP. He said, however, that while he and his colleagues are ready to make changes, they cannot allow the food authority to keep slapping heavy penalties on underprivileged shop owners.
"Some vendors don't earn as much as they pay in the penalty," says Khan. "Adding insult to injury, the food authority films shopkeepers during inspections and then posts the videos on social media. How will a shop owner get his credibility back after his food samples pass the lab tests and after he adopts all changes recommended by the food authority?" 
Khan adds that "I fully agree on action against people guilty of adulteration in food items. However, packing each masala item is very expensive for us. I have 37 varieties of masala and it will cost me nearly Rs 4 million to get a different packing frame for each item." He points out that a "majority of our customers are poor people. They prefer buying loose masala as it is cheaper and of good quality compared to many multinational products."
Suggesting a simple method for traceability, Khan says shopkeepers should give out their business cards every time they sell a product. "The card will mention the business' name, the owner's name and his contact details. It's way cheaper than printing bags and making packets with shop names and logos."
Similarly, Sher Ali Khan, President of the Masala Union in Bannu, maintains that packing spices will not help their business as they have to fulfil the varying demands of suppliers and consumers. "Wholesalers in Swat don't want red chilli in their masala, whereas merchants in Peshawar prefer purchasing spices without additional colours. How would we be able to cater to everyone's demands if we switched to selling packed masala?" he asks. 
However, food authority experts do not buy the dealers' claims. "Without packing, loose spices sold for Rs 50 costs the producers Rs 18 at the most," says Sattar. "With good quality packing, the production cost will go up to Rs 30. Yet the sellers are still resisting packing, because they do not want to cut down on their margin of profit," he continues.
"Yes, the packing machinery would cost around 1.5 lakhs. But we have suggested that dealers who can't afford to buy machines on their own can group together and purchase one machine and use it in shifts. Our aim is not to destroy their businesses, we want them to improve, and mechanising their work will increase production besides reducing the labour cost in the longer run," says Sattar.
Explaining the next step, Sattar said that even after packing comes into practice, the food authority would carry out regular lab tests to ensure the quality of the product. "We intend to teach them [masala vendors] the basics of testing their products at their workplaces and help them improve their quality and longevity."
He added that the authority was already disseminating two-day training to food handlers across the province. "The training includes improving personal and the premises' hygiene, applying more efficient techniques and making vendors realise the risks of using certain ingredients in foods," adds Sattar.
The food authority is geared up to impose a ban on the sale of loose spices from March 20 and will not hesitate to use force as permitted by law. Meanwhile, the spice trade unions in Peshawar, Bannu and other areas of KP intend on countering any use of force with shutter-down strikes and the blocking of roads. Fortunately, the authority and the unions alike understand that they still have the time to sit and resolve any disagreements through negotiations.
Arshad Yusufzai has worked for Voice of America and has published in The News International and Central Asia Online.
Next