Razed to the Ground: The Bhoja Air Crash
Like wildfire, the story spread in a matter of minutes. Bhoja Air's ill-fated Karachi to Islamabad evening flight went down in a fiery inferno and crashed near Hussainabad Village close to Islamabad's Benazir Bhutto International Airport only minutes away from landing. All 127 persons on board, 9 crew members and 118 passengers, were killed. An Air Blue plane managed to land successfully in Islamabad only minutes after the crash in what was described as atrocious weather for flying. Crews of assorted TV channels raced to the scene shoving their cameras where they didn't belong, scouring the remains of a darkened crash site, impeding rescue activities, savagely showcasing bodies and limbs torn asunder — to the disgust of many. Witnesses claimed that the plane caught fire mid-air before crashing. A preliminary report stated that the plane exploded before touching the ground. Another witness stated that he saw the plane trying to land, hit some trees then explode in mid-air. The circumstances of the disaster remain murky. Civil Aviation Authority (CAA) Director, Nadeem Yousufzai, hinted that it was pilot error caused by bad weather and poor visibility conditions, shifting the attention away from a technical fault to human error. Whatever the reasons, yet to be substantiated, 127 people lost their lives that Friday evening, April 20, 2012 and dedicated to their memories lie some very unsettling questions that need to be answered.
It hasn't even been two years since one of Pakistan's worst ever air disasters when an Air Blue flight crashed into the Margalla Hills in July 2010. Since then, few lessons have been learnt. Pakistan's fledgling aviation industry has taken a turn for the worse with the country's national carrier, PIA, plagued with numerous technical faults, delays and rumors about insolvency. After the Bhoja Air crash, two other incidents further highlight just how precarious air travel in Pakistan has become. On Sunday, April 22, a Shaheen Air flight was forced to make an emergency landing in Karachi when two of its tyres burst, closing down Jinnah Airport for many hours, leaving passengers to wonder, what next? Similarly, another Shaheen Air flight bound for Iran leaked fuel at Lahore's Allama Iqbal Airport, prompting the passengers, justifiably, to refuse travel on that specific plane. As a fitting reactionary response, Defence Minister Ahmed Mukhtar told PTV that the fleets of all the private airlines have been grounded for fitness checking and each airline will have its planes and staff inspected and issued with new certificates in addition to regular maintenance procedures. For anyone contemplating air travel on a local airline, this is perhaps too little, too late.
Predictably, the government has announced probes and commissions to investigate the causes of the Bhoja Air crash. But realists learning from the Air Blue fiasco will realise such measures are meaningless, especially since the complete report from the Air Blue Commission is mired in controversy. It seems the government and its agencies' response to most disasters is the filing of a report after investigations, which, experts say, in this case, will take around a year since the findings need to be shared and corroborated internationally. Assuming the investigation reaches a plausible and accurate verdict, will its recommendations be followed? For most travellers, this uncertainty is not comforting.
The CAA has come under a hail of fire after the tragic disaster. One need not be reminded that in 2007, PIA was barred from flying to the EU because of security concerns, while the last few years have seen the national carrier struggle with numerous delays and technical glitches. Most planes in service in Pakistan are over two, if not at least three decades old. The age of the Bhoja Air Boeing 737 that crashed is reputed to be between 27 and 40 years old. Despite its age, the CAA and Bhoja Air have stated that the plane was airworthy and was cleared by South Africa's aviation authority before reaching Pakistan in January of this year. Naseem Ahmed of CAA's Safety Investigation Board has added that Pakistan's procedures and standards are at par with international levels, but he also stated that the CAA has failed to outline a final policy. In addition, Ahmad said that CAA has no dedicated agent in charge of tracking airline accidents, and the organisation is unable to provide a timely figure relative to accident rates, adding, "we probably have the worst accident rate in the world — or if not the worst, at least in the top three."
Worse still, was the CAA's response to the disaster. Shrouded in darkness, the crash site was reputedly a site for looters who stole gold bangles, money and other personal effects from the victims while rescue operations were taking place. Although cordoning off the area would have been appropriate by the authorities, the site was filled with laymen observing and often hampering rescue efforts. To add fuel to the fire, the plane's data and voice recorders were reportedly kept in the house of the chairman of the Capital Development Authority for 24 hours, an extreme example of negligence as data recorders need to be stored in a dry container to prevent moisture from damaging the records.
Mistakes like these indicate the appalling levels of incompetence that have emerged in the aftermath of the disaster. Tanya Fareed, a sibling of one of the deceased crew members cautioned the CAA by telling reporters, "Tell them to stop covering up the facts and come clean, otherwise I will expose them myself," blaming both the airline and the CAA for operating the flight in bad weather. If the airline crash was a result of a technical glitch, the question remains, what sort of inspections and standards is the CAA following if it failed to detect what was wrong on that ill-fated flight?
As for Bhoja Air, the airline has been bombarded with a wave of criticism and fury. Few have forgotten when Bhoja Air was caught repairing its plane's tyres at a local mechanic's outfit some years ago, before the airline was declared insolvent. Years later, this legacy continues to haunt the Bhoja name. Although no official figure has been released by the airline, most analysts claim an overwhelming majority of travellers due to fly Bhoja Air have asked for refunds, which the airline is complying with. Blame was reserved for airline namesake and minority shareholder Farooq Bhoja, who was placed on the Exit Control List until further investigations. Majority shareholders, the Jalil family, have also been placed on the ECL with one of the members directed to return to the country. Commenting on the airline's turbulent past, Interior Minister Rehman Malik, stated that the airline was first granted a license under Nawaz Sharif's government in 1992 and operated until financial pressures in 2001 forced them to close, freeing his party from any talk of patronage related to the airline's recent resurgence. Bhoja Air is reputed to have been suspended three times between 1992 and 2001. Acrimony is now ensuing as to who, or how, Bhoja Air was granted a license to restart operations considering the millions of rupees it owed to the CAA before closing down eleven years ago, or the fact that the airline is not even registered with IATA, the International Air Transport Association. The authorities have stated that all licenses and safety standards were met by the airline upon resumption of air travel, but the question remains, under what circumstances did Bhoja Air resurrect itself and take to the skies again?
Even after the plane crashed, controversy reigned. News channels and media outlets competed for attention, flocking airline counters at airports and accosting distressed relatives of victims, shoving their microphones into grief-stricken faces with inane questions at a time when discretion and respect would perhaps have been more appropriate. TV images were flooded with personal documents, belongings and other information related to the passengers. Rumors floated that Bhoja Air was selling its flight list for Rs 15, a claim that has not been verified. From the crash site, grisly images of the wreck and victims were broadcast on live TV as reporters broke all barriers of media ethics and flooded a crash site while rescue efforts were ongoing. News was broadcast with sensationalised appeal as channels and news agencies borrowed heavily from maudlin Bollywood tracks and Hollywood crash scenes. One English newspaper carried a cartoon with coffins flying in the sky. This shockingly insensitive media response with its lack of regard for viewers and victims engendered a severe backlash in the online public sphere with most commentators gaping aghast at the news channels' temerity. When good sense and tact were necessary, the media further inflamed sentiments by airing questionable and provocative material, highlighting that it's not just the transport authorities who are in need of a 'shakedown,' but news agencies as well.
But the notion of blame is meaningless until and unless the complacent wider public that accepts negligence and a disregard for professionalism as a matter of fact does not speak out. Most observers will agree that this air disaster could have been prevented if proper procedures and methods were in place and followed. As the Air Blue disaster from two years ago has proven, no lessons in Pakistan are long-lasting. The Air Blue crash report was so mired with contradictions, it was rejected by the Peshawar High Court. Transcripts of the flight data recorder as well as the cockpit voice recorder have not been made fully public. The internally appointed CAA commission that 'investigated' the Air Blue crash determined that pilot error in strong weather conditions was to blame, but if so, what lessons did that teach us about flying into Islamabad during turbulent weather, strong winds and poor visibility? That night of the Bhoja Air disaster, the official risk rate for a crash was at 40%. Officials have stated that it is the pilot's discretion to land or divert the plane to land elsewhere. Should not the responsible officials have been more proactive in preventing innocent lives from being lost?
Questions abound aplenty, but there are also lessons from this unfortunate disaster. Common sense dictates that airline crashes can be prevented if proper operating procedures are followed, especially in the event of poor visibility and bad weather conditions. If the conditions are dire, then perhaps diverting air traffic is a more amenable solution than risking the lives of air passengers and crew members. Unfortunately, reactive decision-making plagues our institutions as follow-up efforts by airlines and the CAA appear mainly as a PR exercise in crisis control management. Initial statements from airport and CAA officials as well as the airline's representatives sought to distance their culpability from the disaster. That is a glaring indicator of misplaced priorities at a time when appropriate rescue mechanisms were badly needed. How does one explain to the victims' families that there were no available helicopters to assist during the rescue, or for example, why damaged electricity wires compelled rescue teams to find victims using the light from their cell phones?
The most pressing priority at this moment is to appoint independent investigative teams, not an internal CAA Commission, to identify the causes of the crash and more importantly, recommend and implement safety controls that stand the test of time. In addition, further training for pilots, crew members, ground officials and rescue teams are required. Setting up appropriate systems for rescue, reporting and information dispensation are also needed. But it doesn't end there. Appropriate disaster management is a necessity to prevent airports or crash sites from being thronged with media personnel and bystanders that impede the rescue process at crucial moments after the disaster. Additionally, the media must be held to task for its unethical broadcasts and its interference with the rescue process. Institutions like the PTA and PEMRA, which have recently borne the mantle of moral watchdogs for the country, need to set in place measures that prevent any insensitive or graphic broadcasts disrespecting the victims or transmitting objectionable images to millions of television viewers. Additionally, compelling media agencies to practice an outlined code of journalistic ethics or face severe consequences may have far-reaching improvements.
As for the country's main regulatory body, the CAA, it is evident that the organisation is failing in its most important duties. The problems with the Air Blue report indicate there is a lack of transparency that permeates all aspects of the investigative process. Many CAA officials are hired from the airline industry and often obtain their appointments through political connections. It should not be a surprise therefore that clientelism, corruption and a lack of regard for due diligence has culminated in the CAA being an entity with little repute or credibility.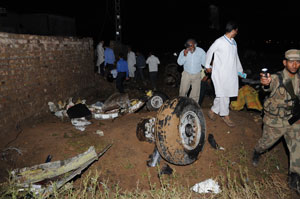 Jamal Hussain, a former head of Pakistan's Safety and Investigation Board, said Pakistan's airlines try to reduce costs by scrimping on basic maintenance, citing the numerous problems he encountered with their unprofessionalism. "Often they would go to the ministry of defence or other ministries and try to exert pressure on us. We used to stand our ground most of the time." It does not help that private airline owners have strong political connections.
Furthermore, if the CAA is entrusted with investigating a crash, it presents a conflict of interest since the report can reflect poorly of the CAA's performance. What is required is an international team of impartial experts to not only investigate the causes but outline the correct measures to prevent tragedies like this from occurring.
The slew of problems faced by airline carriers over the past few years indicate that Pakistan seriously needs to evaluate and engender a comprehensive safety plan that ensures technical glitches and plane crashes are not a routine occurrence, but a thing of the past. The Fire and Safety Association of Pakistan (FSAP) said it best in a press release: "We cannot exonerate ourselves from responsibilities to ensure that all air operations and flights are conducted safely at all times by simply blaming 'adverse weather conditions.' There may be more than one reason for this tragic incident and we, all the executives, directors and members of FSAP, demand for a professional, fair and fast investigation into the incident and that the detailed outcome of the investigation and recommendations to be made public." Whether that will actually happen or not is anyone's guess.
Perhaps, it is time for civil society to realise that safety rests in the hands of a regulatory body that is not performing effectively. Creating an advocacy movement for greater safety checks and procedures, pressuring government and regulatory bodies to improve their monitoring, maintenance and training schedules is a start, but until and unless people come together and demand that airline security and maintenance is a necessity not to be taken lightly, perhaps only then will we see an end to these and other travel-related calamities. As one commentator wittily noted, the only reliable means of travel currently remaining for Pakistanis is a donkey.
This article was originally published in the May issue of Newsline under the headline "Razed to the Ground."
Next