Profile: Bano Bhimjee of IFG Triumph
When I met Bano Bhimjee, on a clement February morning, I secretly chided myself for not doing this earlier. Somehow it struck me as odd, irresponsible even, that nothing substantial had ever been written about this amazing, truly humane lady. At 84, Bano is nothing short of eidetic; searching buried depths of subconscious memory to unearth anecdotes and history, still full of enquiry and irrepressible energy. Always self-effacing, expressing an almost reflexive disdain for pretence and class-consciousness, it is perhaps inevitable then that in this era of self-publicity, Bano would be little known.
As I sit waiting for her in the living room of her portion of the Bhimjee apartment — which she refers to as 'diwaan-e-aam,' while referring to her son's portion of the flat as 'diwaan-e-khaas' — I see a gardener lazily watering potted plants in the lawn-sized balcony outside that offers a panaromic, even if polluted view of Karachi. If I crane my neck just slightly, I can see Bano's room next to it, the door to it ajar, and a gray-haired woman within seated on the floor studiously sewing a garment. She peers at Bano as she walks out and then hands over her handbag, which she obviously sees to, with nurturing authority.
Bano enters the living room; a shortish, fuzzy, white-haired woman clad in an orange sari. She looks at me with eyes that are at once pensive and searching. She clasps both my hands wordlessly and smiles. "Excuse me," she says, a moment later, pops some pills in her mouth, and we begin the interview.
"I had three sons. My youngest son, Kabir passed away in 1978 — he had a hole in his heart," Bano says. "We took him everywhere. The doctors in New York said he had a 10% chance of survival, that he would live barely six months longer. I left it to God and he went on to live for 13 years more. He was gifted, very intelligent. Without any tutoring he could speak, read and write English." She pauses, rubbing her palm with her thumb, her voice straining. "After he passed away, I was naturally, very lonely. So my husband (insurance dynamo and philanthropist, Roshan Ali Bhimjee) pushed me to go to the factory."
She continues, "My husband Roshan used to travel — alone mostly — and when abroad he would ask me what he should bring for me. At that time we only knew Marks and Spencers. So I would tell him to get me things, including undergarments. Then one day a German friend of his asked why he didn't get into the undergarment business himself. Initially Roshan laughed it off, saying, 'What do I, a PR man, know about this.' But then the German introduced him to Spiz Hosser of Triumph. Hosser was not averse to setting up a factory in Pakistan." And so, in 1971 IFG was born — and the rest is history.
Bano shares an anecdote about the IFG's early days. "One day Roshan was in Hungary regarding factory work. He laid out samples of undergarments on the bed in his hotel room, mulling over what to carry and what not. A cleaning lady came into the room and her eyes widened in shock — she must have wondered what he was up to," Bano, chuckles. "At first my husband played along, but then told her it was all business."
After a short while we settle into Bano's car, and make our way to the IFG factory. Along the way Bano tells me that when IFG was first set up, little did Roshan know to how many women he would end up offering life-long employment and a productive haven to. The drive takes about half hour, and I learn more about Bano's life.
Bano was born in the Burmese capital Yangon, formerly known as Rangoon. She was the only daughter of four brothers and by her own admission, her father's favourite. Had he been alive longer, Bano says, she might have been "a spoilt child." Her father ran a "very nice" crockery shop she tells me, but when the Japanese invaded Burma he was compelled to send his family to India. Later, like many others at that time, he tried to reach them, forced by the logistics of war to walking to the Indian border. He died on the way. Bano and Roshan's families were close friends in Rangoon, where Roshan worked in insurance. Bano was studying at the Wilson College in Bombay when Roshan proposed. They got engaged and subsequently married in Bombay. Roshan was, by now, a seasoned insurance man. Marriage proved blissful, and a congenial couple, they had many friends, including the literati of the day: scholars and revolutionary poets like Faiz Ahmed Faiz, Sibte Hassan and Majaz.
But their life was to change irrevocably — Bano tells me how one remark during the Independence riots of 1947 became the trigger for this life-altering shift.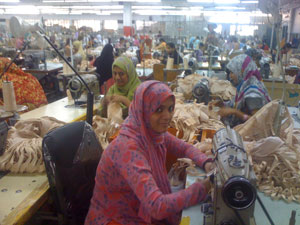 One day Roshan came home very disappointed. He had many non-Muslim friends and one of them said to him, 'Tum musalmaan nahin lagtay ho, tum hum jaisay lagtay ho.' Roshan responded, 'We are all Indians — what difference does religion make?' But after that, there was no turning back for him. He said to me, 'Jahan izzat nahin wahan kuch nahin.' And then our future was Pakistan."
When we arrive at IFG — a white-washed set of modest buildings reminiscent of an earlier era — I feel as if I am 16 again, back in school at break-time. Young girls litter the expanse; some in groups of three or four, chattering while munching on packets of chips or cellophane-wrapped packs of biscuits; some take short walks along the driveway, their kameezes fluttering in the warm breeze. Others sit placidly on wooden benches shaded by old trees, and still others talk on cell-phones. "It's their tea-break," Bano tells me.
IFG is the acronym for International Foundation Garments which works in collaboration with the well-known German undergarment manufacturer, Triumph, that operates in about 120 countries across the world.
IFG's scope and popularity lies in brassieres, although they offer other undergarments and night wear as well. Seventy-five per cent of the 400-person work-force comprises, appropriately, women, mainly young girls, starting off at sewing positions or in technical operations. Others, more middle-aged, occupy the position of departmental heads. Each and every single employee is entitled to group insurance, EOBI (a pension facility) and a social security scheme (which provides for free medical facilities). The costs of all these are borne entirely by IFG. Workers are paid gratuity (one month's salary for each year of service completed) and are entitled to 42 days of paid leave. In addition to this, workers are also paid three yearly bonuses, and can claim a specified amount every year towards their five percent share in company profits. Additionally, tea twice a day, breakfast and lunch are offered at heavily subsidised rates.
As we make our way to Bano's 'office,' I am not prepared for the sheer magnitude of operational activity within the factory premises — a stark contrast from the serene surroundings outside. We push open a swinging white door and come upon hundreds of women in an assembly-line setting, sitting alongside vertical rows of steel desks with built-in metallic sewing machines, their large engine-like motors underneath. "This is the sewing department," Bano informs me. We enter and are met by thunderous applause.
I take a seat as Bano sits at her desk and my education on undergarment manufacture gets underway.
She tells me the production of a singular brassiere involves three stages and three different departments: raw materials, production and sewing. Bra manufacturing is clearly more complicated than I had imagined.
As Bano and I make our way to the raw materials department, a fair-skinned, red rouge-lipped assertive figure in a black cardigan swaggers up to us. With a gait that could challenge an army general, she flashes a brilliant smile, saucily shakes my hand and introduces herself as Musarrat Jabeen, general secretary of the National Trade Union Federation, the IFG's trade union. My interest piqued, she launches into an authoritative description of the union and its modus operandi — how it liases between the workers and company management. She informs me how the union is currently in the process of negotiating an increase in the time allotted to employees for reporting to work; at present it allows a 15 minute leverage, any delays after that result in a day's pay cut. But now the volatile political situation — riots, transport strikes and curfews in the outskirts of the city where most middle-lower class workers reside — often compels workers to miss work or arrive late. The fact that she communicates this in Bano's presence conveys her comfort level in relation to her boss. Musarrat continues, "I pray for this factory. There is no other trade union in Karachi comprised entirely of women dealing with problems exclusively faced by women employees." She adds, "In fact, I challenge you to find one." Then she hands me her card, glossy white with a coy red rose on the left. It also lists Musarrat's affiliation with different unions in other factories in Karachi. I don't have a card to proffer. She flashes me another smile and marches away.
The raw materials department is enclosed in a window-like cabin to the left of the production line. A 40-ish maternal-looking woman called Tehmina greets us. Tehmina has a round face and timid eyes. She has worked in the factory for 38 years — joining in 1973 as a store-keeper. "I am now deputy manager, raw materials," she says. Tehmina tells me how the materials department mainly assesses the quantity of raw material required based on sales order figures. The simplest bra, she tells me, has 11 components, the fussiest 25. When we leave, Tehmina is quick to add how grateful she is to Bano, for her job. Bano ushers me away, clearly embarrassed.
Next we make our way to the cutting department, where I see a few men. I learn they are here for their brawn: carrying and placing heavy loads of fabric where required.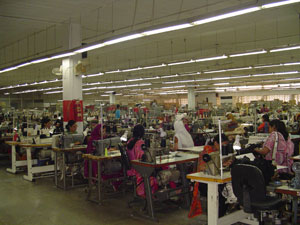 Next we walk to the cutting section and then to the sewing department. Bano's elder brother Yousuf sits at a wooden desk. Yousuf is quiet, but I detect a slight British accent when he speaks. The manager of the store department, Yousuf has also been working in IFG for 35 years.
Although the cutting department has several male workers, it is headed by a woman; albeit a tall imposing woman with a visibly domineering presence. "Rehana has developed many brassiere designs and patterns, some are derived some are new," Bano tells me; "Mayur, a bra line, was developed by her." Clearly pleased, Rehana blushes. "Acha hai, faishanable hai," she murmurs.
We head back to the epicenter of the factory. By now Bano is clearly tiring. She excuses herself to sit at her desk, but not before introducing me to Naseem, the production floor manager. "Main yahan challis saal se hoon," she tells me, "ye meray liye ghar se bhi bada hai. Aunty (Bano) is like my mother." Naseem started off as a machine operator and then moved up the ranks. She is unmarried and in her mid-forties. I ask her if she regrets not marrying. "Ab main kiya karoon gi shaadi ka," she laughs nonchalantly, adding, "Mera issue aur tha. Mein family mein sab se badi thi. Mainay sab ki shaadiyan karai hain." She looks around the department and says, "Idhar takreeban teen-sau ladkiyan hain. Teen-sau kahaniyaan."
As we walk down the aisles Naseem fills me in on the department's operations. She introduces me to the girls at their work stations. Nineteen-year-old Mahrukh, in a pink floral shalwar kameez, sits at one of the strap operations. For each bra strap she joins, she sets aside a slip card. She has 40 slip cards indicating 40 straps fastened. If she does this in less time than designated, she will be rewarded monetarily. Mahrukh has a college degree. When I ask her how this job has affected her life, she tells me that it has given her financial independence and her family feels confident knowing she can carry the 'burden' of household expenses. She says that her salary pays a portion of the utility bills as well as the tuition fees for her younger brother and sister.
Naseem tells me that the average age of the girls in the sewing department is around 20 years, although there are some older women too. She introduces me to a 43-year-old widow, Nusrat. Nusrat appears bent more with circumstance than age. Henna-dyed orange hair escapes from her dupatta-draped head. Nusrat has been working in IFG for 13 years. 18 years ago, soon after she gave birth to a child, her husband passed away. She tells me 'aunty' took care of her during her difficult time. Her daughter too now works in the factory.
It's almost lunchtime. In the canteen upstairs, the aroma of warm bread and pakoras greets me. A dozen benches line the large airy hall with a glass-enclosed bar to the right where male cooks arrange portions of food on sectioned steel platters to an organised line of restive women. Soon, I find myself seated in a tightly packed group of members of the trade union, the women prodding and pushing each other in girly camaraderie. A platter of dahi ki karhi, warm chapattis and custard beckons me. Nasim, a generous, joyous woman tells me how I missed yesterday's special biryani. She informs me how the union negotiated variety in the menu and how they now have custom-made-cuisine such as nehari during Moharram and payas in winter, as well as pulao on other occasions. The workers also have organised picnics once a year. Last year some 300 workers went to Paradise Point along with Bano and the company management. Bano, they tell me, is quite the nightingale, actively participating in 'antaksharis' on the bus ride to the beach.
Nasim lives in Bihar colony. Her husband is an electrician. I am told she wakes up at 5 in the morning to reach the factory at 8. She has three children. She tells me she resumed work a month after delivering a baby boy. In the mornings her daughter took care of the baby, while her son went to school. In the evenings her son took over, while her daughter attended evening classes.
I meet Musarrat again on my way down. She tells me of her fiancé who died in the 9/11 WTC attacks and how it eroded her desire to marry. Musarrat, I feel, seeks to continually improve her mind. She tells me of how people in the West work like "donkeys," in comparison to the half-hearted work ethics here. She mentions her affiliation with a labour education NGO working for the plight of women in the informal sector. "Jee," she says jauntily when I express surprise after hearing of her trips to Nepal, Sri Lanka and Delhi in connection with this work.
Bano is surrounded by her brood when I meet her in her office. Rehana, Naseem and Tehmina smile as I walk in. They then proceed to retrieve from somewhere, much to Bano's irritation, an album of some 20 years earlier. The plastic-coated pages behind which are fading photos depict these women at their prime: a brunette Bano in a silky sari sings into the microphone; a thinner, brooding Rehana stands by, a high-cheek boned Naseem sits tall on a plastic orange chair.
The years may have taken their toll on each, but clearly little has changed in the abiding love they share with one another — but most of all with the grand matriarch in their lives: the ageless, amazing Bano Ali Bhimjee.
This profile was originally published in the May issue under the headline "Amazing Grace."
The writer is freelance journalist.
Next