With bomb blasts, drone attacks and political strikes becoming everyday occurences in Pakistan, it is unsurprising that many contemporary Pakistani artists delve into dark themes such as violence and extremism in their work. However, Sameera Raja of Canvas Gallery felt that these doom and gloom narratives were overshadowing the more positive stories in the country and, in collaboration with the IVS Gallery, she organised a group exhibition on the theme of celebrating life. Entitled Band, Baaja, Baaraat, the group show featured 40 different artists who were asked to present work that embraced a feel-good philosophy.
Walking into the IVS Gallery, one was greeted with paper flowers hanging from the ceiling and many of the pieces on display manifested this sense of festivity and playfulness. For instance, Abdullah M I Syed's 'Choker' and 'Rings' were origami-like jewellery pieces made from banknotes that brought to mind the wastefulness of local weddings and dowry traditions. R M Naeem's 'The Groom' was another painting that referred to weddings and depicted a nude male figure wearing the traditional sehra. However, rather than joy or festivity, the use of dark monochromatic tones suggested dread or ambiguity. Both Syed and Naeem's work commented on weddings and celebrations, but the tone was certainly more critical than celebratory.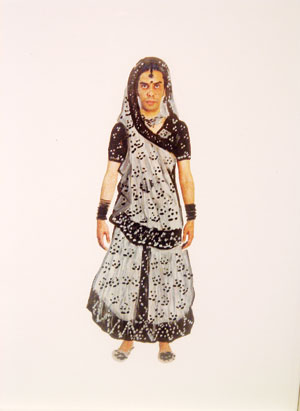 Ayaz Jokhio's 99 self-portraits were another highlight of the exhibition. In each portrait, Jokhio took a digital print of himself and painted different attires over his figure — a somewhat more artistic version of paper dolls. The garbs were of a wide variety including saris, kimonos, burqas and even a Santa Claus outfit. The clothes certainly bordered on the ridiculous and paired with Jokhio's serious, almost sullen, expression, the series provided both humour and wit to the exhibition at large.
Another series that made use of humour was Imran Channa and Mohammad Ali Talpur's 'Free Tales.' This series featured nine digital prints of nature and landscapes — the kind of prints one might see being sold by a street vendor or as wallpaper on a computer desktop. And on each print the artists had printed a rather corny joke. This forced humour and kitsch were the main subjects of their series, which could perhaps be seen as a commentary on how light, frothy entertainment is somewhat illusory.
It must be noted that while the curators requested the artists to collaborate in pairs, many of the works seemed to have been made in isolation. And if all the artists had, indeed, worked in pairs, these collaborations were not clear to the viewer. Some artists, like Channa and Talpur, worked closely together on a single project while others such as Zara Malkani and Sara Khan did individual pieces that complimented each other's. Malkani and Khan both worked with the concept of family portraits but each gave their work a different spin. Malkani took photographs only to then obscure the details. For example in one sepia-tinted photograph, the faces of the figures were pixelated and in another, a paper lattice covered the photograph making it nearly impossible to properly see the figures behind it. In contrast to Malkani's experimentation with photographs, Sara Khan made drawings of images that one would normally see framed on a mantle. From a baby sleeping peacefully to a family sitting together on sofa, the drawings were somewhat childlike and rather than focusing on the details of the figures, Khan emphasised the overall mood and tone of the images. Just as memories eventually become blurry and nostalgia makes the past seem idealistic, Khan's drawings captured the sense of wistfulness old photographs often manifest.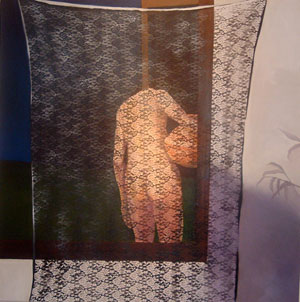 Compared to many of the works on display that made bold use of colour or had a playful tone, Sadaf Naeem's 'Pardah' stood out with its relatively more contemplative and quieter quality. Using acrylic on canvas, Sadaf Naeem's painting put the viewer in a voyeuristic position, looking at a nude female figure through a window. The figure had her back to the viewer and a delicate, floral curtain hung in the foreground. Rather than obscuring the figure, the curtain made the viewers more aware of their voyeurism and the figure we were spying on was depicted in the midst of a private, interior moment. Sadaf Naeem's painting goes to show that quiet, or even banal, moments can prove to be powerful in the hands of a skilled artist.
This art review was originally published in the May issue of Newsline.
Zehra Nabi is a graduate student in The Writing Seminars at the Johns Hopkins University. She previously worked at Newsline and The Express Tribune.
Next