'Valerie' is not an easy song to sing. With its diverse lineage — originally an alternative rock single by The Zutons and then rendered by Amy Winehouse in her trademark blend of jazz and soul — Kiran Chaudhry could have either done an exact remake of the number or done her own take on it, adding to the experimentation. She chose the former and her rendition of 'Valerie' is really quite exciting, especially since Kiran's musical influences include Eva Cassidy, Ella Fitzgerald and a bit of Sade, to whom she often bears an acoustic resemblance, with her husky, velvety voice and deep-throated laugh.
When I saw Kiran perform a month ago for a sold-out audience at Café 76, one of the latest berths for local artists, I was intrigued by the hip-swinging, poised tantalising that made for so much interaction between her and the audience. Although, when extended to its limits, her vocal range wavered in quality a few times, she more than made up for her shortcomings with what most performing artists in Pakistan sadly lack: Oomph, oomph, oomph! The stage provides Kiran the perfect platform to vent her adrenaline, express herself and connect with the audience — all the attributes of a true performer.
Club Caramel, the band that Kiran and her music partner Adnan Sarwar formed together, is what is known as a cover band, whose ultimate success depends on the ability to sing popular contemporary music and entertain. Cover bands are regarded with a degree of cynicism by the conservative music police in Pakistan, even though such bands can provide a chance to achieve some quick, somewhat assured, if derivative, popularity. Kiran, herself, is as varied in her musical choices as her diverse personality. "I never wanted to be limited by anything, even my own biochemistry," she says, therefore, the scope of the band's music is somewhat indefinite and wide-ranging. Caramel, the initial name of the band that sang covers for contemporary music with a quirky twist, was later christened by fans as Club Caramel, the act which also renders club music and promises a 'bad-ass time.'
But now, six years from the band's inception in 2006, the vision of the two-person band has evolved on thematic lines and broadened its scope to music-making. Some artistic and promotional sacrifices later, Club Caramel released its first two singles 'Zindagi' and 'Tere Bin' — and finally 'Deewana' — self-sponsoring the endeavour and relying on social media to market and publicise its original work. All three songs explore the idea of romantic evolution; 'Tere Bin' is a gothic-meets-renaissance inspired theme where Kiran sings about separation and loss, adding a new-age twist by exploring the 'psychotic' side of human nature in the video where she deliberately poisons her lover. 'Zindagi' is perhaps the most straightforward of the singles, both in interpretation and video, and Kiran and Adnan belt off enthusiastic, spiritual and romantic stanzas to each other in 'Nazia-Zoheb' reminiscent, bubblegum pop fashion. By 'Deewana,' the duo have clearly matured in their romantic sensibility and in the video Kiran smiles contentedly into the camera, wearing her trademark red lipstick and coos an assured declaration of love. It is obvious now, that Kiran solely and Club Caramel jointly, have found a distinct voice and more importantly an original spin to create their own music. The fact that a lot of music explores love in some form or the other doesn't take away from the fact that what makes musical identity unique is the genesis of the themes and lyrics. "Emotional landmarks in one's life are intensely creative," Kiran muses.
Before Kiran Chaudhry met her 'musical soul-mate,' Adnan, and found her life mission in music, she went through the grind to arrive at her current destination, via much soul-searching, backed by a quest to learn and a desire to be free. Growing up, Kiran had an almost compulsive fear of a conventional marriage, financial dependence and identity diffusion, but blessed with a father cushioning her academic career, Kiran did what she needed to do to escape. She aced school and took off.
The prestigious United World College, with its acclaimed academic reputation, was Kiran's first breakthrough and she was one of two people picked from Pakistan that year. "I was my own person even then and that is what they are looking for," she says. She spent two years in boarding school there, and went on to Balliol College at the University of Oxford, where Kiran excelled with a triple A in philosophy, economics and politics.
At Oxford, Kiran found solace. "What Oxford did for me was to make eccentricity acceptable and even something to aspire to. Eccentricity is one's own uniqueness coming out in its full potential," she says. She also discovered something surprisingly alien to her, the ability to think for oneself. "In our culture we are taught the opposite: To take on something without analysing it at all, regurgitating it, and that's it!" She snaps her fingers, "Our culture perpetuates a mind-set that conforms," she says.
After Oxford, Kiran wondered what to do next, perfectly clear about what she did 'not' want to do. A prospective law degree, promising future monetary independence piqued her interest and soon after an intensive two-year law course, Kiran was hired by Freshfields, one of the top three law firms in Europe. For four fruitful years Kiran worked as a corporate litigator, but music slowly crept back upon her to provoke and tantalise her once again. Kiran began to explore the underground music scene primarily through open mike nights at various venues, happiest with her guitar in hand. A flattering response to her music fed her resolve to blossom on this path and gave it direction and structure. She began classes at Voxbox, one of London's premier vocal training studios. This was her first shot at music academics and Kiran describes it as "totally unsexy," something that required patience and discipline. With legitimate musical training adding an element of seriousness to an initially amateur hobby and passion, Kiran found herself in a better place. But she also became aware of the duality of her persona at that time, finding herself like Jekyll and Hyde — the mainstream, dark-suited corporate litigator versus the stool-seated, guitar-clad vision in musical mist. This double-identity would have gone on indefinitely had not the matters of the heart provided a curious way of jolting her out of her comfort-zone and forcing her to look at herself long and hard in the mirror, directly at the naked truth. "I thought I knew this guy. We were dating for over a year-and-a-half and it was pretty serious and all of a sudden I find out that he had been cheating on me with my best friend," Kiran shakes her head and adds with customary self-analysis, "It was a wake-up call, hinting at my own failure to not engage with life at a deep enough level to know those things."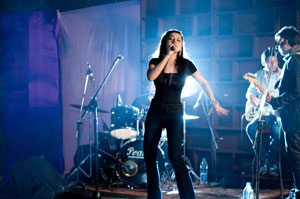 Music, then, became a cathartic experience and some of Kiran's most emotionally explicit compositions, which are now in the process of production, came out from this time in her life. The lyrics of her song 'Don't Say' bares the angst of heartbreak: "Don't tell me the things you think I need to hear/ tell me your secrets, tell me your fears/ Cause I would never hold you back/ if you gotta leave, well I set you free."
Kiran was now at the crossroads: London was expensive and in such a competitive music industry, to be of significance as a singer was close to impossible. Also a dire need to reconnect with herself and her roots had settled in and Pakistan seduced Kiran, with its almost magical promise of opportunity. The volition to relocate, therefore, was two-fold and financial independence made the impossible, possible. Lahore, Kiran's hometown, which she describes as the art and music beat of Pakistan, was the ideal place to return to. Back in the city, Kiran experienced the varied underground music scene in Lahore and jammed with nearly every musician in town. Until one evening at Bryan and Rasheed's house, one of Lahore's few underground bands, she met her music equivalent, Adnan Sarwar, and Caramel was formed in 2006.
When you meet Kiran it's hard not to notice her, not so much because of her appearance, but because of her almost child-like exuberance. She seems eager to prove her mettle at anything that crosses her path. So, when theatre director Nida Butt, well-known for her local adaptations of foreign musicals, came along with an offer to play Donna, the unorthodox character in Mamma Mia, for Kiran, it was a role made in theatre heaven. With a repertoire of nearly a dozen songs back-to-back and the prospect of simultaneously singing, dancing and acting that could unnerve most all-round artists; this was an opportunity not to be missed. It made her wonder if she could now explore acting as a vocation as well. Mamma Mia played to packed audiences in Pakistan and inspired by this experience and her success, Kiran applied to the Tisch School of Arts in New York (where Lady Gaga was trained) and in the summer of 2010, comfortably placed with a 50 percent scholarship at the school, she underwent an intensive programme in performing arts including dance, vocal and theatre arts. She polished her vocal technique, learnt the significance of a performance and studied the theoretical aspects of reading and composing music.
The reason why Kiran Chaudhry's story is interesting is because it breaks the mould. She is a woman who lives life on her own terms and seems to be constantly developing and evolving. "I am nothing if I am not shameless, I have no shame. It's a congenital disorder," Kiran tells me matter-of-factly. When I ask her if Zoe Viccaji is competition she turns the tables on me saying, "Why do you ask me if Zoe is competition, why don't you ask if Ali Zafar is competition, or any other male artist is competition?" Already, her mind takes off in different directions and she exclaims, "It's the same with events. Organisers call you up saying" (and she mimics animatedly), "Zoe hai, Meesha hai, and Hadiqa hai agar aap free nahin hain. It's a novelty here."
Music, as Kiran affirms, is her life. She was born this way. But considering her defiance to function within boundaries set by others, I wouldn't be surprised if I run into her at a coffee shop one day and she tells me of a new adventure she may embark on, justifying her actions by just a simple, "Why not?"
This profile was originally published in the May issue of Newsline under the headline "Song Sung True."
The writer is freelance journalist.
Next