Into the Valley of Death: The Siachen Conflict
Buried beneath the pristine white snow of the majestic Karakorums runs a frozen river of red — and trapped in its flow, the corpses of untold martyrs who died engaged in the most futile war on earth.
On April 18, the commander of the Siachen Brigade, Brigadier Saqib Mehmood explained the magnitude of the tragedy that had befallen Gayari base camp of the 6th Battalion of the Northern Light Infantry (NLI) on the early morning of April 7. He was speaking to media persons who had been specially flown to the disaster-hit site.
We learnt that the base camp was 700 x 500 meters in length and that it now lay somewhere beneath rubble — i.e. 200-250 ft of snow, ice and rock. Its original area could be only identified through yellow flags. The area that was now covered by the snow slide after the avalanche was 1 x 1.2 km and was identified by green flags.
While talking to the pressmen, the Brigadier clearly got emotional. He said, "I will be here till my last soldier is retrieved." The same day, army chief Kayani echoed the resolve that the buried men would be found, whether it took the army six months or six years to find them.
The Gayari camp was raised back in 1988, on a somewhat level ground between glorious snow-capped mountains. At 13,000 ft it lies at the site of one of the oldest mosques in the subcontinent. The 700—800-year-old mosque built by Shah Ali Hamdan is now also lost, along with the 139 people that the ISPR identified as present in the camp at the time of the avalanche. A base camp serves as the life-line for the posts that come under its control and which rely on it for their food and armament needs. Hence, the list of the 139 people men who lost their lives is a who's who list of the soldiers stationed at the camp along with those who provided the requirements for their daily needs.
The infantry division stationed there comprised 150 men. Apart from the three officers heading the camps, junior commissioned officers, havaldars and sepoys, the missing list also includes porters, clerks, canteen supervisors, cooks, waiters, sweepers, a carpenter, a barber, a masseuse, a few dhobis and even a tailor. Eighty-eight of these men were married.
According to BBC Urdu, the list may have some inaccuracies since the names were collected on the basis of daily attendance in the register. However, it is reasonable to assume that some men may not have been physically present at the site on the day of the disaster. For example, an ISPR officer that I spoke to said that the subedar, who plays an important role in the unit, survived because he had gone up to another post to check on the soldiers there. A few others who were injured or unwell were convalescing elsewhere, and a few more were perhaps absent from the site for other reasons. The ISPR is checking the corps to identify survivors. "There is always a chance of at least one or two survivors," said the officer.
Within two hours of the incident, a post near Gayari informed the brigade headquarters at Goma that something was wrong. They could not communicate with the base camp below. Lt Colonel Shahid Abroo, the commanding officer at Goma was the first to reach the site with his patrol. To his horror, the track leading up to the base camp could not be accessed. There was snow everywhere. He hiked up, only to discover that Gayari no longer existed.
Currently, 503 people, including 425 military personnel and 78 civilians are digging, mowing and making their way through the snow mass in the search-and-rescue operation launched by the army at Gayari. Twenty-five engineering machines such as dumpers, dozers, excavators etc. are at hand. Sensors and ground-penetrating radars, life-detecting kits, heat radars and a thermal imaging camera have been used in the course of the operation. Swiss and German rescue teams have come and gone. US and Norwegian Red Cross teams are on site.   Yet, to date, not one victim has been located, not a single corpse retrieved.
The Northern Light Infantry (NLI) is full of unsung heroes from one of the most backward and impoverished areas of Pakistan. "They are the bravest and most courageous of the lot," said a former commander of the Force Commander Northern Areas (FCNA). People from the Northern Areas were first selected by the British in 1889 to form a 'Levy Force,' which was later reorganised as the 'Gilgit Scouts.' After partition, they were part of a corps, then a separate corps and then an 'infantry unit.' After Kargil, they were finally given the status of a 'regiment.'  Members of the unit have been honored with four Sitara-e-Jurats, four Tamgha-e-Jurats and six Tamgha-e-Basalats.
Most of the current NLI is from Gilgit-Baltistan. According to ISPR, out of the 139 buried under the snow slide, 68 were from the area (34 from Gilgit; 24 from Skardu and 8 from District Ghangche). When NLI was not a regular infantry unit, only people from the Northern Areas were inducted in it. Now since it is a regular battalion, soldiers from other areas are also taken. Nonetheless, the majority of the NLI's ranks still constitute locals under 'Extra Regional Employment,' since they know the area well.
Brigadier (retd.) Ahmed Bilal believes that people from the area are better suited to the job since they are biologically more attuned to the environment. The 58-year-old is currently chief operating officer of the FSS at Fauji Foundation. Sitting in his office at Chaklala, Rawalpindi, he says, "Since people of the Northern Areas live and grow up in a high-altitude environment, their blood is thicker — they have more red blood cells. A normal soldier becomes breathless after scaling a few hundred steps; these people do not. They have larger lungs and slightly bigger hearts. So that is a biological advantage, because they have a greater blood-pumping capacity. Additionally, since they are raised in that environment, they have developed skills that make them psychologically better equipped to deal with it."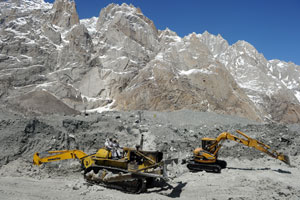 Life in the villages of Monat, Rajpoth, Athmuqam, Derik, Teru, Kahari, Niat, Marapi, Gohar, Thalay, Thagas, Ghangche, Umal, Wazir Pur, Khar Kolahar, Goth Mehrab, Chamba Gali, Talu Broq, Kunais, Hochy, Kafful, Parshing, Pabbi, Biskar, Gulsher, Haspapa, Narsher Ali, Agzan Khel, Qadir Chak Laskari, Miani, Chak 84, Samro Road, Khawaspur and Mahni is as foreign to the people living in the cities of Karachi, Lahore and Islamabad as perhaps outer space. Most of us have never heard of these places. These villages are where most of the soldiers of Gayari base camp came from. They are places where life in the army (as a cook, a cleaner or a sepoy) is better than anything else on offer. In these isolated hamlets, there isn't much hope for any well-paid, steady employment. Thus, the army is the best employment option available, because of the popular perception that the army takes care of its own.
Over the years, many successful operations have been conducted by the NLI. Members of the unit took part in the famous Chumik Operation of the '80s and the infamous Kargil Operation in the '90s. Yet, although they are considered good enough to be sent to the battlefield, often to die, they are not considered good enough to rise in the ranks in the units stationed at Siachen — let alone anywhere else — and certainly never to lead. This is the impression I got from Brigadier (retd.) Bilal who said matter-of-factly, "To attain a higher rank, there is a natural maturing period. These men are not very highly educated. There are senior officers all over Pakistan. You could be commanding 15,000-20,000 soldiers even in a desert. But it's like Pakistan at the time of Partition — the army was not what it is now. [Similarly] since the NLI were just made a regiment, it will take time for the soldiers [to reach officer level]."
The Land of Wild Roses
A picture is worth a thousand words, and nothing can describe Siachen quite like the images depicted. Cold. Distant. Reclusive. Unforgiving. There is no habitation here, no concept of cultivation, no animals, no birds, not even ravens. As one officer remarked, "A raven also needs a carcass to feed upon!" Here, it's either snowing, or about to snow. Beyond that, little else.
It's a place where space is shared by vertical mountain massifs, glaciers and moraines. It has glaciers up to 30 miles long and nearly half-a-mile deep. Before two nuclear-armed countries decided to set up igloos in The Third Pole, no one actually lived here. Indeed no one can truly survive here without special arrangements.
'Siachen' is a Tibetan word which means 'a place with many wild roses' (Sia: rose, Chen: place of). Its size is often compared to that of Rhode Island, Bahrain or Israel. Brigadier (retd.) Bilal believes it is bigger than Rawalpindi, even as large as Karachi. It lies in the Karakoram Mountain Range which has three of the six highest mountain peaks in the world, including K-2. And though over the years many expeditions discovered various parts of this land, even wrote about it, they just traversed it. None actually set up a tent to live here. It's as simple as that.
According to the ISPR, there is one base camp after every 10-12 km. A battalion is sent in the region for a two-year tenure. The number of posts and their placement is confidential. Time magazine quoted analysts who calculated that India and Pakistan had 150 manned posts along the glacier. The highest Pakistani post is at 22,300 ft. The operational, administrative and gun support to soldiers is provided from the base camp. The storage units for ammunition, tents, medical supplies, food, fuel (kerosene, oil, diesel) are all here. Since the area is inaccessible for 7-8 months a year, things are streamlined in advance. Though a camp size can range from 50-100 people, Gayari had a larger number.
Two of the largest militaries in the world have fought five wars with each other over a period of 52 years (1947, 1965, 1971, 1984, 1999); four of them in and around Siachen and the neighbouring Valley of Kashmir. As Lt General (retd.) Raghavan details in his book Siachen: A Conflict Without End, "The Siachen dispute is a prime example of geopolitics influencing policies and strategic choices. In the eastern Karakorams, the interests of India, China and Pakistan have converged in a complex set of ambitions, errors of judgment and some deliberate exploitation of geography….. [During the Indo-China War] the Indians failed to grasp that while the Himalayas provide some safety against large-scale invasions, they can also make a military conflict in the area difficult to conduct. If that fact had been accepted, there was every likelihood that the territorial claims in the area would have been tackled differently."
Fig. (B) shows NJ9842, the point where the cease fire line (CFL) was brokered under the aegis of the UN after the first war of '47-'48. This line divided Jammu & Kashmir in two parts. India got Jammu and Ladakh; Pakistan the Northern Areas and Azad Kashmir. In 1971, both sides crossed the CFL and retained what was won. The new demarcation was called the Line of Control (LoC). The CFL and LoC end at a point visible only on maps as NJ 980420. As Raghavan suggests in his book, the only reason why this point was chosen was because "it formed the corner of a map square."
The Karachi agreement of 1948 stated that the LoC would extend "thence north to the glaciers" from NJ9842. India wants a straight vertical cut that would give them the Siachen glacier, half of the Karakoram pass and a border with China. Pakistan wants a natural progression of the line as it twists and twirls all the way to the Karakoram Pass. This makes India insecure. Its apprehension is rooted in a possible Pak-China offensive that could presumably be launched against it to claim Kashmir (or at the very least, Ladakh). Pakistan fears that the acceptance of the Indian claim would mean legal acceptance of the LoC, as well as potential intervention by India to claim Baltistan (or block the Karakoram Pass). India wants Pakistan to accept the Actual Ground Position Line and Pakistan wants India to go back to where they were pre-1984.
With the focus of the world more on the War on Terror, the Taliban, and Afghanistan, it is inevitable to draw comparisons between the army initiative in Waziristan and Siachen and the level of intensity of each. According to Lt General (retd.) Shuaib Amjad, "In Siachen conventional war is fought in an unconventional terrain. The enemy is specified, it is nearby and we know their positions, but the area is difficult due to its height and lack of oxygen. In Waziristan, guerilla warfare is going on in a known mountainous terrain."
Brigadier (retd.) Bilal, who has served at the Military Operations Directorate, is a textbook soldier who describes in graphic detail what a battlefield like Siachen means. "Mountain operations are of two kinds: 'Black Shod Operations' which are done in areas where there is no snow, such as Waziristan. 'White Shod Ops' occur in Kashmir. In Waziristan, the environment is just a diversion; in Siachen, it is an enemy. The higher you go, especially after 13,000 ft, the air is extremely light, so you need to exert more pressure on the body and it can collapse. At 20,000 ft you have to move very slowly or you go out of breath very soon. People don't understand or appreciate what we are doing at Siachen. Our avalanches and terrain are more severe than those in the Alps, yet the west made a hero out of the mountaineer who scaled the Alps. The Alps are not as difficult to negotiate as Siachen is! Even Alaskan warfare is kid's stuff!"
With God Above and Snow Below
A soldier who served at Siachen in the '90s spoke over the phone about what life was like during his tour of duty. Both his father and grandfather were soldiers in the Pakistan army. Originally from Lahore, he is currently stationed in Rawalpindi, where he is heading a department for the armed forces as a serving colonel. He wishes to remain anonymous. "The first thing to remember is that Siachen is not a mountain, it's a piece of snow," he says. The lifestyle, equipment and accessories needed at that place are very different. When the original Indian incursion took place in '84, our forces were ill-prepared for the climate and terrain; all they thought was that they simply had to climb the mountain and sit on top of it. We had many casualties, many solders were handicapped. But then efforts were made to get proper warm clothes and boots, and there has been no change in the high-altitude 'uniform' since then. The Indians wear the same uniform as us."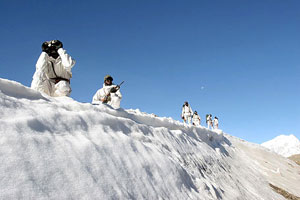 Speaking further on the preparations for the region he said, "The body is not accustomed to such height, so acclimatisation training is given. However, you cannot exert yourself too much or else you will tire very quickly and your lungs do not breathe normally. You have to take three steps, then stop to muster your energy and then move another three steps slowly. You have to really watch your step or it could be your last. There are crevices as deep as 1000 ft and you cannot even recover a body from there. The soldier who was posted there before me was martyred just like that. You cannot move without being roped together with your partner-soldiers. All of you move in line together so that even if someone slips or falls into a crevice, he can be held. Just going up to a post and coming down is itself hard exercise."
The importance of a post is determined by its height and location. For instance, if a post is unimportant operationally and results in heavy casualties, the army will decide to vacate it. The higher the post, the harder it is to reach it, attack it, capture it. Similarly even if a post is at a lower height, but is narrow, it is difficult to target it.
The colonel was deputed to four posts during his nine-month tour of duty. One of these was 'Yusuf' post, situated at a height of 21,000 ft. "You are kept at one post for 21 days, since medically it is not possible to stay there for longer periods, so your 'height' is reduced gradually and then you are sent up again. Usually a post cannot hold more than five people at a time. You have to carry stuff with you since it is not possible for someone to go there with supplies daily. (At some posts) after 3-4 days, a party of 2-3 soldiers would come and we used to list our needs. The food there is a lot better than what troops get in the field — even though it is half-cooked, canned food, high on carbohydrates. But proteins such as chicken, beef and lentils are also given. Or a rice pack is sent and you have to cook it, which isn't easy since a kerosene-burner stove at that height doesn't hold much power. You mix Energile with snow and eat that to replenish your need for water. In fact, we used to put custard outside the igloo for a little while and soon 'kulfi' was ready! Basically you get to thank God a lot, even if a pack of onions is sent."
"You have to be very careful while handling metal because if it touches any bare part of your body the skin will come off," the colonel warns. "That is why you grow beards over there. There is no concept of having a bath or shaving at that height. You sleep in the morning and stay awake at night, since chances of enemy attack are higher at nighttime. Inside the igloo, all the occupants have their legs on top of each other since there is no space to stretch out or sleep comfortably. Everyone stinks. In the morning all you can do is sit outside the igloo and that's it."
The colonel tells me he could see the Indian soldiers at their post down below on 'skidoos' (scooters with snow dogs). And there was regular artillery firing back and forth. There wasn't much else to do. A letter from home was read over and over again. "You tell all your family and friends to write to you when posted there, since that is the only thing to look forward to. Letters are the best assets over there since there is no one to talk to. The soldiers all come from different backgrounds and are not of the same calibre. So you get all sorts of thoughts out there." The phone service at the posts exists only to dial in and talk to the base camp. Unlike the PTCL breakdowns civilians are used to, this army line service is secure and stable. At the most, only the Indians can eavesdrop.
And as for toilet needs, "It depends on personal preference; some used toilet rolls, others would warm up water in old cans and use it without removing their gloves." Since the space was not large enough to go afar for the call of nature, "you had to tie a rope and hang on one edge of the post, so that you didn't fall down." At lower posts, a hole was dug, the needful was done and then snow put over it. In warmer temperatures, the snow melted laying bare the well-preserved contents.
An ISPR documentary Life of a Siachen Soldier, uploaded on YouTube's Pakistan Army Channel in 2010, shows certain equipment and lifestyle choices that are misleading. "A ground operated rifle is an anti-tank weapon and cannot be used there, it cannot be carried up to the post either!" remarks Lt General (retd.) Ayaz Ahmed as he sits viewing the images on my laptop at his home in Rawalpindi. He was the trailblazing commander of the FCNA during the Chumik Operations. "The igloo never has such a wide 'door,' you literally have to crawl your way into an igloo; if the passage is kept too big you will freeze to death! There is no concept of running water or washing clothes in places of deployment. There is no place to set down a prayer mat but everyone brings their own Quran; however, there is no concept of wazoo; the machine gun is not very effective. On those peaks, the battle is fought only through artillery. Long range automatic weapons can be used against an enemy helicopter. Skiing is a myth since there is no flat ground. You have to bend to walk or climb; And the large bags that the soldiers are shown carrying while skiing in the film — you cannot carry such a heavy load. Rifle and sub-machine guns have more psychological value than actual use; you cannot roam around freely, if you disengage from the rope you are tethered to, you can be blown away. Cooking and 'drinking water by warming ice' over there is a myth. Even if you spend one month's oil trying to make water by heating ice on a stove, you cannot do so; it will freeze immediately."
In addition to all the hardships are the medical conditions that can remain with Siachen veterans for life. High altitude can cause acute mountain sickness (AMS), headaches, insomnia, dizziness, fatigue, nausea, vomiting, cerebral edema (brain swelling) and pulmonary edema (the lungs fill with water). At a height the blood clots more easily, degrades vision, and there may even be loss of consciousness. There can be hypoxia, chilblains, amnesia, delusions, emotional disturbance, depression. Lack of oxygen at high altitudes damages brain cells (Into Thin Air, Fields, April 2008). Then there are cases of frost-bite, the amputations of feet, noses or hands, fractures and spinal cord injuries.
The ISPR does not provide data on the fatalities or injuries suffered by those serving at Siachen. Though it is reasonable to assume that all of these do occur, their frequency is debatable. A condition like AMS is taken care of by immediate descent of the affected to a lower height, but cerebral edema can be fatal. Furthermore, even if one escapes injury, depression, which is almost a certainty in the bleakness of Siachen, could destroy a career — if not a life.
When a soldier is injured he is essentially on paid leave. While random figures of casualties are oft-quoted, none are available on those who come out alive but with permanent injuries. Are they on paid leave for life?
Given the harsh inhuman conditions of life in Siachen, and the fact that neither Pakistan, nor India have gained anything but death and economic disaster from their respective rigid stands on the Siachen issue, one wonders what it would take for better sense to prevail. The Siachen war is one where there can be no winners.
This article was originally published in the May issue as the cover story under the headline "Into the Valley of Death."
The writer is a freelance journalist.
Next