Profile: The Late Mehdi Hassan
Mehdi Hasan never settled for anything that was second best. When a common friend told him that crooner Nayyara Noor made the best mutton karhai in Karachi, he phoned her and invited himself to a meal comprising just that delicacy. He didn't call off his mission even when he realised that his sons had disappeared with his car. He hired a rickshaw and went from one end of Karachi to the other. His innate quest for excellence was nowhere more evident than in his choice of ghazals and in the selection of the ragas that he clothed the verses in.
If he sang Mir, Ghalib, Momin, Faiz and Faraz, he also rendered some scintillating poems by lesser known poets such as Hafeez Hoshiarpuri (Muhabbat karne walay kam na honge), Razi Tirmizi (Bhooli bisri chund umeeden) and Shair Lakhnavi (Jo thake thake se thay hausle). He was more concerned about the poetic value of a ghazal rather than the fame of its creator. His choice of a raga for a ghazal was in keeping with the theme of the verse. Not all the ragas were well known. For instance, when he fell in love with Adeeb Saharanpuri's Ik khalish ko hasil-e-umre rawan rehne diya, he opted for a rarely heard raga, Partirawa. And when you listen to Mehdi Hasan's version of the ghazal you have the feeling that the muse and the music are simply made for each other. Another example in this category would be his composition of Faraz's Shola tha jal bujha hoon, which is based on the South Indian raga Kirwani. To say that his rendition was soulful in both cases is to state the obvious. In fact that was the only manner in which he sang his ghazals.
While compiling music for the two CDs that accompanied my book Mehdi Hasan: The Man and His Music, I found it extremely difficult to choose ghazals from his repertoire for the first volume, which was dedicated entirely to this genre of music. Fortunately, I found in my collection two EMI LPs, which featured a concert of his held in 1976 when the singer had just reached his peak. The stereophonic live recording was superb and, what's more, the LPs feature unedited recording, which gives the feeling that one is in a concert. He had never before recited a doha, which was to serve as a delectable prelude to Mir's ghazal, Ye dhuan sa kahan se uthta hai. This, coincidentally, was also the number that Noor Jehan heard on the radio and that made her fall for him. The duo was destined to render some immortal duets.
Referring to Mehdi Hasan as the 'Shehanshah of Ghazal' would limit his contribution to music. The spectrum of his genius was very wide. He also rendered sufi poetry with great feeling. Proof, if proof be needed, is Ki janan mein kaun Bulleya, a kafi of Bulleh Shah. It is included in the second CD that goes with my book. His rendition of thumri, a semi-classical form of music, was in almost all cases impeccable. When it came to pure classical music, he was second to none. I have included a rare piece, a film song Chedo madhur beena, a jugalbandi that he recorded with the ustads Nazakat and Salamat. Mehdi Hasan matched their technical skill but the duo could not make their rendition as melodious as his happens to be. He left an indelible mark in folk music as well, be it Seraiki or his native Rajasthani. I was lucky to get hold of a flawless recording of his inimitable rendition of Kesarya baalma.
While on film music, he did make a late start but once he did there was no one to equal him. Between 1964 to 1977, he won nine Nigar Award trophies, six of them in a row. Both records have remained unbeaten. This was in addition to two state awards and a couple of coveted Indian and Nepalese awards.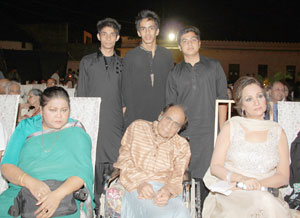 Mehdi Hasan was in love with life. He enjoyed it and, as a friend of his remarked, celebrated it. This was why it was a torture to see him lie lifelessly in the last two years of his life. I raced against time to complete the book before he passed away. Unable to speak, all he could utter was "Akha", which was an expression of his happiness, according to one of his daughters-in-law who showed him page after page. There was a flicker of smile every now and then on the singer's face. When I was departing, he whispered shukria (thanks) with great effort.
Many people exploited him in his twilight years including some TV channels. At what was intended as a tribute to him, he spent a very uncomfortable evening, sitting awkwardly in a wheel chair listening to mostly substandard performances of assorted singers. The TV channel paid money for his presence that evening to one of his sons, who called the shots.
The Rajasthan Government offered to have him treated, even though they knew that there was not much that they could do for a man who was suffering from many serious ailments — such as the after effects of not one but two strokes, diabetes, liver dysfunction and chronic chest infection, not to speak of bedsores.
In Pakistan, eminent neurologist Aziz Sonawala, treated him with great devotion from the end of 2000, when he was brought in from Kerala, after his first stroke, to the day the icon passed away, without charging a rupee. Even the Aga Khan University Hospital never turned him back when he was wheeled in, despite the fact that the unpaid medical bills were mounting. The money given to his near and dear ones for his treatment did not always go to the hospital. A couple of months before he died, the Sindh Government gave a cheque of Rs 5 million to the hospital, which helped clear most of his total dues of Rs 5.2 million.
Mehdi Hasan's death has been lamented not just in Pakistan and India but in all countries where subcontinental music is understood and appreciated. Numerically, as poet-filmmaker Gulzar says, there are more admirers of Mehdi Hasan in India than in Pakistan.
His music transcended both linguistic and political boundaries.
This article was originally published in the July issue of Newsline.

Related Articles:
Next