Letter from India: Power, Parenthood and Prescription
Presidential Roulette
In India the president of the country is always  viewed as a mere figurehead while the prime minister is seen as as the real head of the nation, vested with executive powers. The president is usually seen as a rubber stamp — the ceremonial head of the Republic of India who also presides as the commander-in-chief of the Indian Armed Forces while, in fact, he essentially just endorses all decisions taken by the prime minister and his cabinet. Apart from globe-trotting and living royally in the imposing Rashtrapati Bhavan in the national capital, which is famous for its Mughal gardens, the president is really only vested with actual power in the matter of awarding clemency (or choosing not to) to prisoners, including death row convicts.
The president is elected by an electoral college consisting of the elected members of parliament and the elected members of the state legislative assemblies.
While presidential polls have never really been totally free of politics or politicking in recent times, India has by and large chosen candidates who enjoy the support of politicians of all hues. In that respect, the appointment of nuclear scientist Abdul Kalam in 2002 was perhaps the perfect choice. A man of letters, Kalam was also a 'people's' president who tried to connect with the nation's young population.
But what the nation witnessed over the candidature for the presidential poll this time, ahead of the July 19 balloting, was a game of Russian roulette. The country's first citizen's election became no-holds-barred political drama, replete with 'palace intrigues' (read Sonia Gandhi's residence), treachery, backdoor meetings, mud-slinging and the obduracy of regional leaders who try to relentlessly, and often shamefully, arrogate themselves as kingmakers in the national political arena.
As things stand now, the race for presidency will pit favourite Pranab Mukherjee against minnow Purno A. Sangma, the former speaker of the Indian lower house, known as Lok Sabha. Sangma threw his hat in the ring, pitching himself as the country's first tribal candidate for the highest post, from the northeast region which often is seen as not in sync with mainstream India.
The presidential poll also brought to the fore the huge differences of opinion among the three major power blocks in Indian politics — the left, right and centre. This was evidenced by the division in the ruling United Progressive Alliance (UPA), with its second largest constituent, the Trinamool Congress led by Mukherjee's fellow Bengali politician and West Bengal Chief Minister Mamata Banerjee refusing to endorse his candidature.
In the Bharatiya Janata Party (BJP) led National Democratic Alliance (NDA), meanwhile, the division was even more pronounced. NDA's key constituent, Janata Dal (United), which now rules Bihar state, decided to go against the BJP and instead support UPA candidate Pranab Mukherjee, along with the Maharashtra-based hardline Hindu party, the Shiv Sena.
BJP and its allies like Biju Janata Dal (BJD), which rules the Odisha (Orissa) state, for its part decided to support Sangma, who is also propped up by the powerful Tamil Nadu chief minister and AIADMK party chief J. Jayalalithaa.
The person left high and dry in this ensuing political drama is West Bengal Chief Minister Mamata Banerjee, who went all out to propose and lobby for former president Abdul Kalam as her nominee in an attempt to put a spanner in the wheels of Pranab Mukherjee's  bid. After some high drama in New Delhi, where she was jilted by Uttar Pradesh strongman and Samajwadi Party chief Mulayam Singh Yadav — who clearly two-timed her by ending up in the Sonia Gandhi camp — Bannerje returned to Kolkata to nurse her wounds.
Two secret meetings between Mulayam Singh Yadav and Congress supremo Sonia Gandhi in June led to the announcement of Pranab Mukherjee as the Presidential poll candidate of the Congress-led United Progressive Alliance (UPA). Despite what Mulayam Singh may have promised Bannerjee, it was later discovered he had first proposed the name of Pranab Mukherjee to Congress.
After dumping the overzealous Mamata Banerjee (who was clearly on a cut your nose to spite your face mission by opposing Pranab), an unabashedly smug Mulayam declared in a TV interview that he was the one who first proposed Pranab Mukherjee for the president's post a month earlier during a secret meeting with Sonia Gandhi at her 10 Janpath Road residence.
Mulayam Singh also divulged how in June he met Sonia Gandhi again, evading the media battalions' eyes twice, after naming three other choices, including that of Manmohan Singh, for the post of president along with Mamata Banerjee.
Asked if he had entered Sonia Gandhi's house through the back door, Singh laughed and said: "Whichever gate it is, we had a meeting."
The presidential poll race is also a classic example of the negative politics that Indian politicians have increasingly embarked upon. While Mamata Banerjee's sole aim seemed to be to set up a roadblock for Pranab Mukherjee — presumably to strike at the Congress — Mulayam Singh demonstrated how duplicitous he is capable of being. Eventually, the affair showed how much Bannerjee had overestimated her own significance in national politics.
If that weren't enough, Bannerjee's Facebook campaign to drum up support for Kalam 'the people's president' provided so much fodder for national TV spoofs and humour column writers on Indian politics, that the man in question (Kalam) finally politely refused to contest the election.
The Left Front also appeared divided over the presidential issue and of the four major communist parties, two, including the largest, the Communist Party of India-Marxist, decided to support Pranab Mukherjee, while two others chose to abstain.
While, apart from wanting to whittle Congress down a notch, Mamata Banerjee has a 'valid' reason for opposing Mukherjee, since her pleas for a moratorium on the interest on debts the previous Left Front government incurred in West Bengal had fallen on the 'deaf' ears of Mukheree who till June 26 was the finance minister of India, the presidential roulette also brought into focus a Congress politician whom many thought was the best Congress prime minister that India never had.
Pranab Mukherjee, the quintessential Bengali, has been the main-trouble shooter of the Congress party, as well as of the policy paralysis-plagued Manmohan Singh government. Mukherjee is the saviour of a government now roiled by tantrums of difficult allies like the Trinamool Congress, financial scams and the opposition's non-cooperation in parliament.
Mukherjee, now 77, was very close to late Prime Minister Indira Gandhi. His closeness with the Gandhi family always kept him in the national spotlight. The deeply pious, but indubitably secular upper-caste Hindu Brahmin grew up in a rural environment in West Bengal's Birbhum district. He was born on Dec 11, 1935 in a small village called Mirati. His father Kamada K Mukherjee was a freedom fighter and a Congressman who had spent years in British India jails during the freedom struggle. Joining politics, and Congress in particular, was therefore a natural choice.  He had a brief stint as a college teacher in Birbhum, after obtaining a masters degree in political science and history all the while also studying law. He, however, ultimately chose politics as his full-time calling.
Mukherjee's parliamentary career started as an Upper House (Rajya Sabha) member with the Congress Party in 1969 and he was re-elected to the seat after that. He first became a minister in 1973, but took over the finance portfolio in the Indira Gandhi cabinet in 1982. Following that the Congress party went through sporadic periods of turmoil and lost power for brief to long periods of time. All through this Pranab Mukherjee stood by the party like a rock and emerged as a bridge between the ruling coalition and the opposition with his political sagacity.
On his last day at the office as finance minister an emotional Mukherjee said to the media, "it is not the time to open any new dialogue. Today, I stand ready to embark on a new journey…Standing on the brink of such an honour, I also feel a tinge of sentiment at the thought of leaving behind my life as a political activist spanning over four decades."
With his win almost certain as of now, Pranab Mukherjee would be the first Bengali president of India when elected.
Kids on Hold
A woman's biological clock starts ticking from her late 20s according to some major studies, but in India, urban women do not seem overly concerned. They contend they are focusing on their career first, says a recent survey released by India's leading industry body, the Associated Chambers of Commerce and India (ASSOCHAM).
These findings about urban women professionals are significant in a country where the average child-bearing age for women is very low in rural areas and the maternal mortality rate is still a high 212 per 100,000.
ASSOCHAM Social Development Foundation (ASDF) carried out a random survey of about 1,200 married, young full-time working women without children and about 800 stay-at-home mothers in the 24-30 year age group in the country's urban centres.
According to the survey, over half (650) of married, young working women in the aforesaid urban centres said they have shelved plans to start a family in favour of career advancement and higher-education.
Of the women interviewed by ASSOCHAM, about 10% said they work for a better lifestyle and need to accumulate enough wealth before they start a family and cope with the ever-rising cost of childcare.
About 20% of those surveyed said they had taken the decision to delay starting a family until economically secure with their spouse.
These findings notwithstanding, some women studies groups and experts are not willing to draw any broad conclusions from such surveys. "Having a child, when to have one and when not to have one is and should be a woman's right, in consultation with her partner at best, but, this in fact is seldom the case in countries like India where a woman's ability to exercise choice in decision-making remains restricted and there are enough studies to show that," said Dr Indu Agnihotri, director of the New Delhi-based Centre for Women's Development Studies (CWDS).
According to her, as per the last round of  NSSO (National Sample Survey Office) data available, the proportion of women workers was as low as 25%,  but deeper analysis undertaken by my colleagues in the CWDS showed that actually only 15% of women were in paid work. "The work participation rate for women in the national capital Delhi for the year 2007-8 stood at 7.1% in the age group of 15 and above," said my colleague.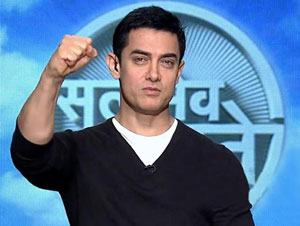 Dr Aamir Khan's Prescription
If there is one community in India that enjoys complete immunity from the law of the land, it is doctors. Politicians, however powerful, now can be put behind bars for indulging in corruption, but not doctors — not even for medical malpractice, unless a near Herculean effort is made.
This is because of their vice-like grip over the system and associations of their own creation that are apparently the only courts that judge them. As such they virtually inhabit a no man's land of the country's legal system. So when Bollywood actor Aamir Khan stirred the hornet's nest in one of the episodes of his hugely popular show on Star TV Satyamev Jayate, by exposing the shocking malpractices of doctors in India, the community was up in arms against him.
The Indian Medical Association (IMA) demanded an apology from  Aamir Khan for what they termed was sending a wrong message about the medical community in his programme, failing which they threatened to sue the actor. The doctors claim that Khan's programme will destroy the doctor-patient relationship. Many Indians who have been victims of the medical system scoff at such contentions. "As if a doctor-patient relationship of trust exists in India," says one.
The Bollywood perfectionist meanwhile, has refused to bow down and made it clear that he is ready to face any legal challenge.
Now that is what you call the right medicine for doctors — many of whom have shunned all ethics associated with the noble profession in the pursuit of money.
 This article was originally published in the July issue under the headline "Power, Parenthood and Prescription."
Next