Newsline Editor Rehana Hakim (left), Narimaman, Bushra Ansari, Zahid Hussain and Rabia Zuberi.
Imran Aslam (left) and HRCP's I.A. Rehman (right)
Salim Asmi and Amber Saigol
I.A. Rehman and Rehana Hakim
Newsline Senior Editor Sairah Irshad Khan (right) with friends
Salman Shahid, Sohail Malik, Ghazi Salahuddin, Shahid Sajjad and Tehmina Ahmed
Nighat Mir, friend, Mrs Ikram Seghal, Zara Shah Jehan
Mohammad Sarfaraz, Aman Ahmed Khan, Nadir Hassan and Tehmina Ahmed
Deepak Perwani, Attiya Khan and Rehana Hakim (right)
Sara Pagganwala and Sarah Ismail
Shimaila Matri Dawood and Ayaz Dawood
Gul Hameed Bhatti (centre)
I.A. Rehman and Shamim Hilaly
Zahid Hussain, Zafar Hilaly and Najmuddin Sheikh
Zeenat Bhutto, Rana Sheikh and Najmuddin Shiekh
Amin Gulgee and Frieha Altaf
Mohammad Mazhar Khan, Zainab Iqbal, Farieha Aziz, Amna Khalique, Ghulam Mustafa and Nadir Hassan
Talib Qizilbash speaks with Express 24/7
Akbar Ahmed records a message for Newsline
Previous
Next
It was a time to both look back to the past and usher in a new era. On November 12,Newsline celebrated its 20th anniversary and launched its revamped website. A panoply of journalists, socialites and models descended on the Avari Towers to pay tribute to the magazine and anticipate its foray into New Media.
A poignant touch was added to the proceedings by the presence of the family of Newsline's founding editor, Razia Bhatti. It was particularly touching that her ailing husband, sports editor Gul Hameed Bhatti, was able to join the celebrations. Many ofNewsline's most loyal supporters were also present, including Human Rights Commission of Pakistan president I.A. Rehman, who had especially flown down from Lahore to be there. It was also heartening to see Dawn's Amber Saigol, the Jang Group's Imran Aslam and Express News' Sultan Lakhani there to acknowledge Newsline's contribution to journalism in the country.
The attendance of many of Newsline's most illustrious alumni — the men and women who contributed to makeNewsline such a trusted voice — also served to establish a link between the glorious past and the exciting future. Former Newsline correspondent and current award-winning novelist Mohammed Hanif and his wife Nimra Bucha, herself an integral part of Newsline, were present as were Shimaila Matri Dawood and Sohema Rehan.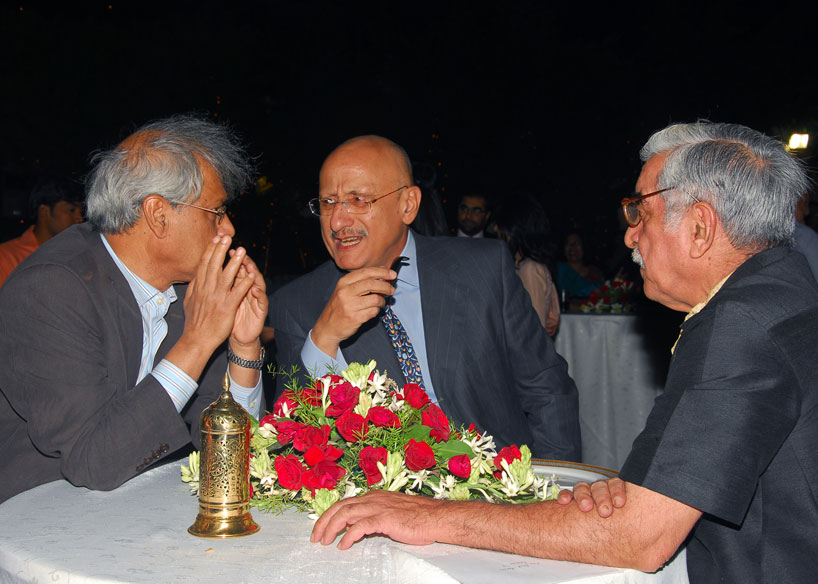 Newsline Senior Editor Zahid Hussain was seen huddled in a corner with former ambassadors Najmuddin Sheikh and Zafar Hilaly. Special thanks must be paid to the other Senior Editor Sairah Irshad Khan for the lovely floral arrangements — quite a feat on a windy day.
Other notable guests in attendance included Frieha Altaf, Atya Khan, Ayesha Tammy Haque, Ameena Saiyid, Raana Sheikh, Khaled Anam and his wife Tehmina, Deepak Perwani and Bushra Ansari. Also come to wish Newsline were long-time supporters from the advertising world: Nighat and Imran Mir, Ruby Haider and Shahnoor Ahmed.
Between mingling by the pool and catching up with old friends, guests had a chance to check out Newsline's new, interactive website. Many people were seen checking out the blog at a row of computers supplied by eStore's Iftikhar Ahmed.
With Newsline's daily-updated website now up and running, we would like to thank those who have stood by us for the past 20 years and contributed to make Newsline the most trusted voice in independent journalism. We couldn't have done it without you.
Click on any photo to begin the slide show.
Nadir Hassan is a Pakistan-based journalist and assistant editor at Newsline.
Next