Isloo Eats: A Guide to Islamabad's Eateries
A restaurant and coffee-shop deluge has revolutionised how Islamabad's residents live their lives. This deluge was preceded by several enterprising assignments in restaurant culture which laid the foundations for the trendy capital of today.
As far back as the '80s and '90s when the capital was a just a suburb and the world scoffed at its silent slumber, entrepreneurs went the extra mile to give the city life — people can't forget The Orient Express, a railway carriage converted into an upscale restaurant that served scrumptious European food; a fast-food joint in Jinnah Market called Blackbeards that boasted a wooden dance floor and the best Chicken a la Kiev this side of the Indus; and excellent Chinese food served at restaurants run by the Chinese themselves — albeit those who've been in the country a couple of decades. Surely Kim Mun should stir up some memories?
So while Islooites sipped tea at home, supplemented by cakes and tarts from the city's most celebrated dinosaur, the United Bakery, some individuals went beyond this tea-trolley culture of the capital and invented new places to eat and meet. Original entrepreneurial zeal gave birth to successful ventures like Omar Ali Khan's The Hot Spot, which began its operations from a house in a sleepy cul de sac in 1995 and served the most original home-made ice-cream Islamabad had ever tasted and went on to establish a chain of cafés with outlets in Lahore and Karachi. (In Islamabad, THS operates from the same railway carriage of the 80s phenomenon The Orient Express, as well as from an outlet on a little hillock in Saidpur village). Gina Khan's Pappasallis, known for its excellent pizza, pasta and fast food, is another Islamabad product which has seen at least three generations of young people walk through its doors, and Riffi Mani's Tabletalk, Kohsar Market's first restaurant with a unique menu comprising chaat and vegetarian thali, gave a new spin to ladies who lunch. This repertoire also includes Christina Afridi's rooftop sheesha lounge Majlis and Shahida Khan's fine-dining oulet Tiramisu, which set some serious standards for good food in the city.
Newsline visits some new and old game-changers in Islamabad's food scene to check out the competition.
The Lime Tree Café at Kuch Khaas
Established in 2010, Kuch Khaas, the sister concern of Zishan Afzal Khan's Khaas Art Gallery and the Khaas Gallery Café, is run by her sister, entrepreneur Shayan (Poppy) Afzal Khan. It defines itself as "a not-for-profit social enterprise comprising a community space for public discourse, the pursuit of knowledge, meaningful entertainment, civic engagement and advocacy in the city of Islamabad." While KK makes waves in the city with its hectic events, its signature eatery called The Lime Tree Café, where they say that the grass is always green and the food always fresh, provides a unique space with a green theme, and is located in the large garden of the KK house. It boasts a coffee-bar, a display refrigerator of baked goodies and a huge rectangular coffee-shop, in addition to formal seating in the garden. The prices at The Lime Tree Café are reasonable, their food is usually quite good, and the ambience just perfect — a green backyard with the Margalla Hills peeping in right next-door. Try their winter specials: the Leek and Potato and the Tomato and Roasted Garlic soups; their Smoked Salmon Salad with Cherry Tomatoes, Mixed Greens and a Balsamic Dressing, as well as the Pan-Fried Alaska Fish with Mashed Potatoes and Grilled Vegetables in a Lime Caper Sauce. Don't miss the desserts, especially the cheesecakes and the Walnut Tart which round off a good meal.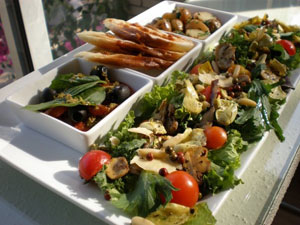 Mocca Coffee
Kohsar market has the huge advantage of location, and since people want to see and be seen, they love to go there for a social experience. While the market caters to all ages and a great mix of people show up, Mocca Coffee in particular boasts a discerning clientele and is considered quite the hang-out joint for the development professional and diplomat types.
"The coffee at Mocca is the real McCoy — it gives a genuine buzz," says one avid visitor to the café. "I also love their flavoured coffees like the Irish Nut Cream and their desserts, specially the Hot Brownie Melt," she continues. By and large, Isloo's Mocca clientele is full of praise for the café for being constantly good. "It is distinctly understated," says one client. "It has a European feel," says another Mocca fan, comparing the interior to a first class airline lounge where one wall boasts several clocks with international times. "I feel I'm ready to take-off," she laughs. Sequestered in an upstairs corner of the trendy Kohsar Market, Mocca Coffee is a true European experience in the heart of the Pakistani capital. Its signature offerings include real French macaroons — a new addition to their European menu. Their carrot cake, cold caramel frappé, cheesecakes, pannacotta, sandwich paninis and artisan salads are a popular choice among those with a discerning palate.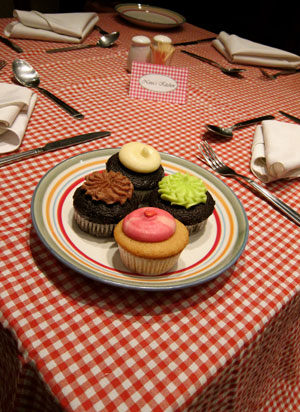 Nana's Kitchen at Cloud 9
Nana's Kitchen's signature Red Velvet Cupcakes were the cause of the tremendous popularity of this home-run outlet started three years ago and managed by a mother-daughter duo, Irene and Noreen Fernandez, helped by Irene's 88-year-old grandmother, Nana, and her wonderful recipes. People ordered their cupcakes and cakes frequently for parties at home but they wanted more.
In January 2011, Nana's Kitchen was invited to open their café in a space called Cloud 9 followed by another invitation from Islamabad's popular Thai restaurant, The Mango Tree, about a month later. Situated in a house on the Hill Road, F-6, which was the former UN Club and had to be shut down due to the security situation in Islamabad, the house was taken by Haroon Bilour who renamed the complex as the Cloud 9 Club. Currently, at Nana's Kitchen the winter special hot chocolate is all the rage.
Dumpling Zhang

Dumpling Zhang has reinvented how Pakistanis eat Chinese food in Pakistan. It started as a hole in the ground more than 10 years ago, owned and run by a young Chinese couple, Mr and Mrs Zhang. Mr Zhang is a qualified chef from the Beijing Culinary Institute, and initially came to Pakistan as a chef for the Chinese Embassy. They started operations from two rooms in their house, serving authentic fare with the true flavours of China; they even made their own noodles at home. Recently they upgraded themselves to a much larger establishment — and staff — to cater to the thousands of Chinese working on dozens of big contracts in Islamabad. Their cuisine is excellent, though initially quite bland by desi standards, inspired by where they come from: Beijing in Northern China. However, their current locale has added an extra spicy kick. Try their Deep Fried Green Beans, amazing Mutton Zeera Stir-Fry, Fried Spicy Aubergines, Batter-Fried Prawns and their fantastic dumplings — either steamed, soft-fried, or deep-fried.

Backyard Bites:

Shaila Zaheer Khalid's Eatery 218, in sector E-7, which is actually the address of her home in Islamabad, boasts a small dining area (cordoned off from her actual dining-room) and a large backyard with lots of seating. Shaila's forte is her home-cooked food now very popular as a take-out option. Her permanent entrees include a vegetarian and non-vegetarian option of a Hyderabadi Thali and Burmese Khow-Suey. Her daily specials include Crumbed Chops, Fish and Chips with Tartar sauce, Quiche, Beef Stroganoff, Chicken a la Kiev and several delectable soups that compliment this scrumptious menu. So if you can't get all of this at home, Eatery 218 is the place to go.

Generation Next:

Gloria Jean's Coffees is the new generation of coffee-shop in good old Kohsar market. A welcome yuppie invasion with muffins, comfy couches and free wi-fi, Gloria Jean's is the trendy, fast-food option to the other cafés in the marketplace. Try the Coco Loco, a chilled coffee with whipped cream, which is very popular among the young teenagers who frequent the place.

Tucked Away:

The Hot Spot Café inSaidpur Village is an upgrade — height-wise — from the café in the railway compartment in central Islamabad which is famous for its "movies, kitsch and memorabilia," and, of course, ice-cream. Located at a vantage point in Saidpur Village — just above the Islamabad museum, next to an ancient gurdwara and a Hindu temple — the café is hilly Islamabad at its best. Enjoy coffee, ice-cream and more in scenic splendour.

Urban Tea Lounge:

Chaayé Khana is a slightly different experience to those coffee shops in town that are harder on the pocket. Often the music they play makes for a pleasant experience, especially for those who are culturally inclined. To sit back and listen to ghazals and good desi music is very relaxing, says one customer. Chaayé Khana's regular tea with evaporated milk is quite a hit as well as their flavoured green teas and the always popular masala chai.

First of a Kind:

Right now Kohsar market is the caffeine hotspot of the city. Tabletalk is possibly one of the first eateries that opened in this old Islamabad market, originally known for its bookstore The London Book Co., imported food stores and the capital's most hygienic butcher. It also offers good tea and coffee, indoors and al fresco. Its signature thalis and chaats are especially popular among the ladies.

Eclectic Chic: The Khaas Gallery Café at the Khaas Art Gallery opens only for lunch and serves great salads, entrees and coffee to a discerning clientele. Their generous, fresh and crunchy salads are a must-have.

Desi Treat: Des Pardes at the Saidpur Village promises a deeply satisfying cup of 'mixed chai,' an excellent Sunday brunch and good desi food enjoyed in old world splendour at the foot of the Margalla Hills.

New Kids on the Block: The Street 1 Café for coffee and company in Kohsar Market, adjacent to Street 1, F-6/3, and The House of Bombay on the Margalla Road, F-8/3, which provides a new spin on Pakistani food.
The writer is a former assistant editor at Newsline
Next