"I had to replace Shaan because he was most unprofessional"
– Reema
The last time I had the opportunity to interview Reema for Newsline , it was just prior to the launch of her hit directorial debut, Koi Tujh Sa Kahan. Coincidentally, this interview took place when she was in the final stages of editing her second film, Kitni Haseen Hai Zindagi. So the focus of Reema's interview withNewsline this time round was this film, which she plans to release shortly.
Q: Haven't you taken a big risk by investing in a film at a time when far more experienced directors are steering clear of Lollywood?
A: I love challenges, which is why after taking a breather for two years following the successful launch of my first film, I am back with another. I know that in these times of economic depression, most people from the film industry are switching to television where they can minimise their risks. I like to be different, so I am investing in a movie, despite all the odds. With Indian movies being screened locally under no specific policy, we are in danger of being completely wiped out, unless we do our bit to save the industry. I have no problems with Indian movies being shown, but it must be done under some rules. The tragedy is that this government doesn't even have a culture minister to date, to whom we can take our woes!
Q: Initially, Shaan was supposed to be starring in your film. What happened to make you drop him?
A: It was Shaan's idea to do a movie based on the novel, Veronica Chooses to Die. When I did all the groundwork and landed with my crew at one of the most expensive countries in the world to shoot it, he backed out of his commitment and went off to do an ad for a diaper company, giving me the excuse that his mother was ill! I had to incur losses in dollars as I had booked dates for the shoots and there was no refund policy. To top it all, after having taken advance payment, Shaan doubled his demand just before filming was to begin. He was most unprofessional, and I had no option but to look for an alternate.
Q: So, who replaced Shaan?
A: I approached Moammar Rana, who I must admit went out of his way to do the film for me, even though he had other commitments at the time. People will find a new Moammar Rana in this film. Not only is he in a role that is very different from any he has done so far, you will find his look totally changed as well.
Q: The strength of your last film was its strong storyline. What would you say is this film's strength?
A: The plot is strong this time too, although I changed the storyline from what Shaan and I had originally planned. I have brought back situational comedy, which used to be such a popular feature of our earlier movies.
In my last film, many had felt that a comedy track was missing and that more glamour quotient could have been added to it. This time round there are three comedy kings in the film — India's top comedian Johny Lever, Ali Saleem and John Rambo, all in important roles!
Our silver screen giants Nadeem sahib and Javed Sheikh also form part of the cast. After a long hiatus, Gia Ali is appearing in a film and, that too, in a very powerful role. In fact, she is a critical character in the film, forming a triangle with Javed and Nadeem sahib. I am acting in the movie as well, as an Azerbaijani model, Iraida, and a new face, Nabeel Khan, who form a triangle with me.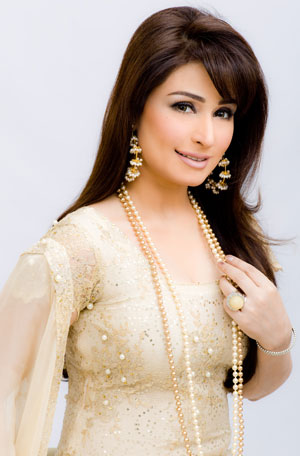 Q: Your detractors feel that you have a finger in too many pies — you are the producer, director and actor in your films and are involved in the scripting as well. What do you have to say in your defence?
A: Well, and what if I do? If I don't deliver satisfactorily in even one of these departments, then I am open to criticism, but if I am doing my job well, then what is the problem? Don't the great names from across the border, like Shahrukh Khan and Aamir Khan, do the same thing? And do they get criticised for it? Look at Syed Noor — he is one of the best directors we have, but other than featuring Saima in every film for the last 10 years, and churning out the same storyline and typical characters, he has done nothing worth mentioning. He has done nothing to promote anyone else, whereas I have made it a point to introduce fresh young talent, even if I am acting in the film myself. For that matter, what has Shaan done, after sitting on all his degrees, and making tall claims that he will be producing a movie soon? Instead of appreciating the fact that a woman is attempting to do so much, our people are only interested in pulling her down.
Q: You are always introducing foreign faces in your films. Why don't you try casting our own young models?
A: I would have loved to cast only local stars and I even identified some faces from the television and fashion industries, but the problem was they showed real attitude, and demanded money like they were superstars! The ones who were down-to-earth, unfortunately, had no time. Hence, I figured that if I have to pay so much, I might as well sign totally fresh faces.
Q: Who has done the music for your movie?
A: With four music directors for the film — two in London and two in Pakistan — the songs have been recorded in three different countries. I have balanced Indian with Pakistani singers in my movie and have also made them do duets. Rahat Fateh Ali Khan has sung for my film, as well as Shazia Manzoor, who has sung for a movie after nine years. This is also the first film for which Abrar-ul-Haq has given playback.
Q: How have you tried to ensure more glamour in the movie?
A: Well, for the first time the wardrobes have been done by three top designers — HSY, Mehdi and Aasia Sahil — and, that too, after holding detailed discussions with me regarding the characters they would be dressing up. Make-up is also top of the line as it has been done by Nabeela's team — a first for any Pakistani movie.
Q: By when will your film be ready for screening?
A: I am in the final stage of editing and am aiming to launch its music worldwide, simultaneously. Once that is done, I will be ready to screen it.
The writer is a freelance journalist based in Karachi. She also works at Hum television.
Next