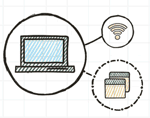 Over the past decade or so the world has witnessed the ascendancy of innovative businesses that use technology-oriented solutions to solve everyday problems and cater to pre-existing markets in new and more efficient ways. What distinguishes these enterprises from the older and more established tech companies is how they are designed for rapid short-term growth, relying primarily on the internet to access large markets and scale quickly. Hence the term Startup, one that reflects the ease with which these low-cost businesses can be started and the speed with which they are designed to grow. They can range from car-hailing applications you can download on your mobile, online real estate and automobile agents, to companies whose online applications help you to improve your brain functions.

Whichever market a successful startup decides to target, it usually acts as a highly disruptive force, significantly altering the way businesses and consumers interact. Take for example the online real estate portal Zameen.com which provides a unified platform for buyers and sellers. Buyers can search for property in their preferred price range and location via the website while individual sellers and real estate agencies can directly access buyers by posting listings online.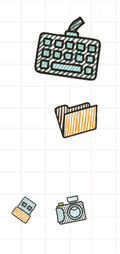 When one thinks of the major hotbeds for tech-based startups in Asia, Pakistan rarely comes to mind, with the Indian and Chinese tech scenes soaking up most of the limelight. Although Pakistan has yet to acquire the reputation, it does not lack for substance. As hiring among larger companies has plateaued, recent years have seen intrepid Pakistanis strike out on their own and capitalise on the rapid growth of online access in Pakistan. It would be no overstatement to claim that Pakistan is currently experiencing a boom in the startup arena; dozens have gone on to become major companies while more still have been newly conceived and are still in the elementary stages of their development.
Despite the abundance of startups in the local market, access to capital remains a significant obstacle. Foreign investors remain wary of investing in Pakistan due to its poor infrastructure and general instability, while locally investors prefer to park their cash in safer options such as real estate. However, given the tremendous potential for successful startups to create jobs and deliver services in a more cost-effective manner, the public sector has taken notice. The Government of Pakistan's Planning Commission recently allocated Rs. 2.3 billion to a startup fund, hoping to give local startups the financing they need to properly launch their services.
With a more hospitable environment towards entreprenuership taking shape and an increasing number of young Pakistanis willing to take the risks of launching their own firms, startups are poised to reshape the economic landscape of Pakistan in the years to come.  
– Sami Subhani

Suniya Sadullah Khan and Muhammad Mustafa, co-founders of Mauqa Online do not come from entrepreneurial backgrounds. Mustafa had spent over a decade of his life working for different telecommunication companies in Pakistan and Khan, with her aerospace and engineering background, worked for Williams F1 – a motorsport team – in the UK. It was during her time as a student in the UK, where she also worked as a part-time cleaner, that Khan experienced fair working conditions and dignity of labour like she had never witnessed back home in Pakistan. Mauqa online, a digital platform that allows people to book house help, babysitters, cooks and cleaning personnel by the hour, first took root in Khan's mind as an online platform to offer learning opportunities for people with access to smartphones but no formal education. However, after some market research, Khan and Mustafa realised that what people from a less privileged social strata needed with more urgency were ways to increase their income. "We wanted everyone to have equal opportunities in the digital world where they can gain access to the benefits of the internet and literacy is not a barrier," says co-founder Suniya Sadullah.
The team at Mauqa spent six months doing extensive user research and working on the idea, and it was eventually a grant they received from the Stanford Social Innovation Fellowship that help get Mauqa up and running. The team of two ran the operations by themselves, interacting with customers, recruiting helpers and managing operations until they knew exactly what skills each role required and hired accordingly. "This also helped us understand which processes needed to be automated in order to scale," says Khan.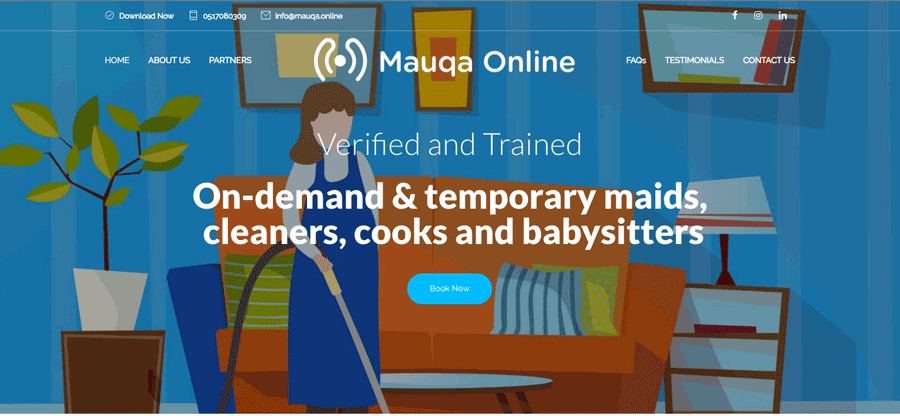 With an in-house tech team, the co-founders rely on a "human-centred design approach" and always test new features with users before beginning extensive developmental changes on the app. Safety of the helpers is of utmost concern to the Mauqa team. Helpers are only sent to homes with a female present at all times. In the case a female is not at home, helpers can ask to be picked up immediately. On the service end, they have an in-house team in charge of running thorough background checks on the helpers before they are registered.
When Mauqa first entered the market, getting people acquainted with the concept of 'on demand' domestic help was a challenge but once the idea took root, there was uptake on both ends of the service. However, now the challenges Mauqa and new startups face are those of scale. There is increasing support in Pakistan in terms of incubators where people can find support to get their ideas perfected and "launch ready," but there is still a shortage of institutions which focus solely on helping revenue generating startups scale. Mauqa Online was recently selected for the Silicon Valley-based Global Social Benefit Institute accelerator programme where it found guidance where it found guidance on scaling and the company hopes that more local accelerators would focus on the same.
Currently, Mauqa online operates only in Islamabad, but plans of expansion are underway. Next up, Khan and Mustafa want to launch operations in Karachi and Lahore. When speaking of policy level changes, Khan says that the entire process of registering a startup is exhausting. "As an entrepreneur, your most precious commodity is time," and so much of it is wasted running from one office to another. Khan also adds that governmental support is required in restructuring regulations placed on startups that receive foreign funding.
A journalism graduate, Zoha's core areas of interest include human and gender rights issues, alongside which she also writes about gender representation in the media and its impact on society.
Next