A compact book, The Begum is not just a biography of Pakistan's larger-than-life pioneering first lady, Begum Ra'ana Liaquat Ali Khan, it captures the heady political climate and events of historical significance that marked the journey of her life.
Born Irene Margaret Pant in 1905, Begum Ra'ana hailed from a large Christian family of Brahmin lineage, who were natives of Kumaon, a remote hilly town in Northern India – an interesting elementary detail frequently overlooked in 'politically correct' versions about her life. The Begum: A Portrait of Ra'ana Liaquat Ali Khan, Pakistan's Pioneering First Lady provides a myriad details of the life and times of the elegant and mysterious first lady.
A collaborative effort by Indian author, Deepa Agarwal, and Pakistani writer, Tahmina Aziz Ayub, The Begum chronicles the trajectory of a fiercely independent, free-thinking feminist, whose entire life till the time of her marriage to Nawabzada Liaquat Ali Khan in 1933 prepared her for a pivotal role in history. It provides  an insightful glimpse into an extraordinary life of 86 years – the first 43 years in undivided India when history was being made and the second-half in Pakistan after Partition, where she faced trials and tribulations and left a legacy of nation-building.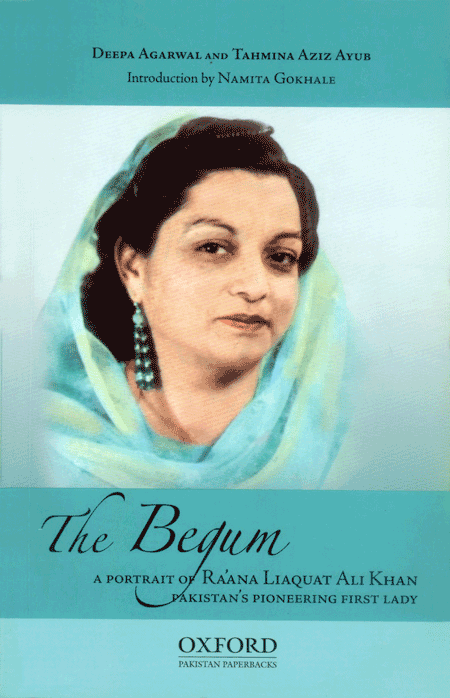 The pre-Partition years of her life, chronicled by Agarwal, are definitely more interesting because they reveal a lesser-known side of Ra'ana's life. One of nine siblings, she was the trailblazer at a time when women pursuing a higher education or career was an exception rather than a rule; she acquired a Masters degree followed by a Ph.D. degree, which was a rarity. Interestingly, her doctoral thesis was on women in agriculture in rural Uttar Pradesh. Subsequently she became a professor of economics in Delhi's prestigious Indraprastha College.
Her familial, educational and professional journey exposed her to all aspects of life including politics in which she became actively involved during her student days. It was then that she caught the first glimpse of her future husband. She demonstrated a steely resolve in the face of opposition by her father when she decided to marry Nawabzada Liaquat Ali Khan and converted to Islam, adopting the Muslim name of Gul-i-Ra'ana. It almost sounds like a fairy tale – but it wasn't. Ra'ana was never to see her hometown again once she left for Pakistan, where far bigger challenges awaited her.
Passionately involved in political activism against the British Raj from her university days, her marriage amplified her role in the struggle for independence. We learn from the biography that the dynamic couple was instrumental in Jinnah's return to India in 1935. Ra'ana's life turned more hectic when her husband joined forces with Jinnah to revitalise the Muslim League.
The book highlights several political milestones in the long struggle for independence. The Khans' residence, named Gul-i-Rana, was the centre of political activity. It was here on February 22, 1941, that the All-India Muslim League Working Committee held their meeting to pass five important resolutions that would provide impetus to the League and to the demand for Pakistan.  Ra'ana was then pregnant with her second child.
She undertook the responsibility of organising women to take part in political activities as she had done earlier during World War II. As early as 1942, her direction and inspiration came from Jinnah himself, who reportedly said to her, "Be prepared to train women. Islam does not want women to be locked up and never see fresh air."
Already a full-time political partner to her husband, within a few days of their arrival in Karachi in 1947, Begum Ra'ana stepped into the shoes of Pakistan's first lady, when her husband took over as the first Prime Minister of the country. And she proved to be more than just a ceremonial figure. She was appointed the minister for minorities and women's affairs in her husband's cabinet.  Furthermore, she was expected to lead and organise large-scale relief work in the aftermath of a bloody Partition, during which over seven million refugees poured into West Punjab, especially Lahore.
The book makes several references to Kay Miles – Ra'ana's lifelong friend and biographer, whom she had met during her college days and who was the only guest from her side at her wedding. She famously dubbed Ra'ana as a 'Dynamo in Silk' who 'walked the talk' to ease the misery of the displaced thousands who faced a dismal future, taking turns in tending to the sick, visiting refugee camps, organising transport and supplies, and driving out in trucks to distribute blankets, food and clothing.
Kay became an invaluable member of the household, when she decided to accompany Liaquat Ali Khan's family to their new country and home. Together with Kay, Begum Ra'ana mobilised the women, organised aid and created numerous bodies for women who were ripped apart from their families in horrifying circumstances, such as widow welfare homes, a shelter for abducted women and a lost-and-found bureau for women and children.
Ra'ana's biography also mentions Begum Jahanara Shahnawaz – a leading political activist, social worker and an elected member of the 1937 Punjab Legislative Assembly – who helped her in the refugee camps' relief work in Punjab, laying the foundation of the Women's Voluntary Service.
The Begum draws a moving picture of overcrowded refugee camps, where relief activities were most urgently needed as there were frequent outbreaks of cholera and typhoid epidemics and merely a handful of understaffed medical centres that were frequently out of medicine. This led Begum Ra'ana to embark on her second major initiative – to train a new cadre of nurses, a profession considered unworthy at the time. She managed to convince hundreds of young, educated girls from middle-class Muslim families to train as nurses under qualified foreign nurses whom she had invited for this purpose. She also sent trainees abroad. Within two years, the nursing profession began to be viewed as an acceptable career option. She also encouraged and provided guidance in the setting up of the first Pakistan Nurses Federation. Many of these nurses joined the Army Medical Corps (AMC) when it was founded.
However, Begum Ra'ana also had her fair share of detractors from certain segments of the right wing press and the media, who accused her of leading women astray. So much so that her husband had to come out in her defence at a public rally. However, the greatest setback she faced in her newly adopted country was the political assassination of her husband, merely four years after he took over as prime minister.
Widowed at a young age, away from her close-knit family in India, without any means of income, the former First Lady faced the daunting task of bringing up her two young sons as a single parent, and confronted the challenges head-on. There was no doubt in her mind about where her future lay.
At her behest, the Pakistan Women's National Guard and the Pakistan Women's Naval Reserve were also formed. The idea of training and organising women to become a formal part of the military was considered revolutionary for those times and often controversial as well. Unfortunately, both these forums disbanded as soon as Begum Ra'ana left the country for the Netherlands in 1954, to serve as Pakistan's ambassador.
The Begum was also the brains behind the All Pakistan Women's Association (APWA). With her academic background in economics and her own experience as a financially independent woman, she understood the importance of women's economic empowerment; it led to the creation of the first-ever handicrafts and cottage industry under the aegis of APWA. With the aid of dedicated women volunteers, she set up a cottage emporium at Illaco House, Victoria Road Karachi. APWA went on to win several national and international awards with Begum Ra'ana at the helm. APWA expanded its role further by establishing schools for the underprivileged, with the generosity of donors who gave their houses, lands and buildings for the organisation.
The book also shares Begum Ra'ana's resilience when then prime minister Bhutto, nationalised all schools, including those run by APWA; the organisation turned its attention to  an adult literacy programme. And when Bhutto was awarded the death sentence by General Zia-ul-Haq's military regime, she defended Bhutto. Her despair deepened when the general introduced the Hudood Ordinances, which she criticised vociferously. As someone who had worked closely with Jinnah, she explained his viewpoint in her interview with Afsheen Zubair for the newsmagazine Herald in October 1984, "…the idea of Pakistan when it first started was completely different from what we see today. There was no question of religion coming into politics…Quaid-e-Azam himself said the basis was religious but Pakistan was visualised as secular and democratic." n
The writer is working with the Newsline as Assistant Editor, she is a documentary filmmaker and activist.
Next