Over the past decade or so the world has witnessed the ascendancy of innovative businesses that use technology-oriented solutions to solve everyday problems and cater to pre-existing markets in new and more
efficient ways. What distinguishes these enterprises from the older and more established tech companies is how they are designed for rapid short-term growth, relying primarily on the internet to access large markets and scale quickly. Hence the term Startup, one that reflects the ease with which these low-cost businesses can be started and the speed with which they are designed to grow. They can range from car-hailing applications you can download on your mobile, online real estate and automobile agents, to companies whose online applications help you to improve your brain functions.

Whichever market a successful startup decides to target, it usually acts as a highly disruptive force, significantly altering the way businesses and consumers interact. Take for example the online real estate portal Zameen.com which provides a unified platform for buyers and sellers. Buyers can search for property in their preferred price range and location via the website while individual sellers and real estate agencies can directly access buyers by posting listings online.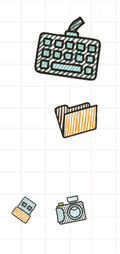 When one thinks of the major hotbeds for tech-based startups in Asia, Pakistan rarely comes to mind, with the Indian and Chinese tech scenes soaking up most of the limelight. Although Pakistan has yet to acquire the reputation, it does not lack for substance. As hiring among larger companies has plateaued, recent years have seen intrepid Pakistanis strike out on their own and capitalise on the rapid growth of online access in Pakistan. It would be no overstatement to claim that Pakistan is currently experiencing a boom in the startup arena; dozens have gone on to become major companies while more still have been newly conceived and are still in the elementary stages of their development.
Despite the abundance of startups in the local market, access to capital remains a significant obstacle. Foreign investors remain wary of investing in Pakistan due to its poor infrastructure and general instability, while locally investors prefer to park their cash in safer options such as real estate. However, given the tremendous potential for successful startups to create jobs and deliver services in a more cost-effective manner, the public sector has taken notice. The Government of Pakistan's Planning Commission recently allocated Rs. 2.3 billion to a startup fund, hoping to give local startups the financing they need to properly launch their services.
With a more hospitable environment towards entreprenuership taking shape and an increasing number of young Pakistanis willing to take the risks of launching their own firms, startups are poised to reshape the economic landscape of Pakistan in the years to come.  

Incubated in 2012 by German venture capital firm cum startup incubator, Rocket Internet, as an online fashion retailor; Daraz has emerged as Pakistan's largest online shopping platform, and among the largest in the region. As part of a strategy to create e-commerce platforms across the globe, Rocket Internet invested in Daraz following a blueprint for building and launching startups using proven online business models. With over two million active users daily and seven million products, along with Pakistan, Daraz operates in Bangladesh, Sri Lanka, Nepal and Myanmar. By allowing customers to shop for a plethora of consumer goods all from the comfort of home and then delivering their purchases to their doorstep, Daraz follows in the footsteps of older and larger online shopping platforms such as Amazon and Alibaba.
Instrumental to the rise of Daraz has been the growing level of trust placed in e-commerce by local and regional customers and a workforce increasingly shaped to fulfill the needs of tech-based companies. Along with a more tech savvy consumer base, educating vendors in how to tailor their services to suit an online platform has been of great importance. Daraz university educates around 2000 new sellers each month, via its online university in order to make sure the vendors on its website know how to provide customers a functional and engaging online shopping experience. Through its university, Daraz aims to have 200,000 active sellers on its site by 2020; several times more than the 30,000 active sellers it has currently.
Along with a greater focus on developing programmes that will help increase the ability of vendors to provide a satisfying user experience, Daraz has launched strategies designed to meet the needs of specific consumers. The Daraz app, introduced last year, uses real-time machine-learning algorithms to offer customers a personalised shopping experience. Preferences are gauged through in-app clicking patterns and browsing history, allowing customers to be matched with products they are more likely to purchase.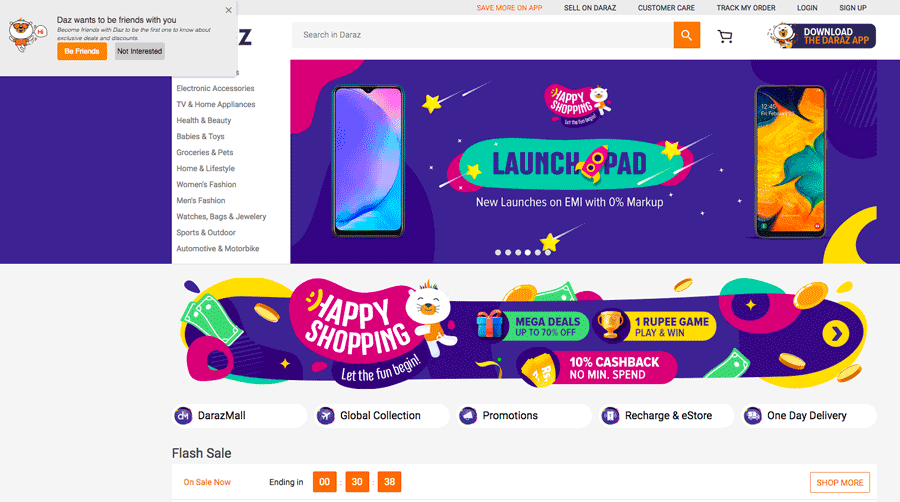 In addition, features such as Instant Message and Image Reviews, empower customers to make informed decisions while allowing them to address quality concerns. Instant Message allows users to stay in touch with vendors both before and after they have made a purchase, while through Image Reviews users can post pictures of the products they have received, along with written reviews.     
As Daraz has grown, maintaining a smooth connection between such a vast number of customers and vendors has created new challenges. Chief among these is the fast and reliable delivery of purchases and processing of payments and refunds. To deal with the logistical issue, Daraz has created its own delivery service, DEX, the first in Pakistan specifically built for e-commerce operations. A fully digitised endeavor, DEX offers more accurate product tracking mechanisms, and already handles 55 per cent of the purchases on Daraz. Furthermore, Daraz stores products that account for the top 30 per cent of sales in its own warehouses, guarding against gaps or shortages in supply for in-demand goods. To process payments more efficiently Daraz has launched the Daraz Wallet, a closed loop digital payments solution. Through the Daraz Wallet, customers can make online payments with greater convenience, while refunds do not have to traverse multiple bank accounts to reach the customer.    
As the startup culture and online commerce has begun to embed itself into the Pakistani economy, the government has realised the importance of providing greater institutional support to online enterprises. Daraz is involved with these efforts by consulting with the government on developing an e-commerce policy framework, one that it is hoped, will encourage more businesses to go online by providing a clearer picture of the rules and regulations for doing business in this sector.
Next