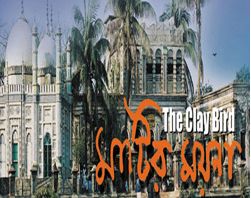 Tareque Masud's Matir Moina (The Clay Bird) is a gentle, contemplative film in which personal drama unfolds against the backdrop of national upheaval. It is the late '60s in Bengal and political dissent in Pakistan's eastern wing is reaching boiling point.
The main protagonist is Anu, who lives with his parents, uncle, and sister in one of Bengal's lush villages. Kazi, his father, is the local homeopath who has renounced all things western — and by extension, everything modern — and taken to practicing a strict version of Islam. Even when his daughter falls ill, he refuses to allow her to be treated by the doctor, preferring instead to keep faith in his traditional remedies. His younger brother Milon, with his leftist convictions and easy-going ways, is a constant source of exasperation for the dour Kazi. But the children adore their fun-loving uncle, who takes them to folk festivals and shows them the affection their remote father is unable to demonstrate. Kazi's wife, Ayesha, who suffers him in silence, also nurses a secret love for her brother-in-law.
Keen that his son be purged of secular influences, Kazi sends Anu away to study at a madrassa in another village. Here he is drawn to Rokon, an outcast among the students because of his tendency to live in his own world, and the two become friends. At the madrassa, Anu experiences both aspects of Islam: the moderate — represented by his teacher Ibrahim — and the extreme. The latter, reinforced by an undercurrent of superstition, is seen at its harshest when Rokon, in the midst of winter, is forced to undergo a ritual exorcism by submerging himself in the river.
Events back home compel Anu to leave the madrassa and return to his village, where the outer world, in the shape of the Pakistan army, intrudes upon their bucolic existence, changing it beyond recognition. Amidst this turmoil, Kazi must face the shattering of his unquestioning assumptions about his faith.
For Anu's character, writer-director Tareque Masud draws upon his own experience as a madrassa student, and the boy's vulnerability in his new environment is beautifully and sensitively portrayed. However, Anu's role is a passive one; his actions neither instigate change nor do they move the story along. Rather, he is a prism through which events and people are viewed.
Through these events and people, the film makes astute observations that are especially relevant in contemporary times, when Islam is the focus of much debate, and perceived as a religion that espouses violence. Ibrahim, one of the madrassa teachers, points out that "Islam didn't spread in this country through the sword. It was only the selfless and swordless sufis and dervishes who went door to door to spread Islam's message of peace and equality among the poor and low caste Hindus." Matir Moina thus illustrates that a diversity of opinion exists even among the mullahs who, it is assumed, preach only the most extreme views.
Bengal is depicted in all its multi-cultural and multi-religious glory, a place where there is room for dissent and debate. Milon and his friends — who include a Hindu as well — engage in discussions about different political systems, and the place of religion in society. Muslims attend Hindu festivals, and folk musicians sing of a god of love — in the Sufi tradition — rather than one of fear.
Matir Moina, which won the International Critics' prize at the Cannes festival earlier this year, was the Bangladeshi entry at the Kara Film Festival 2003 where it bagged awards for best film, best cinematography and best musical score. A remarkably accomplished piece of film-making, the film nevertheless falls short of true brilliance, largely on account of the fact that Anu's madrassa experience, including his friendship with Rokon, while deftly drawn and significant in itself, is not cohesively integrated with the rest of the story. Also, the film, which has largely employed the services of amateur actors in order to maintain authenticity, suffers occasionally from uneven acting. However, the performances by Rokeya Prachy as Ayesha, Kazi Jayanto Chattopadhyay (Kazi) and Russell Farazi (Rokon) are flawless, as is the cinematography, particularly the breathtaking shots at the boat festival, capturing all the exuberance and energy of the occasion.
Matir Moina is an appeal for a more imaginative approach to religion. "True religion opens people's eyes," says the mystic boatman to Milon. And, unlike the clay bird of the title, it allows individuals to soar above the confines of a narrow belief system.
Next