Art in the Time of Intolerance
N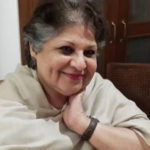 aazish Ata-Ullah is an artist, educator, curator, writer and activist. She retired as principal of the National College of Arts in 2010. She is a Senior Fellow at the School of Visual Art and Design, Beaconhouse National University.
The boom of contemporary art reverberates across Pakistan and beyond like never before. During the last decade there has been an unprecedented growth in the spread of art and art related settings: more galleries, more art departments in colleges with larger numbers of students and, as a consequence, the inevitable increase in art-making and in dealership in the arts. With greater awareness regarding the intrinsic values that art nurtures, is the growth of a largely younger, more discerning generation of the educated middle class, for whom not only has acquiring art become a passion, but also nurtured a habit that regularly brings greater numbers to view exhibitions. By all accounts the culture of appreciating art is well established among them. Art critics and writers assiduously churn out weekly reviews in national dailies and recently founded online publications such as ArtNow and the newer Artemesia, register a very large following. Also popular established monthly magazines, such as Newsline, that have a dedicated readership across the country, include sections reserved for articles on art. But there is another dynamic at work that has created social awareness and changed public perception regarding the powerful outreach of artistic endeavour.
Artists have by design extended their canvas to appropriate spaces that ordinarily would have, at best, remained as mundane parts of the common urban landscape. Their interventions into public spaces has grown over the years in ambitious projects that extend from public buildings, including railway stations, hospital wards and bus stops, into slums and neglected areas of cities. Gone are the days when the viewing of art was limited to galleries and museums. In Naiza Khan's 'Henna Hands,' naked female figures are stencilled on walls in random locations in the city of Karachi, or Asim Butt's "STOP" stencils of protest surreptitiously painted at night on the burnt out carcasses of vehicles vandalised in violent protests across the city, are political comments — among the first acts of direct activism and subversion by individual artists in the public arena.
Groups of artists, academics and social activists have formed collectives such as the Awami Art Collective led by the artist Farida Batool in Lahore. The Tentative Collective based in Karachi is a group of people who share resources to create interdisciplinary works of art in public spaces. Their research-based projects strive to be site-sensitive, collaborative and open to a diverse range of participants. Pursukoon Karachi, another collective, believes that the continuous conflicts that have arisen in society can only be encountered through peaceful means, which art and culture can address effectively. A Karachi based artist duo, Zahra Malkhani and Shahana Rajani, have a radical research-oriented practice that explores space, and the politics of infrastructure and development. For Lahore's Awami Art Collective, a dialogue between art and the people was triggered by the terrorist attack on a school in the northern city of Peshawer in 2015, in which scores of children were brutally killed. Drawing public attention to such acts of violence was conceptualised in a large-scale installation 'Hum Jo Tareek Rahon Mein Maray Gaey' ('we who were slaughtered in the shadows of alleyways') arranged in a circular form at Bagh e Jinnah, the former Lawrence Gardens, a public park located in Lahore's colonial sector, with statistics of the minorities who were murdered printed on white buntings. The state's ban on Lahore's traditional spring festival of kites, popularly known as Basant, prompted the Collective to present another public art project titled 'Black Spring' as a protest against the ban. The installation was a web of orange LED lights stretching across the rooftops of densely populated multi-storied houses in Lahore's Walled City where Basant used to be annually celebrated. Traditionally, the city opened its doors to visitors who climbed narrow staircases to reach the flat roofs from where kite-flying competitions were held amid the sounds of drums and music and the air was thick with the smoke of roasting kebabs. Kite-making employed large numbers of specialised craftsmen whose livelihood came to an abrupt end due to the ban. To experience the installation, people from all walks of life were invited to climb the same stairs to view its breathtaking presence at night. Awami Art Collective collaborated with local inhabitants who sensed the need to actively participate in the project as a means to assert their cultural freedom and identity in times of violence and growing intolerance.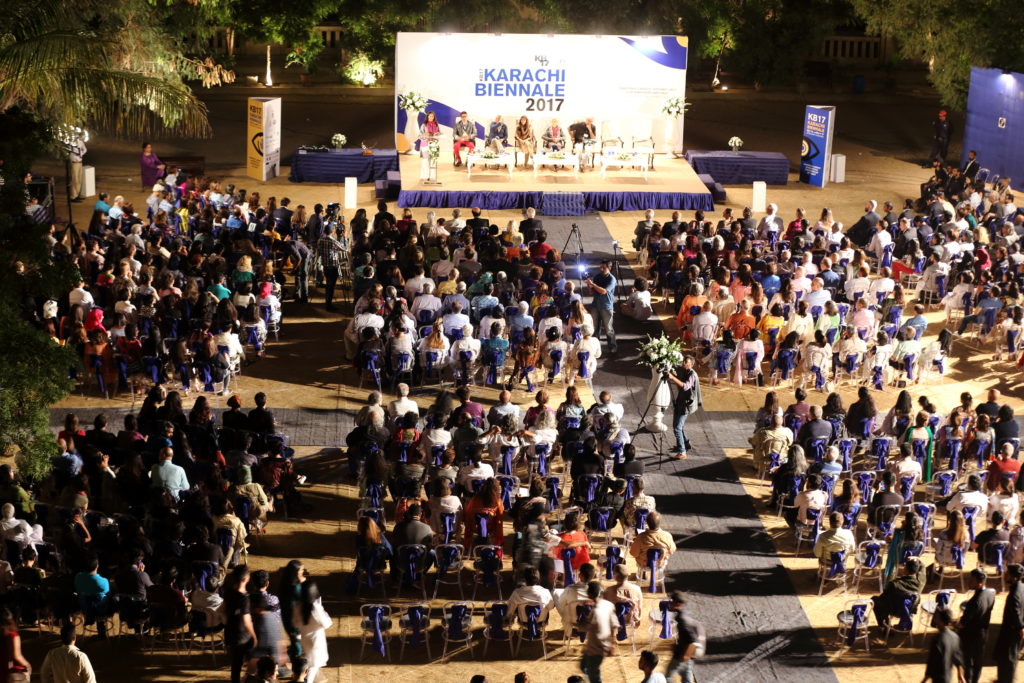 At a more ambitious scale the Karachi Art Biennale was launched in the autumn of 2017, aspiring to showcase art in various locations with curated exhibitions in historical buildings of social importance, including public art projects throughout the city. Artists from the region and abroad were invited to respond to the theme 'Witness,' that evoked issues of misrepresentation and erasure. The Karachi Biennale explored the idea of revitalising the city by strengthening its spirit of resilience and gave agency to the audience as participants in this act of reclamation. The response to the biennale — in terms of numbers, audience diversity and enthusiasm — was even better than hoped for.
The Lahore Biennale Foundation was established in 2013 with one of its core objectives being to help restore the space for the arts in the public domain. Since then it has undertaken numerous projects, workshops, community meetings and a symposium in the city, including the impressive 'My East is Your West' in collaboration with India's Gujral Foundation as a collateral exhibition at the Venice Biennale with Shilpa Gupta and Rashid Rana. The Lahore Biennale's first edition is to launch in March. The Lahore Biennale is envisioned as an ever-evolving process rather than a product. At the very core of the curatorial premise lies questioning, rethinking and reinventing existing biennale formats, dispelling the concept of "one grand exhibition," and exploring fully the artist/public and gallery/public space dichotomies. To this end, it seeks to analyse the idea of "function" in art and consequently questions the role of art, artists, as well as art practice. With an all-encompassing outlook, using Lahore as a mere point of departure, the aim is to soften all kinds of boundaries: conceptual, spatial, temporal, societal, as well as institutional. To achieve this the Lahore Biennale will explore the intersection of art and its social context by provoking dialogue among practitioners, academics and thinkers from diverse disciplines, and through new commissions from artists, both established and emerging from within and out of Pakistan.
Next