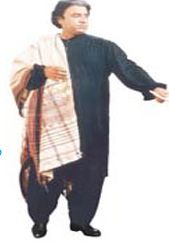 They are actors, not politicians. But while campaigning to bolster support for themselves in the October polls, they tell the people they have no vices — rhetoric which makes them sound suspiciously like politicians.
Still, they attract crowds. People are familiar with their faces and voices. The question is, will their fans vote for them? For these actors are now aspiring for perhaps their greatest roles ever — that of Parliamentarians.
"I have been telling people to discard tried and tested politicians, and I am getting a good response," said actor Syed Kamal, who is contesting on a Tehrik-e-Insaf ticket from Karachi.
Karachi is the only city in Pakistan where three film and television actors are in the running for three separate National Assembly seats. The senior-most among them is Kamal, vying for the National Assembly seat 250.
The other two — Mohammed Shafi and Qaiser Nizamani — have each been awarded a PPP ticket, now of course going by the name Pakistan People's Party Parliamentarian (PPPP). While this is Kamal's third stint as an electoral candidate, for the other two, this is their first ever election bid.
Kamal tried his luck in the non-party elections of 1984 for a National Assembly seat from Karachi's Federal B. Area, but lost by a huge margin. In 1988, he again jumped into the election fray, contesting for a Provincial Assembly seat from Defence Housing Authority and its adjoining neighbourhoods, but he lost again. On both these occasions, he ran as an independent candidate.
"I never applied for a party ticket earlier because none of the political parties attracted me," Kamal told Newsline. "But the Tehrik -e-Insaf has come out with a pro-peoples' manifesto — fighting corruption, introducing judicial reforms and equal education opportunities for all," he said, explaining his decision to align with a party this time. "In the past I used to entertain people, now I want to serve them through politics," he added.
However, it is not likely to be smooth sailing for Kamal, who has been pitted against the Muttahida Qaumi Movement's heavyweight, Nasreen Jalil. And then the PPPP candidate, Ikhtiar Baig, who is aspiring for the same seat, is investing substantial resources and money on his candidature.
Shafi Mohammed, who is running from NA 253 comprising Gulshan-e-Iqbal and its adjacent areas, faces tough competition from the Muttahida Qaumi Movement's Professor Fahimuddin. For Mohammed too, it is likely to be a tough call since the MQM has been dominating elections on this seat since 1988. Undeterred he contended, "I am getting a good response from all the communities." Certainly Mohammed has been both, a familiar and popular face on television since the 1980s.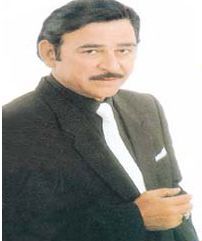 Mohammed, who is a long-time supporter of the PPP, tried to get a PPP ticket in 1988 from his hometown of Naushero Feroze, but was refused. This time he says he got lucky. And he hopes to be able to extend his luck further by winning his seat. "The focus of my election campaign is the problems faced by the people of Karachi," said Mohammed.
Qaiser Nizamani, the youngest of the three actors, is trying his luck from NA 251 comprising PECHS-Mehmoodabad, where the MQM has awarded a ticket to Safanullah, a businessman. While the prospect of a face-off with the latter is daunting, Nizamani maintained, "This time the situation is different. The redemarcation of the constituency and the joint electorate system will favour the PPPP."
Pakistani actors seem to have taken cues from the impressive electoral performances of their counterparts in neighbouring India. "People never used to take actors seriously in politics, but now things have started to change," Kamal said.
It is not, however, the first time Pakistani actors are trying their luck in the political field. Actor-compere Tariq Aziz managed to sail to the Parliament on a Pakistan Muslim League ticket in 1997. This time he is out of the electoral contest because of the graduation clause for candidates which has closed the doors to electoral politics for many aspirants. Mussarat Shaheen, the one-time heroine of sizzling Pashtu films and a candidate in past elections (among them once when her chief competitor was the JUI's Maulana Fazlur Rehman), is also out of the race because of the graduation condition. Actor Mustafa Qureshi, meanwhile, an ardent PPP supporter, also tried for a ticket for a Provincial Assembly seat from Karachi, but he was dropped in favour of an old PPPP local leader.
Whatever the outcome in the elections for the actors turned politicians, with many of their friends from the film and television industry promising to support them — indeed Lollywood stars Shaan, Deeba, Bahar, Rangeela etc., are already making tracks to Karachi to rustle up support for Kamal — the election campaigns in their constituencies are likely to generate some colour. And it's certainly sorely needed in this lacklustre contest.
Amir Zia is a senior Pakistani journalist, currently working as the Chief Editor of HUM News. He has worked for leading media organisations, including Reuters, AP, Gulf News, The News, Samaa TV and Newsline.
Next